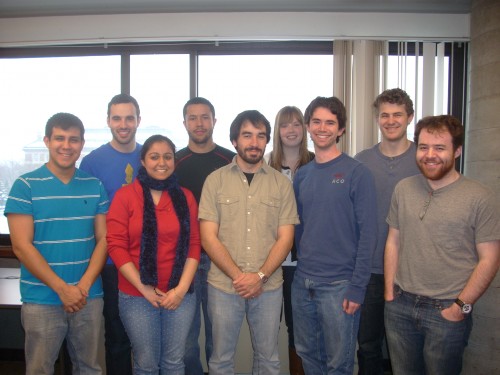 THE MANE STUDENT ADVISORY COUNCIL IS COMPRISED of Jesse Os '13, Alexander Angilella '13, Nomita Vazirani '14, Adam Ryason '14, and graduate students Justin Vazquez, Lauren Boldon, John Oxaal, Nicholas Thompson, and Matthew Riblett.
The Department of Mechanical, Aerospace, and Nuclear Engineering Department Student Advisory Council provides advisement at the student level for decisions made in the mechanical, aerospace, and nuclear engineering departments. Composed of RPI students, the council is involved in a myriad of activities to improve student lives within departmental activities.
The primary responsibility of the council is curriculum recommendations. The council implemented changes in the mechanical engineering undergraduate proposed schedule. Online, RPI advised students to take Introduction to Engineering Design during their sophomore year. However, through student polls, the council found that students didn't have the skills necessary to make the class as efficacious as possible.
"Many students taking the class wanted to incorporate micro controllers and electrical systems, but didn't have the skills necessary to do so," said graudate student John Oxaal, chair of the Graduate Seminar Committee.
Now, students are aware that they can take IED later in their academic career, after gaining knowledge and experiences from other essential classes such as Laboratory Introduction to Embedded Control and Electronic Instrumentation.
Additionally, the group reviewed the course catalog after noticing that a lot of the catalog hasn't been updated. Many newly offered classes weren't in the catalog, and some that were listed hadn't been offered in many years.
"We took it upon ourselves to put together a list of courses that haven't been offered in five or more years," said graduate student Lauren Boldon, chair of Curriculum Development. "They were still being listed as regularly offered."
The council also has influence in the hiring of new faculty. When hiring faculty, the department will have meetings with the potential candidates. These candidates will come to RPI for several days and give a teaching demonstration to the professors on a topic they would teach. Members of the advisory council are allowed to sit in on these guest lectures. They also conduct a half-hour interview with the candidate.
"Our opinions very much sync with the department's, and they definitely took our thoughts and our concerns into account," said graduate student Justin Vazquez, chair of the Student Advisory Council.
The council also is expanding its reach to potential and current students. With their shown ability to implement change, they want students to be aware of their unique influence and come to them when problems arise.
"We exist under the direction of the department, but we act as independent advisors to the head and to the entire department