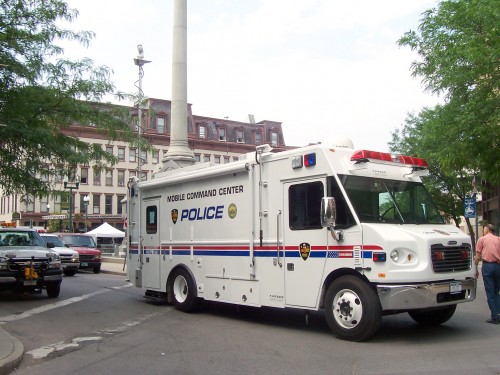 MEMBERS OF THE TROY POLICE DEPARTMENT RESPOND to criminal incidents in the city. Recent crimes include shootings, stabbings, break-ins, and armed robberies.
Over the last few weeks, several incidents of crime occurred in the city of Troy. Among them were four armed robberies within three days and multiple instances of gunshots.
The Troy Record reported that, on Tuesday, January 8, one apartment was broken into, and the resident was shot. They also reported that, on the same night, another individual was robbed at gunpoint downtown. Additionally, the Stewart's Shop on Fourth Street was robbed the following day. Another resident of Troy was stabbed, then subsequently robbed on January 10.
On January 13, several concerned RPI students reported at http://reddit.com/r/RPI/ that they had heard four gunshots downtown. This was later confirmed by the Troy Record. Reportedly, the incident occurred near the Broadway Brew Biergarten.
Students also reported that a cocaine seizure occurred in the bathroom of The Ruck that night. However, the management of The Ruck was not available to confirm the validity of this claim.
Less than a week later, on January 18, the owner of Broadway Brew Biergarten, Kareem Jandali, announced that the establishment would close on January 30. According to American Troyalty, the closing is partly due to the press related to the recent crime in Troy. Neither Jandali nor any other member of their management, though, could be reached for comment.
Associate Director of the Department of Public Safety David Schindler commented on the situation, saying, "Recently, there have been a few incidents that have generated some interest," but that nothing had been major enough to warrant serious action from Public Safety. He said that, as RPI is in an urban environment, "we have to deal with the same issues as any other urban area." Schindler added, though, that "there are certain groups of individuals in Troy who target RPI students."
Associate Dean of Off-campus Commons Cary Dresher also commented on the situation. He mentioned that, in an effort to help keep off-campus students more aware of any potential safety concerns, he includes safety suggestions and advice in a newsletter he sends out to off-campus students each week. Dresher added that, whenever Public Safety releases a Safety Alert, he disburses that information to off-campus students. "For students on campus, safety alerts are posted all over the place," he said, providing his reasoning behind the action. "But, off-campus students might have no idea anything is wrong."
Dresher also strongly advocated the escort service provided by Public Safety. He stressed that students not walk home alone at night. "Students who may have stayed at the library until late at night or those who are working on research should definitely take advantage of the service Public Safety provides," he said. He added that the service is available for anyone who lives up to approximately five minutes away from campus; this was confirmed by Schindler.
Both Dresher and Schinder mentioned, though, that they could not say whether there has actually been a recent increase in crime in Troy, as they did not have access to that information; they added that such information would be under the Troy Police Department's jurisdiction. At the time of writing; however, TPD could not be reached for comment.
Dresher added that the Troy neighborhood watch will hold a meeting at the Chapel and Cultural Center on Wednesday, January 23, at 7 pm. The topic will be crime in the city, according to Dresher, and residents of the city will discuss the issue. The meeting is open to any concerned students, faculty, and staff.
More information about safety alerts can be found on Public Safety's website at http://rpi.edu/dept/public_safety/. Off-campus students with concerns regarding safety may also contact Dresher via e-mail at dreshc@rpi.edu.