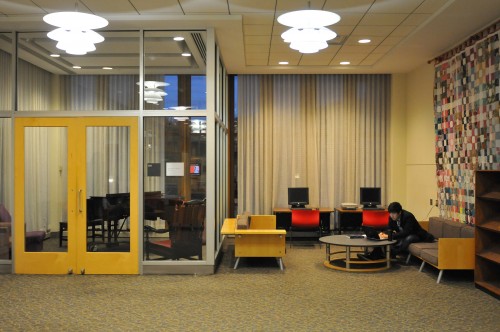 THE E-BOARD PLANS to add furniture to the Union, staring with the Welcome Lobby. This includes the piano room and the small computing area next to it.
Over the past few weeks, the Rensselaer Union Executive Board has been looking into re-furnishing the Union and improving the overall student usage of the Union's various resources and facilities. One of the E-Board's tentative projects regarding this involves purchasing new furniture for the building.
President of the Union Jonathan Stack '13 explained that, several years ago, the E-Board had a budget of $250,000 to maintain the Union and add resources when needed or when requested by students. However, over the last few years, much of this funding has been distributed to club budgets to make sure the over 200 Union-recognized clubs can function as they want. Therefore, the facilities budget has dropped to $125,000.
Despite the decrease in funds, the E-Board has managed to purchase new equipment for student use, including a new server system for the Union, which cost approximately $20,000. However, because the E-Board has been focused on providing students with these resources, less focus has been placed on maintaining the Union itself.
As a result, the E-Board has asked the Student Senate's Finance, Facilities, and Administration Committee to audit the Union for anything that needs to be fixed or replaced. The committee will also look into acquiring new furniture, including more tables and chairs for the McNeil room, to accommodate the growing student population. According to Stack, the E-Board is also considering the purchase of new technological equipment for student use, including projectors, sound systems, and LCD televisions for Union rooms. The FFA has also been going through the Union to determine if rooms are being used as expected and if they currently meet the needs of clubs that use them.
Stack said that all new furniture and equipment will be purchased through RPI's preferred supplier, although this will not occur until the FFA has conducted its study of the Union's current condition.
The Union Administration has also participated in the effort to improve the Union. Three weeks ago, Union Director Joe Cassidy worked with the Senate to determine how the lettering on the glass windows at each entrance should look.
The goal for these improvements and changes is to be complete by 2015, said Stack. At that time the Union will be celebrating its 125th anniversary. The E-Board, Senate, and Union Administration hope improving the Union in this regard will be complete by then.
For more information regarding the E-Board's efforts, students can contact Stack at pu@rpi.edu. The E-Board also holds weekly meetings every Wednesday at 8 pm in the Shelnutt Gallery, Union Room 3606, which are open to students.