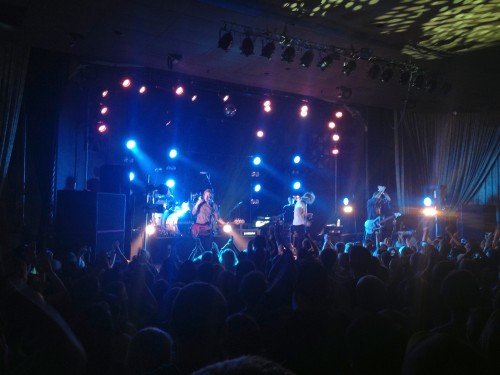 SWITCHFOOT ROCKS OUT on stage in Syracuse's Westcott Theatre, leading the audience in clapping along to the song.
Switchfoot, a band whose name originates from a surfing term meaning to take a new stance facing the opposite direction, gave an energetic performance at the Westcott Theatre in Syracuse on Friday night. The band, sharing stages across the nation with frontliners Paper Route, opened their fall 2012 tour at the beginning of the month, following an international summer-long tour.
The opening band, Paper Route, did a commendable job, catering to the eclectic crowd, with a diverse audience aged from teens to seniors, and managed to ignite the audience despite their distinct style. After an unfortunately long pause between groups, Switchfoot came on stage and quickly warmed up the audience.
Notable for the liveliness of their performances, this show was no exception. Taking advantage of the small venue, the band was able to connect with the audience on a more intimate level.
Jon Foreman, the lead singer and guitarist, exuded energy throughout the show, and interacted often with the audience. He walked off the stage and into the arena where the audience was standing to perform an entire song while standing on a railing, accompanied and supported by his fans. Foreman also jumped onto the drummer, Chad Butler's, platform and back off onto the stage while playing through a difficult solo.
The band further adapted their performance, deviating from their setlist, in order to play songs requested by their audience. The group decided to play their hit single "Always", despite not including it on their playlist, and changing the order of their closing songs.
The group has received multiple accolades, notably a Grammy last year for Best Rock Gospel Album for their album Hello Hurricane, and this performance was by no means unmerited of further award.
The concert was an impressive display of musical talent, showmanship and audience interaction. It was energetic and refreshing, and definitely let both bands shine. Its atmosphere could be best summed up by a single song: one audience member was holding a sign requesting to be allowed to accompany the band on guitar. The audience erupted in cheers as he played, almost flawlessly, the difficult riffs of "Dark Horses" while Foreman and the band sang along to an eruption of audience cheering.
It truly felt like a family gathering.