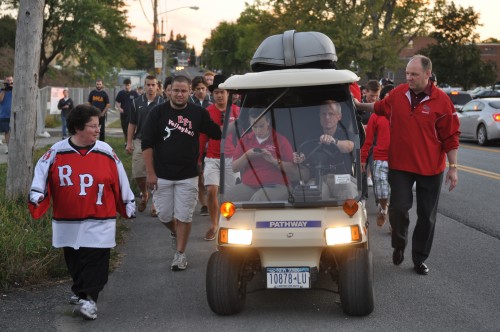 PRESIDENT OF THE UNION JON STACK '13 WALKS at the head of the hockey line on Tuesday evening, leading the procession towards the Houston Field House.
Tuesday, the line of RPI students waiting to buy season tickets for ice hockey finally walked down to the Houston Field House to exchange money for tickets. Many had camped outside overnight since Monday, and some groups had held their spots for several days previous. At 7 pm, the line paraded up through campus to the ice at the Field House, where tickets went on sale at 8 pm.
Hockey Line is a school-wide tradition that dates back 39 years, before the Field House was renovated. In the past it has even gone as far as requiring changes be made to the Rensselaer Union Constitution specifically banning the creation of structures on Union grounds. There have even been people in line for a significant part of the calendar year.
"This year we had really good turnout," said Grand Marshal Kevin Dai '14. There were 25 groups in the line, which Dai said was close to last year's number. The groups represented a variety of campus life, including greeks, independents, clubs, and groups of friends.
During the afternoon, the Red Army barbequed food for the waiting students, whose tents and couches wrapped around half of the Union building. Many munched on the food while the giant red LED timer counted down to zero.
This is the second year that the line has paraded from the Rensselaer Union to the Field House, led by the student-athletes of the men's and women's ice hockey teams. The cheerleading team shouted RPI chants, and the pep band was broadcasted live via a small hand-carried boombox as the trail of people made its way past Freshman Hill, down Burdett Ave., and up to the Field House.
Once there, students ate free pizza from Domino's, ice cream from Sodexo, and doughnuts from Red & White. The ice was open for free skating as well.
"It's an awesome way to get the school excited for the upcoming season," said cheerleading captain Megan Corrales '13.