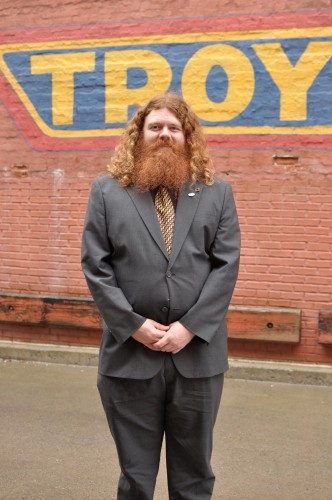 Not many people have gone through their RPI experience for the past four years without seeing the results of the efforts of Anasha Cummings '12, or at least having seen his smiling face and epic red beard. A strong proponent of sustainability, student leadership, and positive relationships with the Troy community, Cummings has made the best of his time here, promoting change both on and off campus, both tangibly and intangibly.
Of course, Cummings' choice to come to RPI was not for the need for change but for the opportunity to promote change in a positive environment. Upon visiting, he sat in on a Design, Innovation, and Society studio class and found that it was the education that he wanted: hands-on, group-based problem solving. Cummings reflects, "memorizing and spitting back is not adequate." That is the mindset that made him fall in love with RPI.
As early as October of his freshman year, Cummings became president of Ecologic, a club that promotes education on sustainability-related matters. By the end of his sophomore year, Cummings was chair of the Student Sustainability Task Force, a body that brings together various sustainability-related projects around campus, including Face the Waste, the Sustainability Charrette, and institute-wide energy efficiency measures. In due time, he passed each of those positions on to another aspiring leader, moving on to other projects around the campus, including involvement in the Student Senate—where he chaired the Advocacy, Community, and Advancement Committee—and the RPI Farmer's Market.
While he was not the sole founder of the RPI Farmer's Market, he considers it a tangible addition to the campus that he is proud to be involved in. Students can be seen frequenting the Rensselaer Union on Thursdays to pick up a stromboli, delicious pastry, or some fresh local produce should the season permit. "It improves the quality of life at RPI," a sentiment echoed by Cummings and many other supporters of sustainability at our institution.
While the Farmer's Market is clearly one of Cummings' more visible contributions to the campus environment, his effects spread far beyond the walls of the Rensselaer Union. One of his many roles on RPI's campus has been being an undergraduate student board member for the Association for the Advancement of Sustainability in Higher Education, a group of colleges and universities working toward a sustainable future.
Beyond campus, Cummings spends a large amount of time in Troy and reflects upon the great potential possible between the city and the campus on the hill. He wrote his senior thesis on economic development in Troy in conjunction with entrepreneurship. There is a huge knowledge capital available to Troy between RPI, Russell Sage College, and Hudson Valley Community College, and we, as a community, must continue to invest in that capital, helping people collaborate to everyone's gain, both on and off campus.
One of Cummings' greatest drives on campus has been registering RPI students to vote and be involved in the decisions that students could and should be involved in. The relation is not one-sided, however, as the Troy community has grown to be receptive and open to ideas from students and the campus community, giving way to employment opportunities for students as well as opportunities to make a difference beyond that found in a paycheck.
While one of his greater joys is speaking to other members of the Troy community, Cummings also enjoys the environment around the capital region. At times, he takes the trip out to the mountain ranges local to the greater region to enjoy the environment the area gives.
Being one of the more avidly involved members of the Troy community, we took the opportunity to ask Cummings what hidden gems he recommends in the area. Down 15th Street, near Polytechnic Apartments, the restaurant Muza is "amazing and close," and Cummings recommends the banana nut crunch. On the line of food, he further suggested DeFazio's Pizza, located at 266 4th Street. Of course, as much as food is an easy appeal to most residents of RPI, he points out there is more to the city than different tastes. According to Cummings, "there's a great place called the Burden Iron Works Museum, operated by the Hudson Mohawk Industrial Gateway. It's a beautiful building that contains a wonderful amount of history; why Troy is what it is." Many students may be unaware of the industrial roots of the city on the Hudson: a vast set of skills related to making bells, ironworks, and the real booming product—collars.
Becoming so involved in RPI and the greater Troy community isn't something that happens overnight. Surprisingly, Cummings confessed that when he came to RPI he thought he was introverted, and still considers himself so in a way. But he makes his jump into getting involved simple. "Just talk to people. Say hi, smile, that's where it all starts … But just walk around and see what people are up to, a lot of people will welcome involvement." He adds the stipulation just that talking is not enough, nor is doing, but one also needs to think about and analyze what they do. "Too much is driven by systems without anyone thinking about what is happening."
Considering Cummings' time at RPI is coming to a close, there is a buzz wondering what he will do next. While he was lax on the details, he revealed that he is in the process of starting a company based around cutting-edge educational microbial fuel cell technologies. True to his belief in the group experience, and engaging his community about him, this is being started with another recent RPI graduate here in Troy.
Always the modest man in his involvement, Cummings conceded that "it is good to know that at least to somebody it feels like I've had an impact." He's grateful to see that his contributions are valued and hopes that many, if not all of them progress forward after his time at RPI comes to an end.
But he won't leave us without offering powerful advice: "Keep standing up for what's right. Students at RPI are in a cool position where they are really empowered, there are a lot of leaders on campus, which makes for some really cool opportunities to make a lot of difference both on campus and in the world around us." Cummings has stood up, uncompromising and steadfast, for what he believes in, and has accomplished great things because of it.