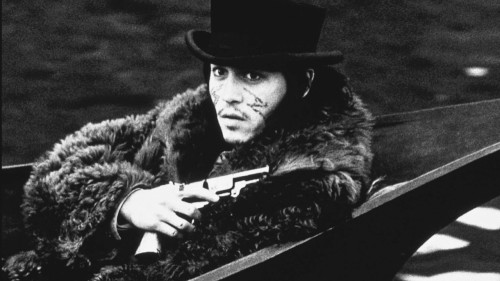 WILLIAM BLAKE (JOHNNY DEPP) CLUTCHES his gun as he and his friend Nobody canoe down a river toward a Native American village to get a better canoe—one capable of sea travel.
Last Thursday, April 19, the Experimental Media and Performing Arts Center hosted a screening of Jim Jarmusch's 1995 film Dead Man as part of The Eternal Return series. Dead Man is a re-imagining of classic Hollywood westerns featuring a young Johnny Depp (I couldn't reconcile him with his more recent roles until his character sprouted facial hair), Iggy Pop, Billy Bob Thornton, and a largely improvised yet excellent soundtrack by Neil Young.
The movie begins with a train ride. This scene was a little unnecessarily drawn out, in my opinion, consisting of several short clips of the main character, William Blake, looking around at the other passengers interspersed with shots of the scenery outside. It does a great job, however, getting across the long and excruciating nature of the train ride—going from Cleveland, Ohio, Blake's hometown, to the town of Machine on the American frontier.
Toward the end of the ride, a fireman—whose job it is to shovel coal into the train's engine—sits across from Blake and asks him where he's going and what he's going to do there. Blake replies he has an accounting job waiting for him in Machine at Dickinson metal works. The fireman tells Blake not to trust in the offer, and indeed, when Blake arrives at the metal works, he finds that his position has already been filled. Distraught and now penniless, Blake heads to the local tavern, outside which he meets woman named Thel, whom he helps up after being shoved in the mud by a drunk.
Thel asks Blake to walk her home, which he does. One thing leads to another and they end up in bed together, after which they are walked in on by Thel's ex-fiancé Charlie. Charlie becomes understandably angry, and attempts to shoot Blake. Thel dives in front of the bullet, which kills her and lodges in Blake's chest, wounding him. Blake shoots back with Thel's gun, killing Charlie, and takes a horse out of town.
He awakes to find a Native American called Nobody attempting to remove the bullet from his chest. Unable to do so, Nobody tells Blake that the "white man's metal" is too close to his heart, making him effectively a walking dead man. The two ride off away from Machine, pursued by bounty hunters and marshals hired by Charlie's father, the same Dickinson who refused Blake the accountant's job.
I won't spoil the movie (this is only the beginning), but it's a very powerful piece. Dead Man is shot in black and white, which adds to the old-time feel of it, and is rife with symbols of, metaphors for, and acts of death. The fireman tells Blake that Machine is "the end of the line," countless animal skulls (mostly buffalo and bulls by the look of them) adorn the streets and buildings of Machine, and no less than 15 people are killed by the film's end. Despite this seriousness, the movie has its funny points as well. Nobody is a very humorous character, calling Blake "stupid fucking white man" several times, quoting cryptically from the poet William Blake, and even stealing Blake's glasses. There is also a running gag in which Blake is constantly asked by everyone he meets if he has any tobacco, to which he responds that he doesn't smoke.
All in all, I greatly enjoyed Dead Man. I highly recommend seeing it if you get the chance—look it up on Netflix or Amazon Instant Video, or see about renting it from good old-fashioned video rental stores. You will not regret it.