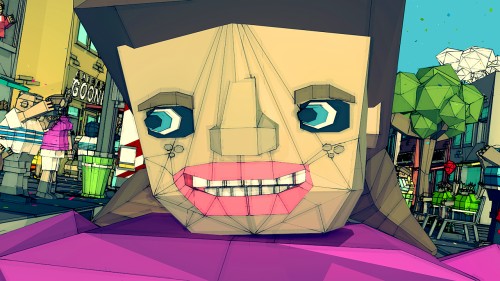 MAYHEM BREAKS OUT on an otherwise beautiful sunny day as a small town parade gets bloody.
onedotzero_adventure has done it again. Last Thursday, EMPAC hosted a double feature show, Wow+Flutter 11 and Wavelength 11, and they were both just visual treats. In the same vein as many others of onedotzero's shows, some of the shorts were a little hit and miss, and some of them were amazing. Overall it averaged out to an amazing show, which is every way worth going to. onedotzero has a very high quality that they bring to all of their work, so like I've said in the past, love it or hate it, its quality will still impress you.
Wow+Flutter 11
This first show of the double feature started out very strong, with its second short being one entitled "cutters," and featuring a rather inception style story of creation and scale. It begins by showing a man cutting a piece of paper, and then placing his work into a forest of paper as the final piece of a bush. After looking at his handiwork, his world began shaking and suddenly cuts formed in the world around him as he tried to flee the destruction. Then, as everything is to cut into pieces around him, the short zooms out to show another man cutting a piece of paper and placing it as a piece of the back ground in a sort of diorama he is making. It was breathtakingly well done, and the music and sounds were incredibly dramatic and somewhat overwhelming.
Shortly after this, there was another amazing piece entitled "Jump" about a young man acting as a drug runner for a operation taking place in a massive apartment building. The police storm the building and kill his compatriots, forcing him to run away as fast as he can, exiting onto the roof. The police, in hot pursuit, corner him there, only for him to do the most amazingly executed double-jump I have ever seen in digital cinema. The piece was funny, and just brilliantly done.
Another amazing piece (last one and I'll stop gushing about this show, I promise) that must be mentioned is the short towards the end of the show entitled "Mahalula the giant rodent of happiness." This piece was a mere 48 seconds long, but in that tiny window easily makes the top list of shorts in this set. It depicts a monochromatic earth being enriched by an amazing colorful asteroid and its inhabitant, Mahalula. It's short, unbearably sweet, and is somehow one of the funniest bits of the whole show in its 48 second run.
There were a few more shorts that I felt went downhill in this set. For whatever reason there were like three or four shorts that were essentially commercials for other projects. While these were definitely high quality, they were also sort of annoying because I feel like they were throwing ads into what is essentially a serious artistic show. Overall, the show was still definitely worth the admission price.
Wavelength 11
Wavelength 11, especially in comparison to Wow+Flutter, was a very trippy show. It differs from part one of the double feature primarily through the fact that all of the shorts are essentially music videos, as they are all closely based on songs by various artists, running the gamut from an a capella style kind of folksiness to more trippy, purely digital music.
Some sections were high quality, but didn't really tickle my fancy. Then there were sections like "How are you doing?" by the Living Sisters. This short was just off the walls amazing, featuring, as it did, the stories of three sisters, all talking to each other by phone as incredible and stressful events happen around them. They each claim to be doing fine with things like giving birth, sinkholes popping up, massive car accidents, and other general madness happening to or around them. The screen was spilt into three parts, one for each sisters, and that made it hard to focus on the entire story sometimes as you get engrossed in the action surrounding one of the sister, and while this is itself mildly stressful on the part of the viewer, in many ways I feel it adds to the charm of the short.
Easily my next favorite short in this set was the short about the song "Kill your Co-Workers" by Flying Lotus. The song itself was digital, and not bad music. True digitally generated music is often not really my thing, but the music faded so wonderfully into this short about a parade with murderous killbots, signs that read "Rainbows are yummy," and much more along that sort of nonsensical theme. This short was just a hoot. The rendering style I found to be a little tedious, but that's mostly because things like polygonal clipping bother me, which is more of a personal technical preference than any reflection on the short. Overall, the short was the tale of man proud of his robots whose co-worker insults him and thus sparks massive and colorful killing spree on the part of the 'bots.
In summary of all of this, I just can't stress enough: come see one of these shows. They are artistic beauties, and this kind of project definitely is worth your patronage. onedotzero does good work, and you won't regret it, I guarantee it.