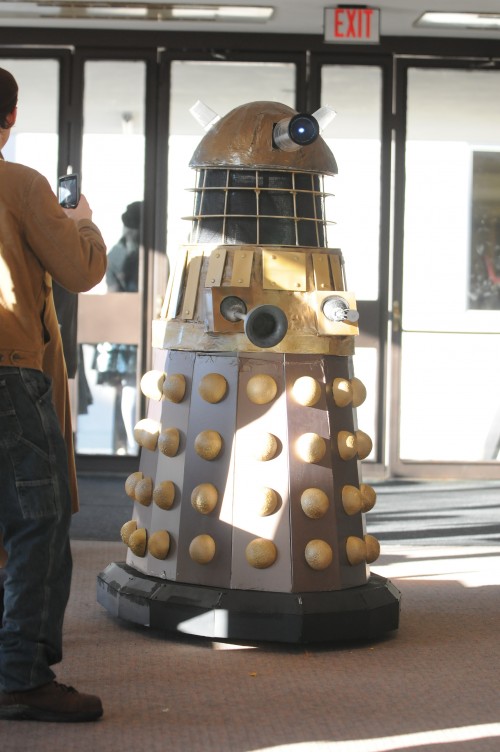 A FEARSOME DALEK WARRIOR TERRORIZES Genericon attendees in the Darrin Communications Center, promising swift extermination in the cosplay contest.
Last weekend, Rensselaer hosted Genericon XXV in the Darrin Communications Center and the Low Center for Industrial Innovation. This year's iteration of the annual convention attracted approximately 1700 colorfully costumed attendees over 48 hours of panels, activities, and performances. Special guests included Nicki Clyne, an actress on the sci-fi television show Battlestar Galactica, Johnny Yong Bosch, who is famous for playing the second Black Ranger on Mighty Morphin' Power Rangers, and Eyeshine, a band from West Hills, California.
"Our theme this year was time travel, in order to play up the impact of 25 years of history," said Vice Chair and Public Relations Coordinator Evan Minto '13. This makes Genericon the longest running college convention in the nation. The weekend-long event is planned and executed entirely by RPI student volunteers. The committee, part of the Rensselaer Science-Fiction and Anime Club, was chaired this year by Emily Stuart '14. Other administrative staff included Lily Cane '13 who is in charge of convention operations and Sean McCormack '12 as treasurer.
According to Minto, the panels and signings by Bosch were very popular, along with the concert in the RPI Playhouse by Eyeshine, for which Bosch is the lead singer. Other well-attended events included "The Con Artists," a group of RPI alumni who ran several panels on trivia and anime, the cosplay competition (where attendees showed off their costumes of their favorite science fiction and anime characters), and the showing of My Little Pony: Friendship is Magic in DCC 318.
This year's Genericon had over 300 more total attendees than last year. "[It was] a lot more than we expected!" said Minto. "We centralized a lot of information in our operations room so all of our staff could pull important contact information and sign-in sheets from the same binder." According to Minto, his main disappointment was the formal dance, which, due to confusion over the expected music genre, generated complaints from attendees.