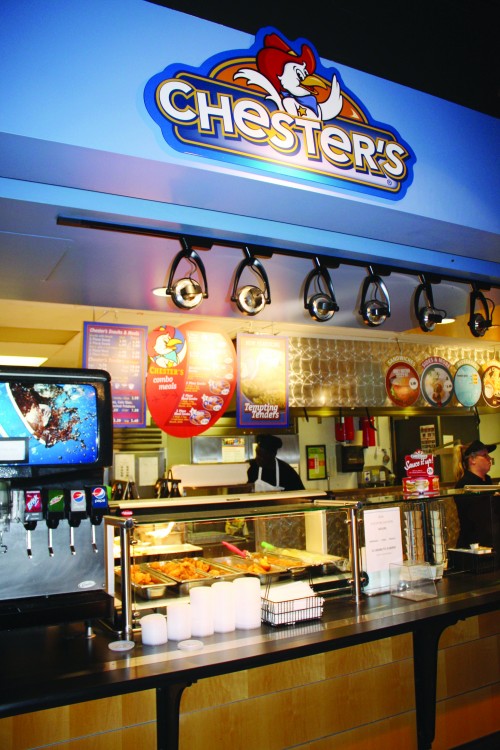 THE CHESTER'S CHICKEN STOREFRONT, LOCATED between Sub Connection and 155° in the Rathskellar in the basement of the Rensselaer Union.
Chester's Chicken is the newest restaurant venue to grace the Rathskellar with its presence, and it's not half bad. Their food is quite the welcome addition to the Rathskellar's repertoire, adding as it does fried chicken in all of its bounteous glory. They offer a standard sort of Kentucky Fried Chicken-style fare, selling chicken tenders, drumsticks, breasts, and the like. Golden fried potatoes and biscuits round out the combos alongside their decent selection of sides—which could be a little bigger but overall is not bad—consisting of potato wedges, baked beans, cole slaw, and mashed potatoes.
All in all, I enjoyed the food. The tenders and boneless wings I had may have been a tad overcooked, but they were pretty fresh which was nice. The wait to get my food was longer than I would have liked, but not so long that I would recommend avoiding the place. Their biscuits are pretty good, and make a nice complement to the meal as a whole, and their potato wedges were pretty good. They also have six different sauces, many of which were good, and complement the rest of their combos nicely.
I have to say though, that their food wasn't fantastic. It was good, certainly; it beats the food you'd get at Commons or Sage, and it has a pretty convenient location, but it wasn't great. In all honesty, you might get a slightly higher quality from a place like KFC. While fresh, their chicken was a little too tough, and it was more or less the same thing with the rest of their food. With absolutely no disrespect meant for any of their personnel, it's rather well known that Sodexo does not have the highest quality food. This trend is certainly still present in Chester's chicken. But having said all that, and having that as a sort of disclaimer, it's not that bad. And in comparison to the other dining options on and around campus, I think you should consider it, especially if you enjoy fried chicken.