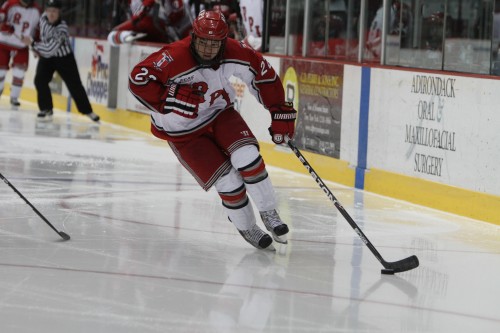 JUNIOR WINGER CJ LEE CUTS across the offensive zone during RPI's 5-1 loss to Union College two weeks ago. The Engineers bounced back to win a non-conference match against the Rochester Institute of Technology this weekend.
Following a devastating 5-1 loss to Union College before the brief break, RPI men's hockey bounced back to earn its third win of the season, defeating the Rochester Institute of Technology. The Engineers, backed by freshman goaltender Scott Diebold, blanked the RIT Tigers in a 2-0 decision. Rensselaer moves to 3-10 overall, while RIT falls to 5-4-2.
The Engineers capitalized on a five-minute major to RIT freshman Brad McGowan for checking from behind to score the game's only two goals. The first came at 1:30 of the second period as junior Nick Bailen buried a wrist shot from the top of the right circle. Freshman Jacob Laliberte, who slipped Bailen the biscuit, earned an assist on the play.
Just over a minute later, freshman Ryan Haggerty notched his third goal of the season off a one-timer in front of the Tigers' net. Sophomore Brock Higgs raced up the left boards with the puck before passing it over to Haggerty.
Although the Tigers had five power play opportunities in the second and third periods, including two shots that ricocheted off the crossbar, they were unable to solve Diebold. The rookie netminder finished with 25 saves, 20 of which came in the last two periods of play. Senior Shane Madolora posted 28 stops at the other end of the ice.
Rensselaer returns to league play this weekend with a pair of road games. The Engineers take on Princeton University on Friday and Quinnipiac University on Saturday. Both games are set to begin at 7 pm and mark the last of RPI's ECAC matches for 2011.