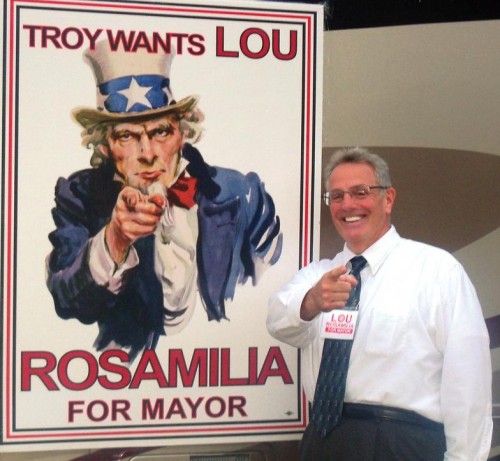 LOU ROSAMILIA POSES confidently in front of a campaign poster.
The new mayor of Troy, N.Y. is Lou Rosamilia, who was elected with a landslide 55 percent of the vote, according to the preliminary count. Rosamilia was the Democratic candidate for this municipal election, who beat out Republican opponent Carmella Mantello for the mayor's spot. Rosamilia took the Democratic nomination when his predecessor Clem Campana dropped out of the race, citing attacks against him over his father's ability to live in a Troy housing authority apartment and over the ongoing absentee ballot fraud investigation.
Mayor Rosamilia has been a professor of accounting in the business department of Hudson Valley Community College for 38 years, as well as a former teacher at the LaSalle Institute. He has also been a resident of Troy for over 50 years. Rosamilia garnered 5,030 votes to Mantello's 4,163.
The City Council election winners for the Council-at-Large were Lynn Kopka, Nina Nichols, and Rodney Wiltshire, in order of votes received. The next runner-up, Tom Killips, was nearly four percentage points behind Wiltshire.
As of last night, some of the district races were still too close to call. In District 3, Dean Bodnar leads the preliminary results by a mere three votes over Russell Ziemba.