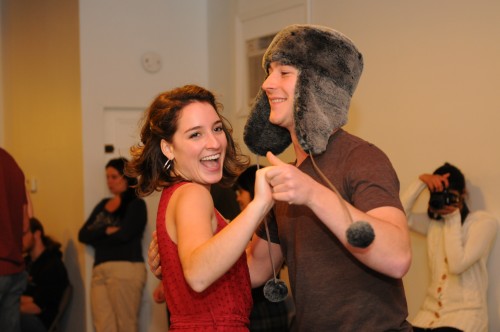 JAMES HODGE AND NICOLE NEWELL SWING around the newly opened The Swing Syndicate dance studio. The studio held its grand opening on Friday as part of Troy's monthly Troy Night Out.
The nightlife in Troy was greatly improved Friday as The Swing Syndicate, a swing dancing studio run by RPI students Orian Breaux '12 and Emily McNeight '14, held its grand opening. With swing lessons offered from 5-8 pm and open dancing starting afterward, the night was a great success. Swing (and dancing in general) isn't really my thing, but I thoroughly enjoyed the celebration. Swing music is seriously fun to listen to and made me want to jump on my feet and flail around with everyone else even though I had no idea how to dance. I did end up learning a small bit; a very nice SUNY Albany grad student showed me the basics.
The Syndicate looks much different from what I had expected. (Then again, never having been to a dance studio, I'm not really sure what I did expect it to look like.) The front wall is almost entirely made of glass, letting the light from inside spill out into the street, inviting passersby to enter. The walls are painted white and were mostly bare, featuring a few pictures of people dancing. Also present was an amusing Prohibition-era map of night clubs in Harlem, complete with a note about 500 or so speak-easies being easy to find. The wooden floor was painted black and surprisingly rough (presumable to assist in maintaining traction with the floor—though I saw a few people dancing in their socks for increased mobility).
As the night went on, more and more people showed up, adding to the crush of pairs on the dance floor. (Surprisingly, I only witnessed one collision between dancers—everyone managed to stay out of each other's way very well.) Raffles were held, as was a Jack & Jill dance contest, but the highlight for me was a seemingly random dance where everyone danced solo. It was choreographed almost perfectly; halfway through they grouped back into couples and followed one man's shouted instructions: "Dance! Freeze! Dance! Itch! Dance! Slowwww! Dance!" As far as I could tell, there was no reason for it other than fun; it was hilarious to watch dancing interspersed with itching, slow-motion, and freezing in place.
When I asked where the idea to start the studio came from, Breaux responded that he and McNeight had participated in some dance organizations over the summer and wanted to promote the scene to new people, but in a way they could do themselves. A desire to teach swing dancing led to the first idea for The Swing Syndicate, and the search for a location yielded a space at 212 River St. that had previously been rented by an RPI alumnus company. After contracting to lease the space, they began to renovate, starting a fundraising drive to help them pay for it. After that, filing the appropriate forms with the New York state government led to the birth of The Swing Syndicate, LLC.
All in all, The Swing Syndicate is a really cool place, one which can make even the woefully ignorant, like myself, interested in the world of swing dancing. I highly recommend checking it out; it's run by two great people and could definitely use some student support. The Syndicate is currently offering open sign-ups for six-week-long sessions with four teachers, which one can enroll in for $70. Every Troy Night Out, the studio will also offer one-hour introductory classes for $5. More information, as well as registration, can be found at the studio's website, http://swingsyndicatedance.com/.