Club Spotlight
RPI clubs persist through the pandemic
As part of an ongoing attempt to maintain a semblance of a normal college experience, most clubs have adapted their activities to operate fully online. Club officers have replaced their usual in-person gatherings with entertaining virtual events such as Among Us, open mics, and movie nights, allowing students around the world to connect and have fun while staying safe.
Concerns Over Club Membership
Some clubs, such as GZ Basement, have actually seen an increase in membership, likely due to the accessibility that virtual meetings offer. Of the respondents surveyed by The Polytechnic, 63 percent of club officers felt that the lack of in-person meetings will negatively impact their future operations. Club meetings have proven to be more difficult to coordinate now that students reside in different time zones. Some officers even worry that they won't see the full impact of the virtual setting until next semester. Lisa Sulmasy '21, co-coordinator for Leadership Educators Advising Peers said, "the true testament [to LEAP's ability to adapt] will be this Spring if we can advertise successfully while completely virtual."
Forging Friendships Online
Most clubs have moved to online services such as Discord, Slack, and WebEx Teams. These online platforms have "helped to maintain a community feeling and facilitate discussion between E-Board members and the general populace of the club... along with cultivating a culture for people to feel involved in" says GZ Basement president Leland Liu '21.
Project and Event-Based Clubs Endure the Most Difficulty
With clubs being asked to keep budgets similar to the last fiscal year, many club officers found it difficult to actualize long-term plans for improvements or projects. Rensselaer Rocket Society Vice President William He '22 expressed concern about being able to meet deadlines for competitions this year due to being prohibited from using their lab space.
The Forge, a student-run makerspace on campus, received special permission from the School of Engineering to stay open this semester. Forge President Russell Roberts '21 commented that in normal times, "volunteers keep the Forge open every day of the week, and when people want to come in, they come in and work on their projects." Currently, the School of Engineering has mandated that only four students are allowed in the space at a time. "Sadly, this is [counter] to how we'd like to run this semester," said Roberts, "but the world being what it is, we don't really have a choice." Due to social distancing measures, the number of allowed volunteers has been reduced from 50 to 20 a semester. Volunteers are also tasked with maintaining social distancing among other students to ensure that it does not double as the lounge and hangout space it previously was.
In addition to social distancing, the Forge has also devised ways to operate remotely. Forge web developer, Michael Honaker '22, spent three weeks designing a ticket feature from scratch, which lets students reach out to volunteers through a ticket system before entering the Forge to maintain social distancing requirements. The Forge also installed cubbies for students to drop off and pick up prints without having to come into contact with Forge volunteers or other students.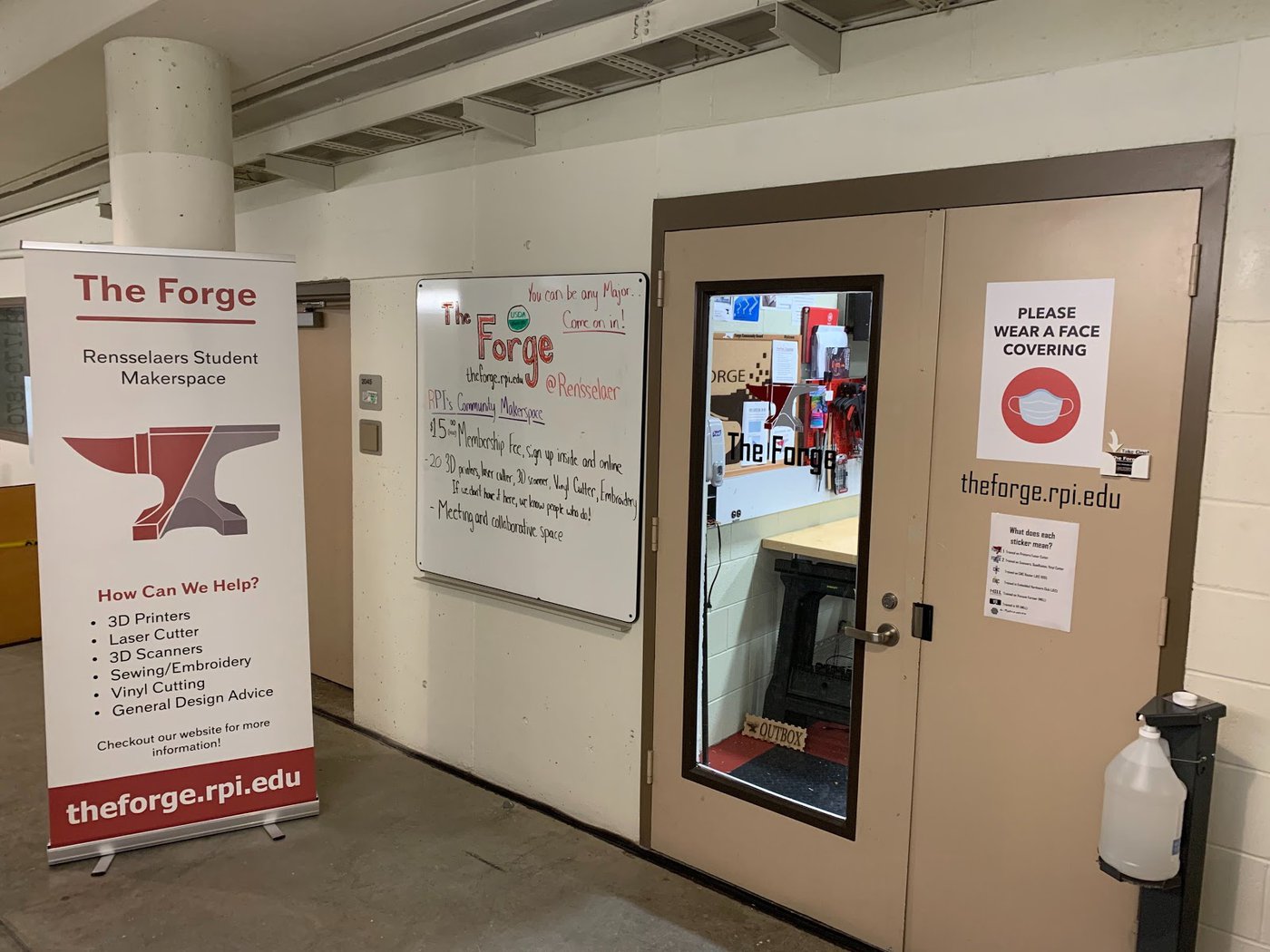 Redesigning Community Service
Circle K, a community service organization, hosts an annual haunted house every Halloween. This year, Circle K reinvented their popular annual fundraiser as a virtual escape room, featuring Google Forms-based puzzles, WebEx meetings to split up teams into breakout rooms, and gift cards to Ben & Jerry's and the campus bookstore as prizes. Since conventional fundraisers are no longer possible with COVID-19, Circle K got creative: members used the app Charity Miles, where members walk around, and sponsors donate money to charity for each mile walked.
Active Minds focuses on improving the mental health of the RPI community and spreading mental health awareness. Despite the current restrictions, Active Minds has developed peer support groups as an alternative to the Counseling Center. They also continued to host their mental health week, albeit in a virtual manner. "The transition to online has helped us connect to even more clubs," said Active Minds Vice President Kara Kniss '22. Though Active Minds was not allowed to host any organizations outside the RPI community in this year's mental health week, other RPI clubs such as Comma, Humans vs. Zombies, and LEAP participated.
On the topic of mental health week, Kniss said "the amount of student interest has grown, and it was really cool to see all the really fun events that everybody did." When asked about differences from in-person operations, Kriss remarked that "We usually have a big in-person event on Wednesdays, and we get to catch people who might not have initially been interested in mental health. That's the whole point of breaking the stigma, right?" She continued, saying that "The in-person aspects of being in the Union and seeing the buzz at the end of the day [is different in normal semesters]. We would always bring cookies or hug each other, and it's kind of unfortunate that we can't build friendships at that level."
Clubs are a major part of the RPI experience: from volunteering with Circle K to building rockets with the Rensselaer Rocket Society, clubs offer outlets for students to pursue their passions outside of a classroom setting. Though the pandemic is not over yet, it will be exciting to see the ingenuity of RPI students in the coming months.
Correction: A pervious version of this article incorrectly misspelled Kara Kniss' name incorrectly. The Polytechnic apologizes for this error.