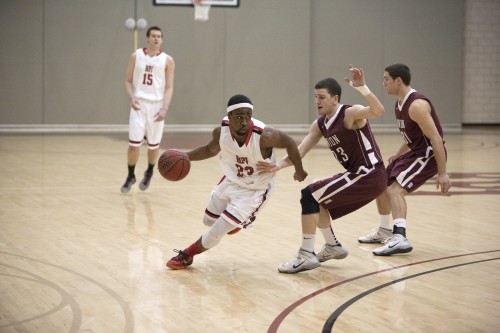 SENIOR CAPTAIN GUARD REGGIE COLAS ADVANCES the basketball down the court towards the Union basket. Colas contributed with eight points in the Engineers dominant 107-78 victory over the Union College Dutchmen on Friday, January 31.
On Friday January 31, Rensselaer's men's basketball team hosted tri-city rival Union College. The game remained close early on, but a spurt of points for RPI blew the game open before the half, with RPI heading into the locker room with a 27-point edge (57-30).
Despite Union's early second half run, they were unable to make a significant challenge on RPI's lead down the stretch. The game wound down with each team playing hard until the end, and the game ended amicably with the score a resounding 107-78 blowout for the Engineers. RPI's junior Josh Dugas led RPI with 21 points while senior Nate Kane, sophomores Jesus Cardenas and Brian Hatcher, and junior Jarrett Boeglin each had 10.
The game started with a 6-1 run for RPI in the first three minutes of the game. Then Union quickly answered with a 9-2 stretch of its own, making the score 10-8 by six and a half minutes into the rivalry matchup. Then, 20 seconds later, senior Pat Harrington nailed a 3-point jumper to give RPI a lead they wouldn't relinquish for the remaining 34 minutes of the contest.
By the time the game reached the 12:20 mark in the first half, 3-pointers by sophomore Tyler Gendron and senior Reggie Colas capped off an 11-0 run for the Engineers that made the score 19-10. After a Union basket, a long inbounds pass resulted in a quick Kane 3-pointer to give RPI its first double-digit lead, 22-12. Driving buckets by Cardenas and sophomore Nash Widowski, and as well as four free-throws by Dugas that expanded this lead to 30-16 by the 9:34 mark in the first half. Later, a steal by freshman Jonathan Luster allowed for an easy two-on-one fast break lay-up for Boeglin.
Then, Union freshman Zachary Bouton drilled Union's first 3-pointer to cut the lead to 36-19 RPI. But it was to no avail. Rensselaer continued its onslaught with 3-pointer's from senior Sean Dempsey, Cardenas, and Dugas to make it 47-23. A put-back layup by sophomore Mike Scocozza and 3-point plays by senior Nick Keefe and Colas allowed the home team to stretch its lead to 57-30 at the break.
To begin the second half, Union broke out of the gates with a 6-0 run that made RPI fans question their team's ability to finish. Dugas scored a 3-pointer and floater to revamp RPI's advantage to 62-39 with 17 minutes left to play. Then, the Engineers went cold, missing shots and allowing Union to claw out two easy layups underneath the hoop. Again, RPI answered. Cardenas and Dugas nailed jumpers quickly to make it 67-45. Then a swished 3-pointer by Hatcher caused the home crowd to erupt in cheers. The game went back and forth this way for most of the second half as Union pushed the ball down the court in hopes of lowering their increasingly insurmountable deficit. Meanwhile, RPI tried, with much success, to turn them back every time they seemed to make some headway.
A three-point-play by sophomore forward Craig Fitzgerald and 3-pointers by Cardenas and freshman Matt Persons gave the Engineers a 33-point cushion with just over three minutes to play. The game wound down with a few 3 pointers by Union and ended in a 29-point victory for the home team.
It could be said that RPI's defense played much better than Union's, but the real key was on the offensive end. Many big shots were made in the contest … and almost all of them were made by RPI. This included 84 bench points for RPI versus 48 for Union. While Union made just two of its first 18 3-point attempts (they did make their last two after the game was well out of reach), RPI shot 41 percent from behind the arc in the game. In addition, RPI's unabated full court pressure resulted in 26 points off turnovers compared to just eleven for Union's Dutchmen. RPI outplayed Union from start to finish in almost every major statistical category, with the exception of points in the paint, which Union dominated in the second half despite being outscored 50-48.
The 7-11 RPI's men's basketball team will travel to 10-7 Clarkson University on Friday, February 7.