On-Campus Event
Campus partakes in Schmidt's inauguration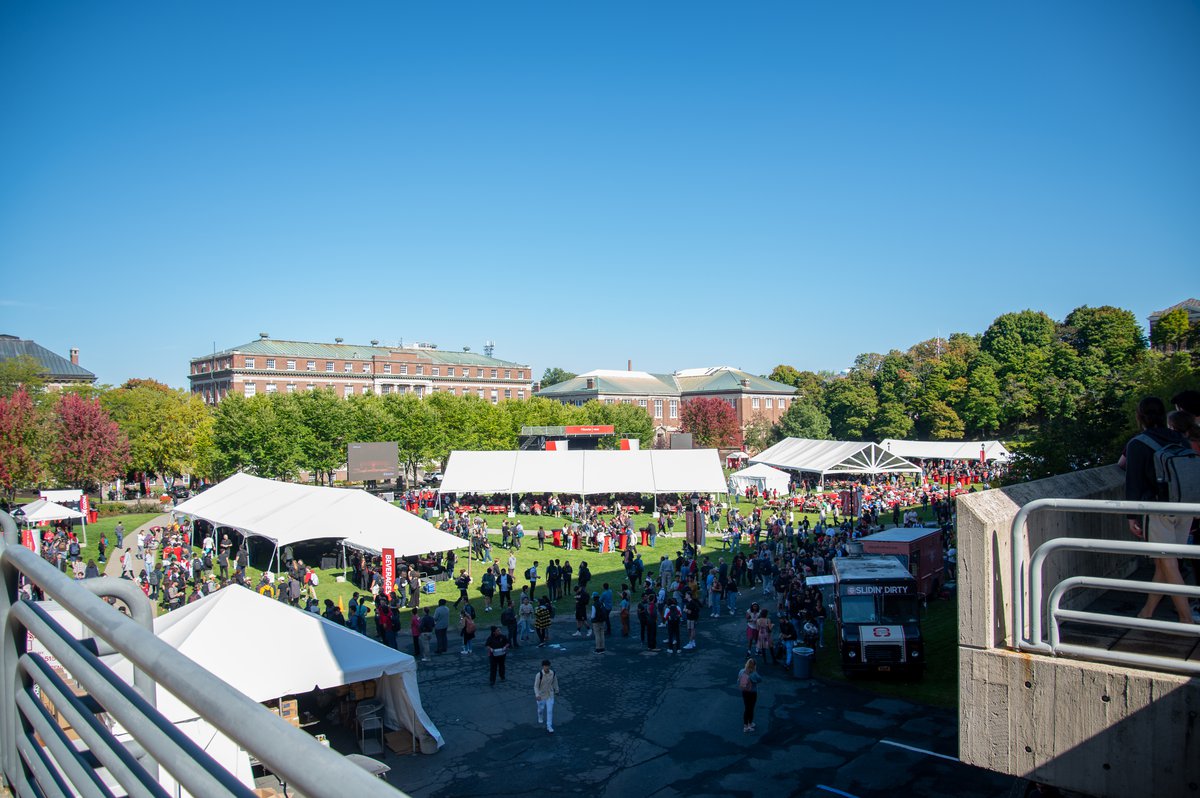 A block party and investiture ceremony were held on Thursday, October 6 to formally welcome Martin Schmidt '81, the 19th president of Rensselaer Polytechnic Institute. The block party on the '86 Field had a variety of handouts and free food to choose from, and the investiture ceremony was a great setting to formally introduce Schmidt to the RPI community.
Students and administrators came together to hear speakers introduce President Schmidt at the EMPAC Concert Hall. Performers included the Scotia-Glenville Pipe Band, the ROTC Joint Service Color Guard, Marina Robles '24, the Rensselaer Student Chorus, and the Calliope Brass Ensemble. Speakers included Rabbi Robert Kasman, Chairman of the Board of Trustees Arthur Golden '66, Congressman Paul Tonko, Major General John Andonie '03, Troy mayor Patrick Madden, Eben Bayer '07, Chief Engineer of Boeing Gregory Hyslop, former President of MIT Leo Reif, President of Spelman College Mary Schmidt Campbell, Grand Marshal Caitlin Bennett '22G, Graduate Council President Kristoff McIntosh '24G, President of the Rensselaer Alumni Association Meghan Lenihan Moulder '10, Executive Director for Health and Wellness Leslie Lawrence, Faculty Senate President Nishtha Langer, Presidential Search Committee chairperson John Kelly III '78, and a blessing from Father Larry Rice.
The wide variety of speakers had only praises to give to Schmidt. Tanko explained that "RPI has a fundamental role to play in preparing our future leaders to meet the challenges of tomorrow… and I know that carrying forth under the strong leadership of Dr. Schmidt, this great institute is more than up to that task." Mayor Madden shared that his talks with Schmidt "reveal that our views are aligned," that working together improves the "academic enterprise" for students and "quality of life" of the Troy community. Reif added how valuable Schmidt was while provost at MIT: "Over and over, he helped us read the landscape and position the institute for future success, and I have every confidence that this same spirit and vision will help RPI flourish as well." Bennett called Schmidt "humble, authentic, and a man of action." She elaborated on his credentials and how he has successfully created change. "With Marty at the helm, and all of Rensselaer alongside him, I cannot wait to see how our institute will grow together," Bennett closed.
Other students flocked to the '86 Field for all types of foods, music, and merchandise. Food trucks included Thunder Mountain Curry, Ben and Jerry's, Flaco Tacos, The Mac Factor, Greek On the Run, Baba Love, Slidin Dirty, Pippy's Hotdog Truck, Iron Works Grill, Lawless, Tacos El Poblanito, Smash Burger, NYC Pizza, and 518 Donuts. Merchandise included a red RPI shirt in all sizes as well as hockey pucks, and music groups included the RPI Pep Band and the Rusty Pipes.
Whether it be food trucks or notable figures, students and administrators found a wide variety of content to consume for an eventful Thursday afternoon.
The full inauguration can be found here.