On-Campus Event
PSS: students waltz into April with RPI Ballroom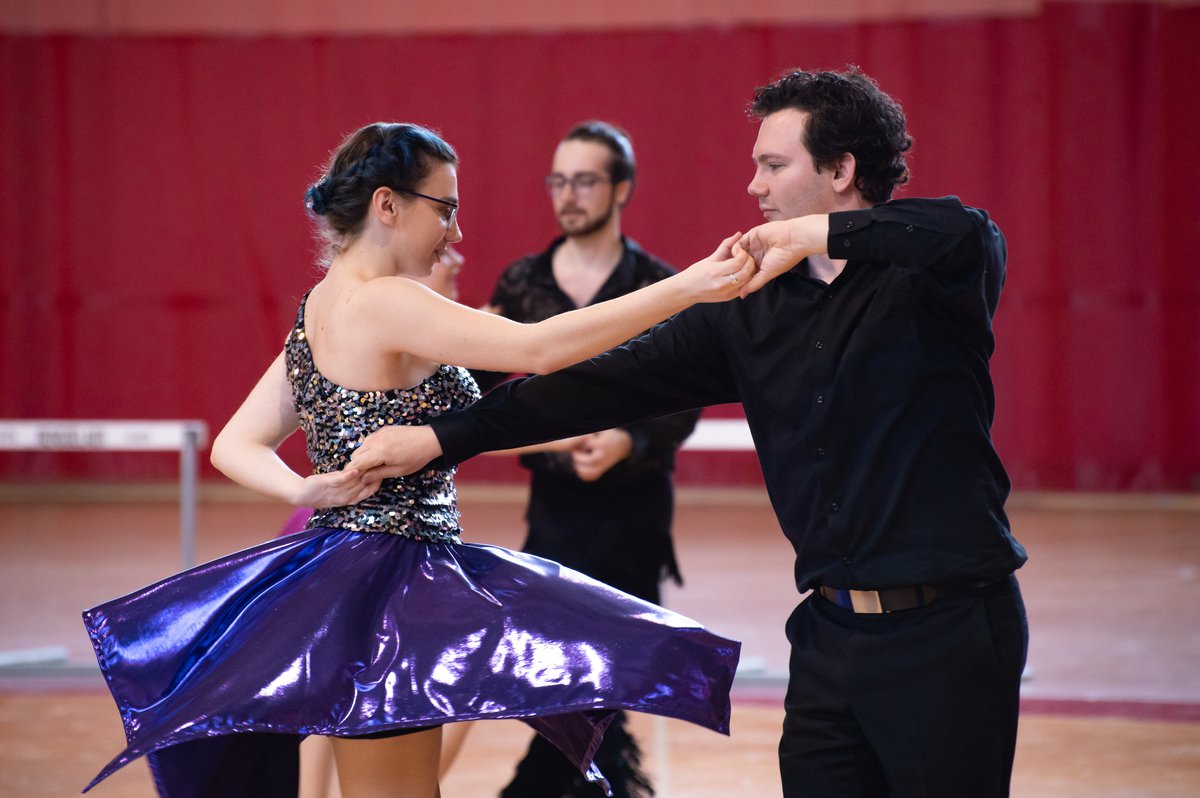 Rensselaer's Ballroom Dance Club hosted a competition in the Armory, welcoming competitors from three other schools as well as independent entrants. Students adorned brightly colored dresses and formal clothing moved across the floor throughout various rounds of the competition, creating improvisational dances which perfectly matched their designated styles.
The tiered competition was broken up into collegiate level divisions: Newcomer, Bronze, Silver, Gold, and Pre-Champion/Open. Each group has its own syllabus of approved steps, based on the difficulty of the level. While Newcomers encompasses dancers in their first year of ballroom dancing, Bronze, Silver, and Gold are defined by increasing skill sets. Unlike the rest of the divisions, Pre-Champion/Open describes a section of the competition with no approved syllabus of steps and dancers may utilize whichever movements they like. Within these five levels, the competition was also divided into four types—Standard, Smooth, Rhythm, and Latin—and these categories are further subdivided into dance styles ranging from waltzes to tangoes.
While many of the dancers from Rensselaer competed in Bronze or Newcomer, Hannah Powers '23G and Emily Parker '23G won first place in both Standard Waltz/Quickstep and Standard Tango/Foxtrot at the Gold level, displaying outstanding performances. As contestants were allowed to enter in two adjacent levels, Powers and Parker also placed in many Silver categories. Among many other dance couples from RPI, Jackson Young '23 and Erin Turnbull closely followed Powers and Parker's lead, receiving the second spot in Rhythm Cha Cha/Rumba and placing fourth overall in Rhythm Swing/Mambo.
The vast majority of the contestants competed at the Bronze level. Though they were limited to simpler steps, Foster Palmer '24 and Turnbull, as well as Garrett Brooks '25 and Emilia Lombardi '26, stood out amongst the crowd, placing at the top of several categories including American Waltz, Tango, and Foxtrot. Young and Abigail Murray '23 were also among the front-runners in the Bronze level, receiving the top award in American Rumba and Swing.
The Newcomer division was reserved for contestants who were just beginning to compete in ballroom dancing. While Shamik Chatterjee '26 and Emanuelle Simchowitz '26 took the top spot in American Waltz and Tango, Lombardi and Kaitlyn Stulen placed first in American Foxtrot, Rumba, Cha Cha, and Swing.
The combination of costumes, dance, and music at the competition combined into a mosaic of visual and auditory art. Through simple movements and costuming, the contestants' brightly colored outfits made them stand out on the floor as they twirled, creating a dynamic display full of freedom, competitive spirit, and captivating skill.