On-Campus Event
Saint Motel ignites the stage for GM Week 2023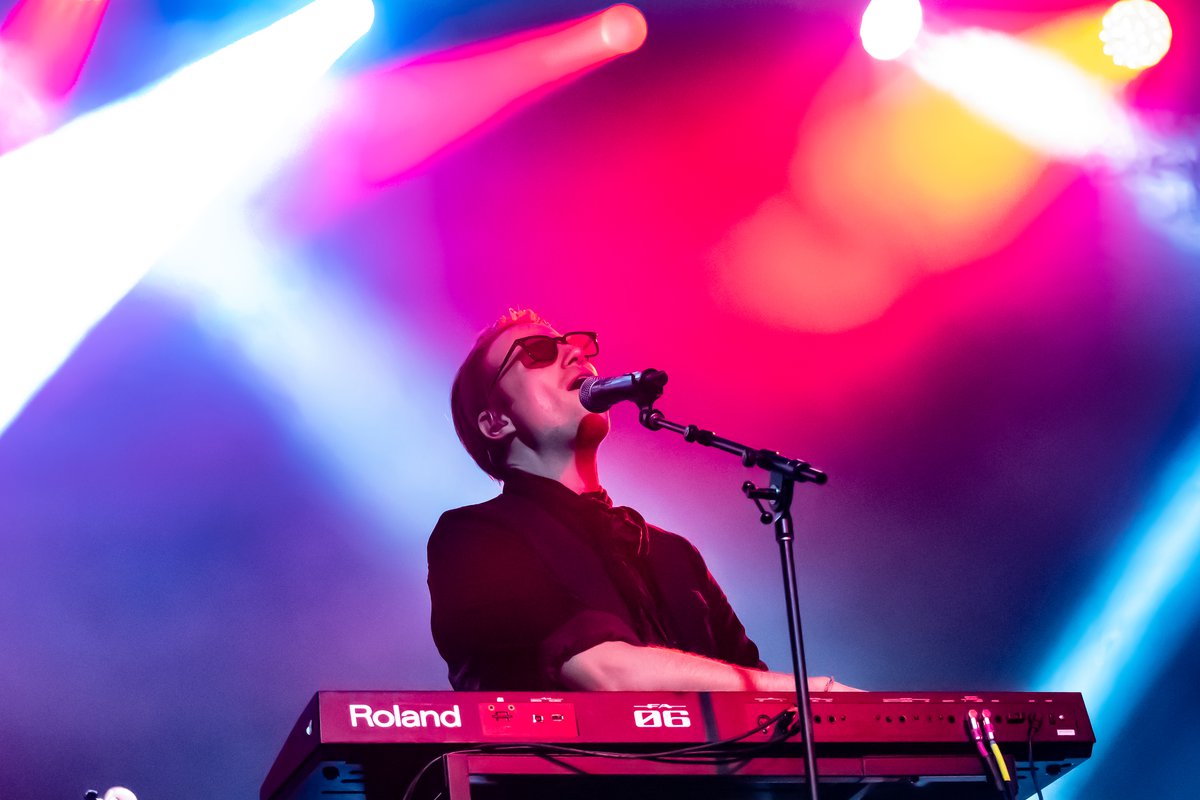 In celebration of Grand Marshal Week, students crowded into the East Campus Arena last Wednesday to watch the performance of Saint Motel with Under the Den. Before entering the dark arena, students donned white Saint Motel hats and wore glow sticks around their wrists. Once inside, only the glimmering glow sticks and the stage lights illuminated the way. Students excitedly chatted in front of the stage before the concert began, eager to see the Los Angeles–based band perform.
Under the Den opened the concert with a series of rock songs, many of which were chosen from their newest EP All That Talk. Their spirited dynamic on stage set the stage for the rest of the concert as the 4 member band performed songs such as "This Moment" and "Let's go to Paris(the world Ends)."
Saint Motel entered the stage around 9 pm with their famous song "Cold Cold Man." Lead singer A/J Jackson, along with lead guitarist Aaron Sharp, bass guitarist Dak Lerdamornpong, and drummer Greg Erwin performed energetically amongst a complex and brightly colored lights show. As the night progressed, the band encouraged the audience to participate through songs including "Sweet Talk," where Jackson taught the audience the seven-note introduction that is repeated several times. Once the song began, audience members sang along to that portion of the song, which made the concert more inclusive by giving everyone a part. This also included in the song "Move," in which the audience was prompted to yell "move" whenever the word came up in the music. For other songs, even if not prompted to sing along, the band encouraged the audience to either clap or dance to the beat.
The concert continued with various songs, of which varied from the lighthearted number "Sisters" to "A Good Song Never Dies," which held a heavier rock-esque beat. The combination of beats from the drummer, the bass and the singer combined a fun, upbeat environment that bonded attendees together as music filled the arena.
In between numbers, Jackson addressed the crowd, thanking Renssleaer for hosting and the audience for attending. He made several references to RPI's rivalry with Clarkson and wondered out loud where Puckman was, putting smiles on audience members' faces from doing his research. At the audience's convincing, he held up his own GM Week mug and downed the contents in one go.
The night concluded with Saint Motel's most popular song, "My Type." Most students were familiar with the song and bounced up and down to the beat. The concert provided an opportunity for students to celebrate Grand Marshal Week as well as brought an additional element of excitement for students to spend time together and celebrate a new era of Student Government.