Restaurant Review
Troy Kitchen: great food, good vibes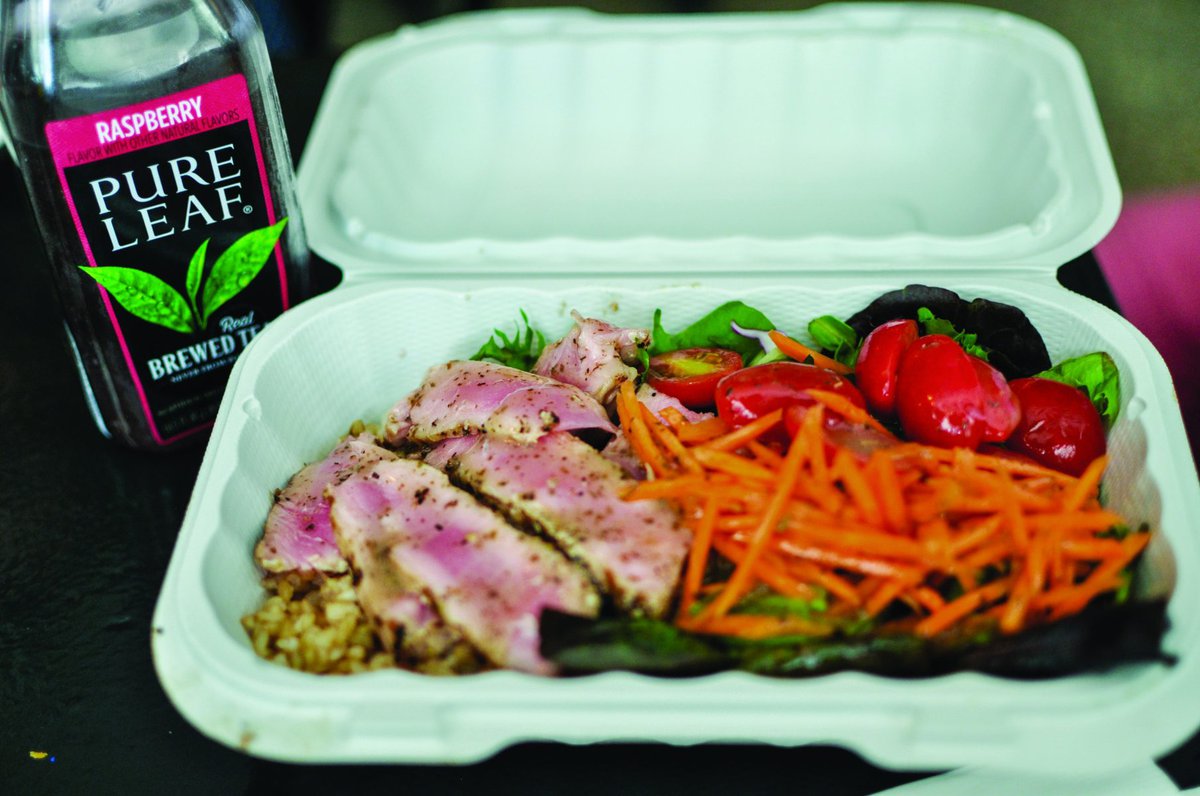 Walking into Troy Kitchen, the first thing I noticed was the music. Unlike traditional food courts, Troy Kitchen had R&B music blasting from the speakers. There were people singing and dancing along to the music which made the vibe more intimate. Despite this closeness, there were enough tables and chairs to distance yourself from others if you wished.   
For this review, I ordered from Halal Palace. The menu has a fairly limited selection of gyros, Greek dishes, and cheesecakes. With every item between $1 and $6, Halal is the most economical restaurant currently in Troy Kitchen. I ordered the chicken gyro for $4.99. When it arrived within 5 minutes of me placing my order, I was surprised and a bit suspicious. Good food takes time to make, right? Wrong. The gyro was absolutely perfect. The bread was soft and buttery, the chicken was warm and tender, and the lettuce was fresh and crispy. The gyro came with the option of two sauces, red and white. Thinking I could handle spice, I made the mistake of ordering just the red sauce to go with my gyro. Shamefully, I had to ask for white sauce on the side after realizing I would not be able to take more than a couple of bites without feeling as though my tongue were going to swell up and fall off if I did not add something to the dish to make it less spicy.
Overall, the food was fresh, delicious, and cheap. I would recommend Troy Kitchen to anyone who wants to experience street food in a more intimate setting.
Fresh Eats, a healthy eating stall in Troy Kitchen, offers a variety of dishes customized to your liking. You start with a base, then add a protein, as well as an assortment of toppings and dressings. Out of the choices of quinoa, brown rice, mixed greens, and 50/50, we opted for the 50/50 base of quinoa and brown rice, which added a great blend of textures. Since the grilled chicken would take longer to prepare, we chose the teriyaki tofu as our protein. However, upon first bite, we found that it may have been a wiser choice to wait for the chicken, as the saltiness of the tofu was overpowering. Nonetheless, the honey lemon dressing made up for what the tofu lacked in taste.  The sponge-like texture of the tofu was able to absorb the dressing and add more flavor. Also, this light and tangy dressing complimented the 50/50 base considerably, along with our toppings. The balsamic vinaigrette and tomato aioli dressings would be great options to try out next time! The greatest perk of Fresh Eats is the option to add as many toppings as you like, whereas some quick eat restaurants offer a set number of toppings, and charge extra for additional ones. Taking full advantage of this opportunity, we added broccoli, tomatoes, carrots, and spinach to our order. All the vegetables were great with the entree, and definitely had a garden-to-table taste. However, the amount of spinach was excessive, and it buried the taste of the base under a bed of leaves. For a small contemporary joint, a healthy $10 bowl is well worth the money. Despite some fallbacks, this dish from Fresh Eats was highly enjoyable, and we give it an overall rating of 8/10. 
Another great option for anyone looking to get comfort food for an even better price is the M&K Island Hut. Meals start at five dollars and come with your choice of two sides. You can also choose from a wide variety of entrees and patties. The Hut also offers an array of interesting—and refreshing—Jamaican sodas and juices. This was my first time eating at the Island Hut, so I got the cashier's recommendation: jerk chicken with a side of rice, peas, and plantains. I got the food in a few minutes and was handed a huge squeeze bottle of barbeque sauce to lather up my chicken, which I used liberally. Having never had Jamaican food, I didn't know what to expect, but I wasn't disappointed. I wish I knew how they seasoned the chicken, because it was somehow seasoned entirely through to the bone! The meat was moist, and just spicy enough to compliment the sweet-smoky flavors of the sauce. The rice and peas were filling, and were not dry like the ones many sub-par places serve. But the real surprise of the meal was the plantains! I was hesitant to order them because I've always had plantains which turned out stale, dry, and flavorless; these were anything but. They served as a sweet and savory treat in between hefty bites of chicken and rice. Standing in between fantastic options like Halal Palace and Fresh Eats can make it a daring choice to go with the unfamiliar M&K, but if you're looking for something to comfort you after a tough day, I can honestly say look no further than the Island Shack.
Specials to The Poly Shreya Barua, Akanksha Singh, and Ruchika Singh contributed.