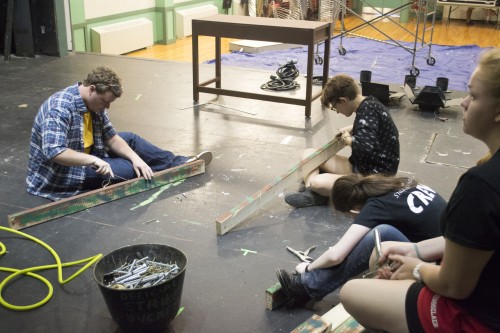 NRB PARTICIPANTS CONTRIBUTED to RPI Players shows by not only performing, but also setting up the stage.
Along 15th Street sits the RPI Playhouse, where Players perform several productions a year. This year, the Players welcomed the new freshmen by allowing them to participate in one of three shows: Bad Auditions, SUPERHEROES, and Meet the Roomates. Under the guidance of current Players, the freshmen had 48 hours to prepare for a live performance in front of their peers. Students were evenly split between working on the set and acting on stage. Enthusiasm for this Navigating Rensselaer & Beyond experience was overwhelming. Out of the 50 students who have signed up for this event, 47 showed up for the Pancake Breakfast hosted at the Playhouse on Wednesday morning. Not all of their day was fun and games however, as the group had to work hard.
"One of the most difficult parts of putting on a play in two days was memorizing the lines before the performance,"said Jack Scurrier '19, who is still involved with the group. But that's not all they had to do before their performance. The group produce a show involving every aspect of theater performance from lights to lines. During the day, they had to prepare the sets and install the lights both over the audience and over the stage.
Even though it's hard work, the experiences of the freshmen at the playhouse will be very beneficial to the future members of the group. "We're a very friendly and welcoming bunch," says Talina Bastille '17. "We do theater, and it's fun."