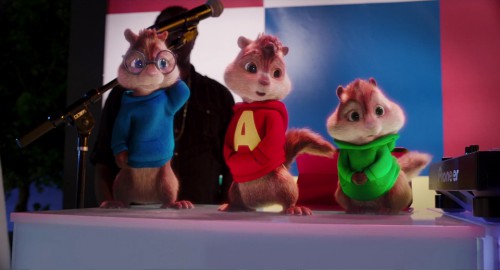 MUSICALLY TALENTED CHIPMUNKS ALVIN, SIMON, AND THEODORE STEAL the hearts of young and old in this heart-warming family film with its quirk and charm.
Maria Kozdroy
Yes, you may think that Alvin and the Chipmunks movies are purely for kids, but that should not be the case. One week past Christmas, my brother asked me to go see their latest movie, Alvin and the Chipmunks: The Road Chip. I had no idea that they even had another movie. I agreed to go see it, and I'm going to share what I think of it—not from the perspective of a 40-year-old movie critic or a parent, but from that of a 19-year-old college student who was on a month long winter break.
As can be assumed from the title, The Road Chip, the chipmunks and their "possible new brother," Miles, go on an adventure from Los Angeles to Miami to try to stop the probable engagement of the chipmunks' "father," Dave, and Mike's mother, Samantha. Along the way, the chipmunks are being chased by the "police of the sky," Agent Suggs. The biggest fault in the title with the actual movie in my opinion is that there is a lack of family bonding in the car or plane that I think of when I hear "road trip." In the movie Are We There Yet? featuring Ice Cube, I clearly recall multiple scenes where the children are giggling and learning about their soon-to-be father. These types of scenes would have brought more to life of the Chipmunks movie.
Another scene I would like to point out is when the chipmunk brothers, having just rescued Miles and Theodore, appear to be passed out. Theodore—the chipmunk who loves food—is revived when he smells an empanada that Miles had dropped. After Theodore stands back up, it shows the crew continuing on their adventure. I would have loved to see Theodore sneak back and grab the empanada. This is what I was expecting to see but never did, and I felt that a simple addition like this would probably have brought more humor to the scene and gotten bigger laughs from the audience.
Only two scenes made me laugh and a few others in the crowd laugh. The first was when the chipmunks break out in dance to "Turn Down for What," popping open the sparkling cider and a packet of sugar which created a fog-like dance atmosphere. The other scene was when the three chipmunks are holding a pose on the hoods of luxurious cars outside the hotel, one with the signature Jaguar emblem. I found this very creative and an interesting way of the chipmunks trying to escape from the police.
New York Post movie critic Kyle Smith writes, "The next time the chipmunks make something together, I hope it's a fur coat." This quick and cute movie is not supposed to be taken seriously by any means for teenagers and adults, rather to be a laid back movie that might make you chuckle a few times and have you simply move on with your life once it's over. For anyone that thinks the Alvin and the Chipmunks series is not enjoyable and below expectations should either not watch the movie or not reflect upon it after, if one does watch it. My biggest concern is that I wish the producer could have added a bit more to make it not only a little longer but also a bit more exciting and funny. Overall though I liked it as a short, enjoyable film.