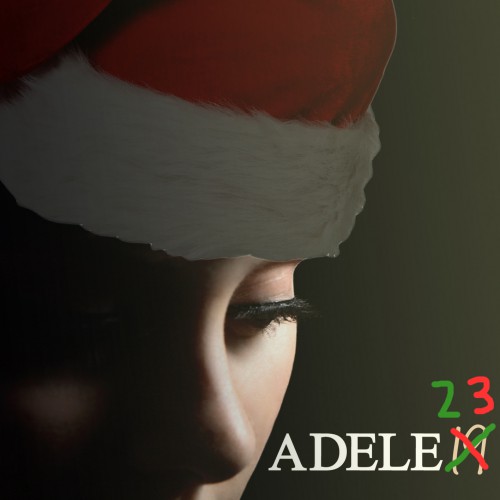 ADELE SINGS classic Christmas songs as well as her own in her new album,
23
.
The chorus of the first track "Hello, It's Me Again" of Adele's newest album 23 sent disturbing, Christmas-themed chills down my spine. These chills remained while I listened to the other 22 tracks as I unreluctantly let Adele take me through a Christmas season I had never known. On the heels of 25's success, Adele has managed to release another album, one closer to her heart and the holiday spirit. 23: Twenty-Three Christmas Songs to Remind You of Your Ex will force you to ask the questions, "Whose hand am I holding this Christmas Eve?" and "Do I still have to buy presents for my parents?"
While the world thought Adele had broken every record imaginable, 23 has broken a few more: the record number of times an artist has reintroduced himself or herself, the record for amount of musical instruments omitted from an album, and the number one record sales in the female 60–70 year old demographic. In addition to this, Adele is expected to win the remaining Grammy awards that she could not with 25. She will take home one Grammy for most discrete record release of all time and another Grammy for releasing her albums out of order. While 23 has managed to make music industry history, this speaks nothing of its charm and Christmas finesse as the world begins to tackle the holiday spirit, unbearably surrounded by those we're forced to love.
When asked why Adele felt the need to record "Hello, It's Me Again," she told reporters that the first one felt insincere. She insisted that the fur coat, the long nails, and the flip phone were nothing but theater props of "Hello's" music video, but she reassured the world that the music video for this re-reintroduction would be genuine, filmed in her own home, and on her own iPhone. After a few soulful classics, including "Someone Like Emmanuel" and "Rolling in the Christmas Dough," we stumble across the first puzzling track of the album. The song—if you can call it that—is titled "23 Christmas Minutes," and, from the powerhouse of Adele, we would expect an instant classic somehow metaphorically tying 23 minutes to Christmas acceptance. Instead, the people of the world sit together, our hearts bleeding for Adele, as she sobs into a microphone for 23 minutes straight. Adele defended the artistic style of this specific track with a simple comment, "People know me as a done-up pretty lil' thing, but nobody knows what it's really like to be Adele."
This holiday collection continues with "I Saw You Kissing Santa Claus," where Adele cheerfully interrogates her ex-boyfriend about his sexuality, but the album takes a mournful dip with the next track, "Rudolph and Me," as Adele recounts the many enjoyable Christmas Eves she spent with her neighbor's dog, Rudolph. All of humanity held its breath when, on a frigid Christmas night, she sings, "I remember how much you hated me when I painted your nose red." Following that, Adele takes on some more Christmas classics, letting the pop music of the holidays guide the listener smoothly through the rest of the album. Before we know it, songs like "I Ain't Coming Home For Christmas," "Aunt Cathy is Telling Rumors," and "The Lights Set Fire to the Tree" remind us of everything we love about the holidays: how family is abundant, how we love those knitted sweaters, and how we can't wait for January.
The finale of this album justifies every bit of confusion we collected along this journey. Adele's parting song from 23, "Mo Years, Mo Albums," promises that the prospects are bright. As she tells her story of 2015, she drops subtle hints along the way that she will be releasing a special album for each holiday in 2016. She confirms one thing before leaving us to ever wonder which holiday she will celebrate next: Christmas is a spirit of gift-wrapping, sobbing uncontrollably, album releases, and new beginnings. Take her parting words of advice, "When in doubt, reintroduce yourself."
Disclaimer: All articles and content published on December 9, 2015 are works of fiction. Any resemblance to actual persons, organizations, locations, or incidents is purely coincidental.