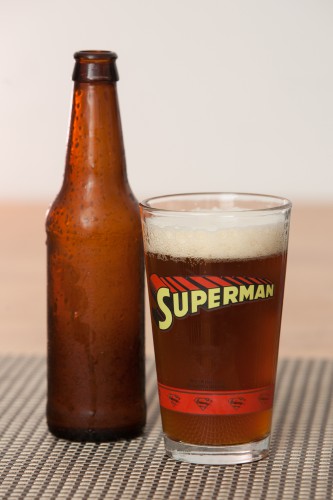 THE PRESIDENT OF THE UNION NICK DVORAK '16 CRAFTED his own brew and invited us to try it.
Chris' review
This past week I had the privilege of tasting Nick Dvorak's '16 Renssel-ale homebrewed beer. It is a wheat-based beer brewed with hops and citrus.
Upon pouring the Renssel-ale into my pint glass, I noticed its golden amber color and apparent carbonation. Raising the glass up to the light, I found the wheat beer to be slightly cloudy; however, its absorption remained translucent. It, just like any other wheat beer, maintained an appealing head about three centimeters in length, which dissipated after a couple minutes to a thinner film. This film was maintained by the brew's continuous and attractive carbonation stemming from the middle area of the glass. The overall look was inviting, with no sediment floating around and a dark, golden appearance.
Inhaling the beer's aromas, first through my nose then my mouth, I caught bready notes of wheat followed by a distinct sweetness—the citrus. I enjoy beers brewed with fruity elements, and this is no different. To feel out a better characteristic for Dvorak's beer, I took a couple more exploratory sniffs and detected a hoppy scent, which I find unique in wheat beers, since they usually are not brewed with hops. Finally, taking a sip, I tasted mainly a wheat beer flavor, followed by a slight citrus influence and faint hoppy bitterness. I was expecting more of a citrusy power, but I think over time its citrus flavor slowly diminished, while maintaining the same aroma. As for its bitterness, the brew's hoppy scent correlates with its hoppy taste: present but not overwhelming. Taking another sip of the homebrew, I let the golden liquid roll over my tongue, feeling its smooth texture and crisp carbonation. I relate the feel to a slight seltzer touch, with its bubbles noticeably felt on the tongue.
Overall, the Renssel-ale was a fantastic brew. I can see myself ordering this at the bar or having this in downtown Troy at say, Slidin' Dirty or The Shoppe. Though I do wish I had the chance to taste it fresh, the same brew poured into a pint glass months later still did the job. I really like the carbonation through the cloudy golden amber hue; it was attractive and gave a fresh-off-the-tap impression.
Dan's review
Noticing our review in the past weeks' Polys, President of the Union Nick Dvorak '16 sent over a note asking if Chris and I would like to sample his homebrewed beer. If you follow the RPI subreddit with a keen eye, you'd remember Dvorak, who goes by the handle /u/anonymoose, post about two and a half months ago about possibly starting a homebrew club.
Renssel-ale, as he calls it, is Dvorak's first batch of beer, finishing the product around the weekend of July 4. It's an American wheat ale, which is similar to a Hefeweizen.
After popping the top and pouring the beer into my trusty Superman pint glass, I noticed the aroma of honey and citrus, both of which the beer was brewed with. Also to note was its cloudiness, due to it being an unfiltered wheat beer, my personal favorite variety. On the tongue, it was lightly fizzy and fruity, yet slightly bitter. It was, in fact, reminiscent of Blue Moon, and it definitely had the fuller body Dvorak was looking for.
Wheat beers are rarely bitter, so this was a nice surprise.
Dvorak detailed the brewing process for me, saying it was made with citrusy hops, brewed at a constant 62 degrees with two weeks of primary and one week of secondary fermentation. It was conditioned in the the bottle for two weeks, as Hefeweizens are. He said that when fresh, the citrus was overpowering. After sitting in the refrigerator for a few months, the flavor, according to Dvorak, had mellowed out.
To hit the perfect 5, the beer could be a little more complex; I'd give this beer a 4.75. Combining my personal preference for wheat beers with a pleasant, but not overbearing, sweet touch, Dvorak's Renssel-ale deserves a high mark. He tells me plans to brew a red ale followed by a cider, and I definitely would like to sample each.
Suffice it to say, if politicking doesn't work out for him, Dvorak could easily have a future in brewing.