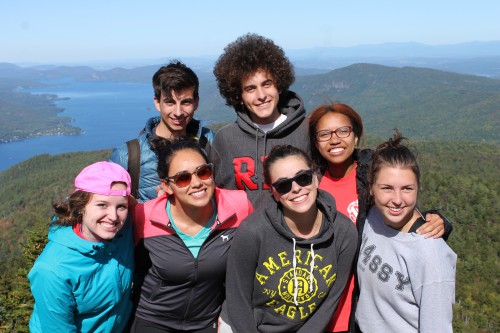 MEMBERS OF THE OUTING CLUB CLIMB Black Mountain in the Adirondacks during a day trip. The club spent the weekend on their annual Fall Lake George trip with 87 people in attendance.
Last Friday, September 25, was Troy Night Out—sure, the town is quaint and there's a lot to do there, but that happens once a month. I was going somewhere even more special. I was attending Rensselaer Outing Club's traditional first trip of the year to Lake George, which is appropriately dubbed as "Fall Lake George." For this trip, ROC rents an entire island (it's called Turtle Island, how cool is that?) and allows participants free reign.
On Friday afternoon, I found myself sitting in a Mini Cooper in the middle of traffic. Nathan Dorer '18 (a fabulous driver who likes to congratulate himself on his driving stunts) bounced in his seat to the music while driving, which was only the start to a weekend full of throwback songs. In a short hour, we arrived at the mainland check-in, where people went their separate ways. There were two options for transportation to the island. First, you could paddle your own canoe with two friends (the brave and bold), which took an hour and some serious tricep workouts. Otherwise, you could take a powerboat with five others (lazy bums, like myself), which would only take 20 minutes at most, though there was a chance of getting wet, but who doesn't love that? Once I arrived, I was informed that I could settle anywhere on the island, which has a perimeter that takes about 25 minutes to walk. Naturally, I settled for a campsite that was two thirds of the way down the island (oh, so far). Just about every campsite on the island had a gorgeous view of the lake, other islands, and moon (disclaimer: only at night). I quickly discovered that the scenery was not the only gorgeous thing—the food that ROC prepared was beautiful to my hungry eyes and stomach as well.
While we were there, we feasted on grilled hamburgers, hot dogs, entire ears of corn (so juicy! so sweet!), steak, chicken, and for the final breakfast, eggs and sausages that we cooked ourselves. But for those who aren't solely preoccupied with food like myself, there were also two very fun day trips on Saturday: hiking, canoeing, and rock climbing. Participants were shuttled to shore where there was a terrain suited for the activity, and spent most of the time between lunch and dinner scaling mountains. Rock climbers clambered up 85 feet of stone, and, according to Nathan, some hikers made a 2.75 mile hike to the top of a mountain, where everybody took an hour-and-a-half long nap before descending, for a round trip of 5.5 miles.
Unfortunately, being the late waker that I am, I missed the activities, and spent the day wandering the island with newfound friends (time lapse and chill, anyone?), and even having a five hour long '90s and 2000's jam session. But that's the beauty of Fall Lake George: this trip is the perfect chance to do what you want, whether that involves hardcore nature lovin' of the athletic variety or the lazy stargazer variety. Everybody just did what they wanted and grouped together to make friends with others who did the same.
Now, I'm not saying it was the perfect experience—the trip wasn't the most organized (or at least information wasn't communicated well). Meal times were not announced to everyone clearly. I found myself waiting well over an hour for the boat ride back to civilization; Nathan discovered that he was obligated to canoe on the way back as well, despite there being more than enough time for the boat to make extra trips, which would have been good to know before choosing to canoe. It definitely felt like things would've been chaotic if there were 150 people, which is apparently the attendance that they saw last year. But, in the end, it was a good experience which I would strongly recommend to anyone who doesn't hate nature. Simply keep in mind that the same rule that applies to the rest of RPI applies to ROC as well: the opportunities are there for you to take, and it's up to you to decide what you make of it.