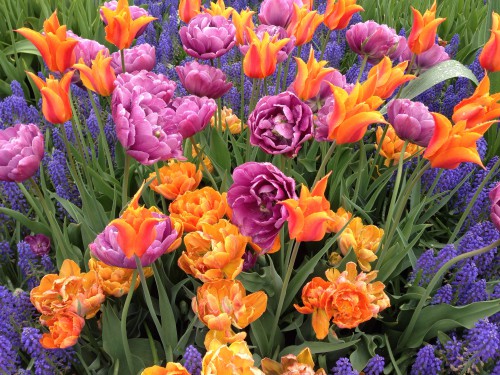 TULIPS AT THE ANNUAL TULIP FESTIVAL IN ALBANY SPICE UP the gardens that they are grown in. The festival this year saw concerts, craft vendors, and even a kidzone along with 100,000 tulips.
From May 9–10, the city of Albany held its 67th annual Tulip Festival in Washington Park. Over 100,000 tulips are arranged annually around the King Memorial Fountain, displaying vibrant splashes of color in each flowering bed. Food tents and craft vendors line the paths around the beds, selling Greek food, barbeque, carnival food, and artisan works. Located farther out, two concert stages performed live music all day. Additionally, a kidzone area, sponsored by Price Chopper, featured a bouncy house and a variety of family-oriented shows for kids.
The origin of the Albany Tulip Festival sprung after Mayor Erastus Corning 2nd passed a city ordinance declaring the tulip as the official flower of Albany. The following year, the first Tulip Festival was held on May 14, 1949, in commemoration. The opening ceremonies, which are continued today, include the crowning of a Tulip Queen and the sweeping of State Street before festivities begin.
Unfortunately, Isabel Johnson '16 and I were only able to attend the festival on Sunday, May 10. However, the vivid color spectrum that the tulip sea displayed, in addition to the endless lines of tents, were more than enough for hours of entertainment. The day was pleasantly sunny and slightly humid, but this was solved with a tall 32 ounce container of freshly squeezed lemonade. I swear I caught a whiff of my local childhood carnivals when I walked down past vendors' tents. I, of course, couldn't resist buying a deep fried porchetta skewer from a food truck. As I closed my eyes, the misleadingly light scent of deep fried Oreos and heavy tomato aroma of carny pizza played nostalgically powerful olfactory notes.
When Izzy and I walked through the tulip patches, we were taken by their bright variety. Many were bicolored, with distinct solid colors and a few stripes of a different hue. I was stunned by the sheer amount of flowers; it's one thing to say that there were over 100,000 flowers, but to see them in person was breathtaking. In between the flower beds, kids scurried around, with some even weaving inconspicuously through them. Not only were the tulips alive with energy, but also the people and vigor around them.
The Tulip Festival was a great way to wind down and check out a truly unique experience; I've never seen such an expansive array of tulips. The live music and endless rows of local vendors offered sweet treats and interesting art pieces. It was a short break from the mountains of work before finals.
The Albany Tulip Festival is held annually in Washington Park in Albany in May. For more information, visit http://poly.rpi.edu/s/uz8eg.