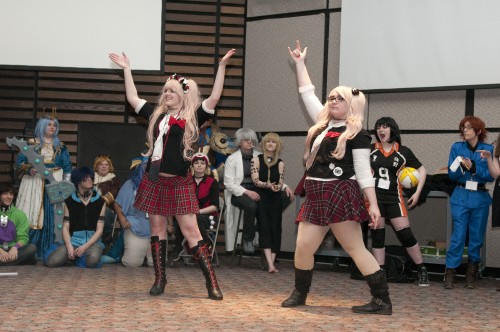 ATTENDEES OF GENERICON PERFORM at the convention on Saturday, March 14. The annual RPI-hosted convention attracts anime, science fiction, and gaming fans from both RPI and outside the community.
Confession: I'm not a convention person. It's not that I have anything against them, I've just never been particularly interested in them. It doesn't help that I've hardly ever watched much anime and know next to nothing about gaming and most of what is discussed at conventions in general. Confession number two: I didn't think I'd enjoy it much. Admission: I was wrong.
The Genericon 2015 cosplay competition started with a skit competition and moved on to the general costume contest. It was hosted by Karl 'Uncle Yo' Custer, an improv comedian who specializes in geek culture. Getting him was definitely a great call by the organizers. He also has a YouTube channel, "Uncle Yo," and he mentioned that he'd put up a video specifically for Genericon, although I haven't been able to find it yet. The skits included Phantom of the Opera duet sung by Amu and Ikura from the Shugo Chara series, a Frozen skit :"Let it Go: The Aftermath," a dance from Medusa and Stein from Soul Eater, and an Invader Zim skit. Not only were the skits hilarious, but the commentary was too, and the fact that I, who understood a precious few of the references, enjoyed it so much is an indication of how entertaining it all was. The skits were well done, and when Zoe McLean '16, as Elsa from Frozen, asked the giant snowman she'd named Marshmallow (because he looked like a marshmallow on steroids, you see) regarding her (black and blue) dress, "do you like it? It's kind of a nice … white and gold color", the crowd did let out a collective moan, but they also laughed generously because it was pulled off so well. It was the same with the other skits.
The participants certainly put in a lot of effort. McLean said that she'd gotten the idea a few months ago, written the skit three weeks ago, and had been practicing pretty much ever since. She'd made the dress entirely herself too. Her efforts were rewarded; Uncle Yo, who said he'd "seen the same Frozen skit 50 times since 2013", declared that hers was best one. She also placed third in the skit competition. Morgan, who played Medusa from Soul Eater with Kenny who was Stein, had made stitched both her and her partner's costumes herself. The couple-who were a crowd favorite and placed first in the skit competition—said they'd been practicing for a week. In a short chat after the competition ended, they revealed that they had met at another convention July of last year and this cosplay was in the works since then. They both came from Glen Falls, about 45 minutes from RPI. When asked what the appeal of Genericon was, Morgan—who has attended conventions with over 26,000 participants-said that it felt like her 'home convention' and that the crowd here was very supportive. According to her, "Especially recently, bullying has become a concern in the cosplay world, but here I feel I can just step on stage and do a skit and I won't have to worry about lack of support from the crowd. I feel I can spread my wings here." She also added that she has Lyme disease, and cosplay is an escape for her. "I can be this powerful, sexy character. I'm not this sick person." It's wonderful to see how Genericon can enable people to be strong like that. Morgan's sentiment regarding the 'homebase' feel and supportiveness of the crowd at Genericon were shared by McLean (the wonderful Elsa) who said that Genericon was the first convention she had attended and she felt quite at home here. She also added that this year's event was much better organized and an improvement from last year. All this points to the merits of Genericon and that its organizers deserve a lot of praise.
Second prize in the skit competition went to Caitlin Ching and Darbie Clegg playing Amu and Ikuro from the series Shugo Chara who sang the duet "Phantom of the Opera." Giving props to the organizers again, it should be mentioned that the goodies the winners got were apparently so enticing that upon seeing them, Uncle Yo demanded his rendition of a Dr. Who speech be entered in the running. This rendition, incidentally, was so engaging that even I, not really a Dr. Who fan (yes, tar and feather me, it's true), found it very good.
As the skits ended, the costume contest began and over 35 extremely impressive cosplayers marched across the stage to house music. Notable among them were Belle (Lysander) from Disney's Beauty and the Beast, the 10th Doctor (Jeff Bianchine), with a nice bit of monologue thrown in, and Dipper (Shaylin Collins), Stan (Michael Smith), and Mabel Pincs (Emily Smith) from Gravity Falls. While the judges made their decisions, the crowd was treated to a round of improv from Uncle Yo. The crowd, like the participants, was very enthusiastic and energetic. Overall, there was a great energy to the event and it was fun and entertaining to be part of.
The winners of the contest are as follows:
Youth category: Rachel Ulrich as Felicity from American Girl. Christopher as Garen from League of Legends.
Novice category: Angelina Greene as John Edward from Homestuck.
Best in show: Melinda Que as Ashe from League of Legends. (announcement accompanied by Uncle Yo's comment "That Ash though").
Judges choice awards: Christina as Plummer from Homestuck, Grace as Alba from DRAMAtical Murder, and Salith as Merry from The Lord of the Rings.