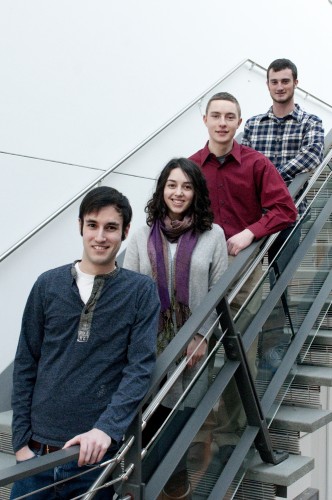 SEVERINO CENTER TEAM CONSISTS of graduate student JP Trasatti, Paige Trasatti '15, Chris Lamplough '16, and Greg Merrill '17 (L–R).
We all know the experience of heading to your local pharmacy to pick up medication for an ailment, but what we often don't even consider is the extensive process by which that drug was created. When a drug company wants to test their product on the human body, they must start in the lab using man-made environments replicating the human body. Currently, these conditions do not contain "fluid flow," arguably the most important element in the environment. Ultimately, this static condition does not allow the cells to accurately mature into a tissue model that mimics the tissues of the body. These undeveloped models can have direct negative impacts in research areas such as the drug discovery field. Meet CULTURE-SHIFT (Cell cULTure Under REpresentative SHear Induced Flow in Transwells), a team of four students working to develop a device that allows researchers to grow cells under the conditions of the human body. Their vision is to provide researchers with the tools they need to more accurately and effectively develop drugs.
The four students are led by Chemistry PhD candidate JP Trasatti, who studies the rational design of peptides for a variety of applications. The team also consists of Greg Merrill '17, a chemical engineering major, Paige Trasatti '15, a business major and Chris Lamplough '16, a mechanical engineering major.
A self-described "interdisciplinary team," they pride themselves in complementing each other's strengths and applying their own individual expertise from prototype creation and testing to handling the business creation. Each team member brings their own unique background to the table. JP has studied tissue engineering and growth, specifically surrounding the blood-brain barrier, for the past five years. Greg has interned with JP for the past 10 months and has developed a diverse research skills set in tissue engineering. Paige lends business knowledge through her experience in and outside of the Lally School classroom, in addition to identifying new opportunities for the team. Chris is knowledgeable about general manufacturing and has experience in the full design-to-build process, doing a great job with turning JP and Greg's scientific ideas into reality.
Though none of the work on this project is related to JP's doctoral research, the idea was based on his broad doctoral experiences and a desire to solve a disease burdening biomedical issue. The team officially came together last September, just in time to enter the Change the World Challenge in October. One month later, they finished as one of the top ten teams, earning a $1,000 prize. When asked what the prize money was going to, the response was simple: putting it back into the business for prototype testing, customer development, and other manufacturing ideas.
With a successful past, the team looks to a successful future. Within the next six months, they hope to continue prototyping and testing, developing a proof-of-concept, and eventually file for a patent. Beyond that, they have beta testers lined up, ready to try out the product and demonstrate that it works as designed. Based on this feedback, more device iterations will be produced. According to the team, there are numerous applications and avenues of this device that have not been thought of, explored or developed yet.
CULTURE-SHIFT has worked extensively with RPI's own Severino Center for Technological Entrepreneurship for mentoring in business development and to get in touch with local connections who they can obtain feedback from. Going into this project, the team admittedly did not know much about creating a viable business until partnering with the Center. Speaking highly of the Center, they said that it is "a great resource for anyone with an idea, even if it is just an idea."
To all of the aspiring entrepreneurs out there, JP and Chris offer a few words of advice. "Don't underestimate the amount of effort and time that goes into the business development process," says JP. In agreement, Chris adds, "You have to work on it all of the time…get very involved in it."
For more information on the Severino Center, visit: http://scte.rpi.edu/.