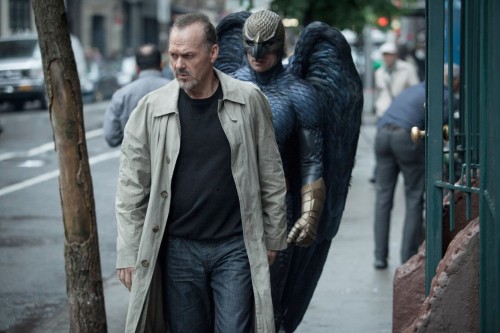 FOX SEARCHLIGHT'S BIRDMAN SPINS and astonighing tale that had critics, and our own senior reviewer, incredibly impressed. With an all-star cast, the movie is a step in the right direction for revolutionary film-making.
Late last year, I had the opportunity to check out the movie making the biggest splash in award ceremonies this year, Birdman. The brainchild of Alejandro Gonzales Iñárritu, the film has been receiving high praise for its acting, writing, directing and editing. This is definitely something I had to look out for as a movie junkie, since it seemed to be checking all the boxes of what could be a "perfect" movie. And while I'm not someone who believes in hype or exaggeration, I think it's fair to say that Birdman is my favorite film of 2014 for many good reasons.
First, the story and casting, I believe, are very important aspects of its production. The movie follows a cast of actors involved in a play completely funded by Riggan Thomson—played by Michael Keaton—a celebrity actor who once played the super hero known as Birdman in successful movies, but has not been able to find work that is truly meaningful to him and has thus seen a major downturn in his career and life. Thomson intends to reinvigorate both his reputation and himself with this play, and dealing with co-stars, friends, and family along the way. What I found powerful was Keaton's relationship with the main character; for those not aware, he was the star of Tim Burton's critically and financially successful Batman franchise in the titular role. Then soon after the end of his career as the Dark Knight, he saw a major decline in any high profile works. I saw the movie not only as a powerful experience for Thomson, but one for Keaton as well. On the other side of casting, Edward Norton—who once played Bruce Banner in 2008's The Incredible Hulk—stands as both an obstacle and ally to Thomson in the character of Mike Shiner, a popular, talented, but ultimately difficult to work with actor. In the last defining main cast role is Emma Stone, who plays Gwen Stacy in the current Amazing Spiderman series and Thomson's daughter, the recovering drug addict Sam. These three form the core heart of Birdman, and I find it hard to believe that Iñárritu didn't think about their prior film experience when hiring them for these roles. I think there is a layer of understanding between the characters and actors in how each ticks, not only in their own role, but being able to analyze Riggan's as well.
When I said earlier that the movie follows a cast of characters, I meant it in a way some might not completely understand. The entire movie is set as almost one continuous take through not only clever camera work, but clever editing. Iñárritu uses the backstage of the play as a maze of a set, with the characters weaving throughout it. He even uses CGI to not break the illusion of continuity, going so far as to seamlessly make it appear that a bar is next to the play (when in reality it is multiple blocks away) in order to not break the illusion of continuous action.