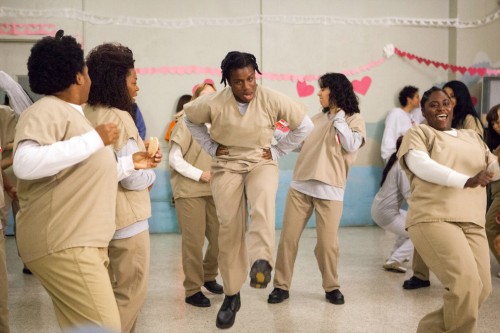 THE CAST OF ORANGE IS THE NEW BLACK DANCE around in prison.
Netflix has really stepped up their game with their original content. Personally, Orange is the New Black is hands down my favorite show of theirs, and possibly one of my favorite series of all time. Even though there have only been two seasons, I am completely hooked on OITNB! I finally caught on to the show during Winter Break last year, and couldn't wait until the new season. The second season was released on June 6, which has lead to many sessions of binge watch-ing (although I am trying to make the season last until next year) and I have to say that this sea-son is even better than the first.
My favorite part of OINTB is learning about each inmate's backstory through flashbacks and discovering exactly how they got into Litchfield Prison. The second season seems to focus less on Piper's story and has given the audience a better view of all of the ladies' stories along with how each woman's past affects the current state of the prison. I was kind of disappointed with the first season's backstories because I felt as though they were somewhat uneventful. This season, though, the stories didn't fail to disappoint me. My personal favorite was Morello's: it was so unexpected and explained so many things! It now makes sense why Christopher has never come to visit her, but I'm a little stumped as to how Morello appears so normal when in reality she's a crazy stalker who also committed credit card fraud. So, props to her I guess.
I definitely liked this change up in the plot because, honestly, Piper is annoying and whiny. However, her stint in SHU (Security Housing Unit—solitary for those who aren't savvy with the OINTB lingo) along with her rocky relationship with Larry has changed her for the better as a character. Now, I can watch her story without wanting to roll my eyes the entire time and I actually felt bad for her while she was going through the loss of her grandmother. On a side note, I felt this weird sense of satisfaction when Larry cheated on her with Polly because of how terrible she was to him during the first season. I totally saw it coming though since Larry is so dependent on Piper for his emotional and sexual sanity.
Season two introduced a compelling new character: Vee. Who knew that one woman could shake things up so much in such a short period of time? Like many of the other prisoners, she had me fooled; I felt empathetic towards her because of the way she protected Taystee and her other "kids." But, I couldn't deal with how disrespectful and rude she was to Poussey and Red, and I'm glad that she's now gone from Litchfield thanks to mastermind Rosa.
On a more serious side, season two of OITNB deals with a lot of important and relevant issues with the prison system. I was aware that there were some issues, such as poor food quality, but that's to be expected when someone is in prison. Out of nowhere, OITNB shoved all of these terrible problems that I had no idea about at me, and I think that there more significant than most people care to realize.
I was absolutely disgusted when Litchfield decided to release Cavanaugh on what they call "compassionate release." She was suffering from dementia, something that needs to be treat-ed in a hospital, but instead Cavanaugh is let go without any help, only to probably end up on the streets. No wonder there are so many homeless people who have no clue how to survive. The justice system let them down and leaves them to rot without any help because there are people like Figueroa who are embezzling money from the prison into their pockets.
This season of OITNB was a whirlwind of emotions and as with the first season, left me wanting more. We're learning more about each woman as an inmate and as a person, making the show even more addicting. While the episodes were entertaining, there were also eye opening moments throughout the season. I can't wait to see what trouble and fun season three has to bring.