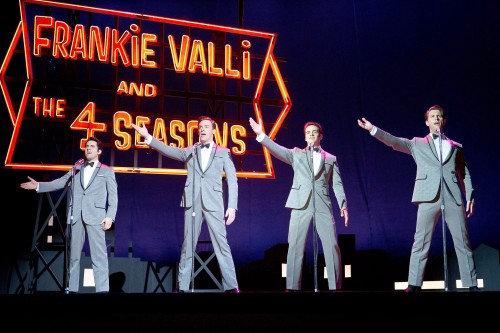 ACTORS PERFORM Four Seasons classics in the film
Jersey Boys
.
For anyone who is a fan of the Broadway production Jersey Boys, the movie will not disappoint. The movie, like the Broadway production, follows the life of Frankie Valli from barber's apprentice to the voice of the Four Seasons. Being a big fan of the Four Seasons myself, I will say that I was very impressed and thought the movie was phenomenal and did justice to the Four Seasons story.
The movie stars a relatively unfamiliar cast which adds a separate dynamic to an already great movie. For anyone who enjoyed the Broadway performance, this is a must-see movie. The plot stays true to the Broadway rendition while adding some parts to better the film.
For anyone who is a fan of the Four Seasons music, the actors don't disappoint in singing many of the classics. They were able to sing the Four Seasons music almost as if they recorded it themselves.
The movie is a tribute to Valli's life and all of the hardship and pain that he had to undergo in order to follow his dreams. Valli has to deal with many hardships throughout the entirety of the movie, but, for any viewer, it was hard not feel for his pain through every obstacle he tackled.
This movie features some of the greatest Four Season hits such as "Sherry," "Walk like a Man," "My Eyes Adored You," and many more. The music performed in this movie is a one of a kind and can be enjoyed by anyone.
This movie starts with Tommy DeVito (the founder of the Four Seasons) discussing how he came upon Frankie Valli and started the group, similar to how the Broadway play is. The movie allows for all four members of the Four Seasons to act as a narrator in order to share their point of view on the story. As everyone states, their point of view adds a new dynamic to really connect with the members of the band. In the end, you can't help but cheer.
For anyone who is unfamiliar to Frankie Valli or the Four Seasons, I would still recommend seeing the movie. Jersey Boys can open you up to a different era in music. I would recommend that any fans of music see this movie regardless of whether you are a fan of Frankie Valli.