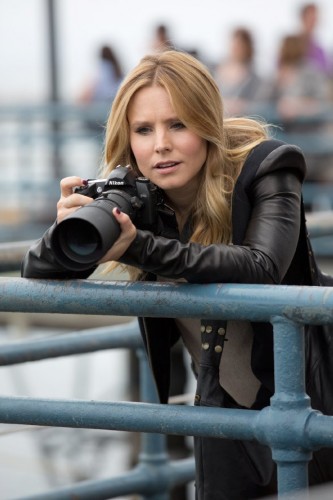 KRISTEN BELL REPRISES her role as the young private investigator, but nine years in the future after graduating law school.
Crowdfunding has taken the world by storm. With the advent of services like Kickstarter, it has become the norm for nascent companies to pitch product concepts to the masses in order to convince them to donate their hard-earned money and fund production. Many products have seen successful crowdfunding campaigns: everything from video games to smartphone screen protectors have been released on the money of "backers." Things became a bit more unprecedented when television writer/creator Rob Thomas and actress Kristen Bell took to Kickstarter. Thomas decided to try his hand at crowdfunding a film sequel to his critically acclaimed, cult hit TV show, Veronica Mars, which starred Bell in the title role. Unceremoniously canceled after its third season, fans of the show have been clamoring for closure to the series for some time now. After being frustrated by studio disinterest in funding such a project, Thomas decided to take it to the fans themselves. After shattering several Kickstarter records and achieving the necessary funding in less than ten hours, Warner Bros. finally decided to greenlight the film for distribution. So, having already made history, how does Veronica Mars, the film, stack up?
Veronica Mars picks up nine years after the events of season three of the television series. Mars is now a graduate of Columbia Law School, a frontrunner for a position at a prestigious law firm, and in a stable relationship with college friend Stosh "Piz" Piznarski. However, she is drawn back into her old life as an amateur detective when she learns that her high school ex, Logan Echolls, has been accused of murdering his girlfriend, another one of their high school classmates. Initially only agreeing to return in order to help Echolls choose the best possible legal counsel, it isn't long before Mars is swept back into the corruption and intrigue of her affluent hometown of Neptune, Calif. But when the clues begin stacking up, and begin pointing to a variety of her old classmates, Mars is torn between stepping back into the life she is addicted to, and remaining firmly planted in a life that she has worked hard to earn.
For the Veronica Mars film, many of the television show's actors have returned to reprise their roles. First and foremost is Bell, who, of course, plays Mars herself. Hot off of an excellent vocal performance alongside Idina Menzel in Disney's smash hit Frozen, Bell seems right at home slipping back into the shoes of the amateur sleuth. Having never seen the show, I cannot compare anything from this film to it, and that includes the performances of the actors. With that said, it was very apparent to me that Bell was absolutely, 100 percent comfortable in this role; the feeling she gave me through her performance was one of someone who was slipping back into a well-worn pair of old shoes. The ease with which she delivered one-liners and witty retorts made the entire performance seem incredibly natural, and I could tell that this was a role Bell was born to play. Truly, watching Bell play this character was one of the primary joys of watching this film. And as someone who has never watched the show, her performance alone made me want to give it a try.
Most of the supporting cast did admirably in this film. Percy Daggs III and Tina Majorino as Mars' childhood best friends brought exuberance to the film, but neither was given enough screen time to seem anything but ancillary. Meanwhile, Enrico Colantoni as Mars' father brought a good mix of humor and warmth to his role, as he performed his fatherly duty of attempting to dissuade Mars from reentering her old life. Krysten Ritter portrays Gia Goodman, and does a solid job portraying a snobbish-but-vulnerable socialite. Finally, Jason Dohring reprises his role as love interest Logan Echolls. Now, I must reiterate that it is impossible for me to compare the film to the television show, but with that said, I did not feel like Dohring had enough chemistry with Bell in this film. It was apparent that some chemistry did exist, but it struck me as though Bell was doing most of the heavy lifting in this regard. Beyond this, Dohring acquitted himself well, albeit a bit blandly. Other actors reprising their roles performed admirably, but were not given enough screen time for me to warrant discussing them.
Series creator Thomas performs double duty as writer/director, with a script he co-wrote with Diane Ruggiero. Needless to say, Thomas and Ruggiero's script seems to have definitely been targeting diehard Veronica Mars fans. Everything about the plot and its reintroduction of so many characters feels like a massive love letter to the fans that not only turned the television show into a cult classic, but also revived it in the form of this film. Packed with one-liners, sarcasm, and an overall very dry sense of humor, the writing in this film is sure to appeal to anyone who enjoys any of those things. I can only imagine that the film was stylistically very similar to the show, in regards to the humor; all the more reason for me to try out the show. Beyond the comedic elements, Veronica Mars told a light-but-edgy noir story that was very fun, and hearkened back to classic detective stories. If you're a fan of character-driven crime thrillers, this very well may be a nice way to kill an hour and 45 minutes. In regards to direction, Thomas handles the job well, delivering the goods to hardcore fans and newcomers alike. Despite it's relatively minuscule budget, Thomas works well within the constraints, giving the film a stylish vibe and making it look nicer than its budget belies. His approach to the film feels a lot like setting up a family (or in this case, class) reunion, and while this is obviously just a way to have members of the show's cast make appearances, it can occasionally distract and detract from the film's central mystery, as Mars gets bogged down in meet-and-greets with old classmates versus being out looking for clues. Still, hopefully Thomas gets to work on other film projects, as he definitely has to chops to do so.
On a technical level, Veronica Mars is serviceable. While Thomas did manage to make the film look good, it never really seems much more than a long, high-end episode of television. With that said, camerawork is solid, and the use of filters in certain scenes lends to the film's noir vibes. Meanwhile, composer Josh Kramon was brought in to do the music for the film. This is significant due to the fact that Kramon was also the one who did the background music for the television show. With that said, it is likely that fans will find the film to have a similar sonic landscape to the beloved show which this film is based on.
First and foremost, Veronica Mars is an absolute love letter to fans of the show. The way characters are introduced and the overall tone of the film makes this very apparent. However, since I am not one of those fans, I can only take the film for what it is at face value. With that said, I did enjoy this film. I enjoyed the humor, I enjoyed the noir/crime thriller elements, and I very much enjoyed Bell's portrayal of the sassy private investigator. I can only imagine that fans adored the film; for us newcomers, Veronica Mars represents a solid introduction to these characters and this world. Perhaps it's time to log into Amazon Prime Instant Video and give the show a shot, bingewatch-style.