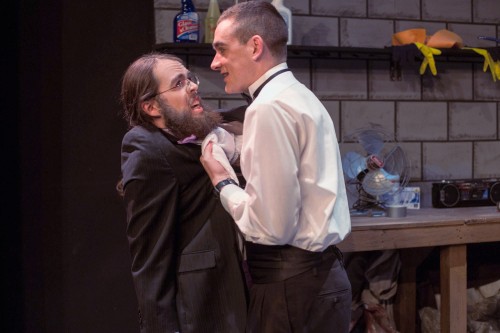 THE PLAYERS NEXT performance is Gentlemen Prefer Blondes showing late April.
Each year, the RPI Players put on a series of one-act plays they call, An Evening of Performance. This year featured The Whole Shebang directed by Madeline Heller '14, Promageddon directed by Matthew Scorza '14 and Nathan Fullerton '14, A Dollar directed by Luc Lagace '14, and a special appearance by RPI's improv group, Sheer Idiocy.
With the open seating, I was able to obtain my favorite spot in a theater, mezzanine center front row center. This vantage point gave me a wonderful view of the detail put into the well thought out sets for each performance by Set Designer Daisy Rojas '17.
The Whole Shebang brings us to something all Ph.D. students dread, the final defense, yet our main character is defending to gain a degree of a different sort. Alexander Vitovitch '14, Maggie Shay '14, Kyle Johnson '15, Hannah De Los Santos '16, Reece Kearney '14, and Kat Mezic '14 made a convincing performance through and through. Each fit into their character with what seemed to be ease. The only hiccup observed was one that could not be predicted, a stuck door. The Whole Shebang proved to be a rather funny look into humanity and its quirks.
With nuclear war having erupted, we are brought to a school basement to observe the survivors. Promageddon proved to put a comedic twist on the thought of nuclear war, something that was not so laughable in the past due to the high probability of occurrence. Each performer, Maggie O'Connor '14, Barbara Padilla '17, Jeremy Feldman '15, Jacob Schatz '15, and Talina Bastille '16, did justice to their characters. The only criticism of Promageddon is the work light that hung over the set, it was a bit bright, causing a distraction.
In A Dollar, we are introduced to a group of stranded strolling players, each not with a name, but rather a descriptive title. We see how all characters have their part to play in the troupe and what happens when power is shifted. The Comedian, Cori Rose Schroer '15, and the Villain, Emily Kosmaczewski '16, provide the conflict. Spencer Pilcher '15, Michael Gardner '17, Joelle Woodson '16, Kit Hammer '17, Jocelyn Griser '16, and Talina Bastille '16, all appeared to fill their parts with ease. A Dollar wrapped up the night of comedy effortlessly.
The final performance of the night was by Sheer Idiocy, a part which will prove different width each performance. The idea to invite the talents of Sheer Idiocy was a stroke of genius, ending a night of comedy with the unpredictability that is improvisation. With their wheel in tow, Sheer Idiocy had the audience laughing at every turn.
If you are looking for a night of laughter, An Evening of Performance 2014 at the RPI Playhouse is a sure bet, now showing February 21 and 22 at 8 pm.