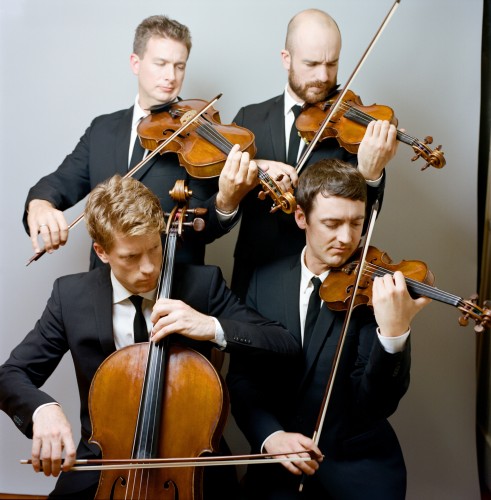 CALDER QUARTET TAKES listeners on a roller coaster of emotions, seemingly expressing every feeling a human could experience through their beautiful performance.
This past Saturday, the Calder Quartet performed to a sold-out crowd at EMPAC's Studio 2. The Calder Quartet is a string quartet consisting of two violinists, a cellist, and a violist who play a large range of works, from shows with the rock band, The National, to classical performances at Carnegie Hall.
The quartet played a variety of pieces ranging from classical to contemporary. Rather than beginning with the planned schedule, the musicians shifted Vexed Man by Don Davis to the front. This first composition is the most modern; Davis is in fact a successful film composer whose work includes scoring the Matrix trilogy. Vexed Man is inspired by a sculpture by the 18th century artist Franz Xaver Messerschmidt who, near the end of his life, sculpted many busts with faces in extreme positions, the Vexed Man being of a man in a very sour expression. The composition by Davis follows this mood; it conveys a feeling of tenseness and anxiety through disjointed playing and the musicians' striking their instruments with their bows.
This piece was quickly followed by Five Movements for a String Quartet, Op. 5 by Anton Webern. Written after the death of his mother, Webern's composition is similar to Davis' in style and tone; the grief and violent bouts of anger flow through the piece and the mood shifts slowly to a solemn acceptance of the sadness by the end.
Breaking away from the modern compositions, the quartet played Wolfgang Amadeus Mozart's String Quartet No. 14 in G Major, also known as "Spring". It was a superb rendering of Mozart's masterpiece, which was one of six string quartets written in honor of the named "father" of string quartets, Joseph Haydn, who would later become one of Mozart's friends and a teacher to Ludwig van Beethoven.
The final piece that followed was Franz Schubert's String Quartet No. 14 in D Minor, or more commonly known as Death and the Maiden. Schubert wrote this piece near the end of his tragically short life, and wrote the whole composition as an exploration of his acceptance of his death. It is a very long piece, played after a short intermission because of its great length and complexity. A short summary of the emotion in this piece cannot be made, because Schubert and the Calder Quartet take the listener on a roller coaster of emotions that transcends words; it seems as though every feeling a human could express is reached at some point in the piece, either as a fleeting moment or as a longer, more developed theme.
By the end, I was more than satisfied with the performance, these musicians were not just players, but thinkers. Prior to each new composition, they would provide background information on the piece they would be performing, which provided valuable insight into the new and old arrangements I listened to. I found the concert informative and pleasurable; the Calder Quartet is definitely a group worth experiencing live.