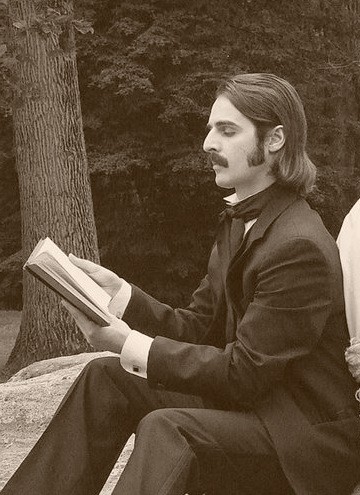 It's not every day that our generation can hear a famous author read his or her own work aloud. Actually, it's a minimal chance in any person's lifetime. However, one man is using his time to bring 19th century American literature right to our generation's doorstep—or in this case, our graveyard.
Robert Velella grew up just outside of Boston, where he completed his bachelor's degree in English. It was during his undergraduate education that Velella's high interest in literature was sparked, when he wanted to read a few short works for Halloween as the president of the college literary society. His American literature professor suggested some readings by Edgar Allan Poe; Velella was "hooked" on American literature from that point forward. When Velella began his graduate studies at Rosemont College in Pennsylvania, his interest was fed through a volunteer position as a tour guide in the Edgar Allan Poe Historic Site.
With such an interest in the literature and the authors themselves, it's not surprising that this scholar wants to share these works with his sphere of influence. How does he share this, you may ask? He brings each author to life and reads to the crowds in character. When asked why he started doing his talks, he responded with this: "I think I wanted to remove a barrier between author and reader. By hearing directly from the 'author' himself, so to speak, I think readers or listeners will find it more accessible." He also stated that most of the literary works of the 19 century were meant to be read aloud, pointing out that Poe would read The Raven to his friends, and Henry Wadsworth Longfellow would read amongst family members around a hearth.
Though his first literary pursuit and favorite performance was Poe, Velella admits that he loves to perform as Nathaniel Hawthorne because he "connects with him the most." With a very self-contradictory, complicated, and shy nature, Velella can connect with the fact that, like Hawthorne, what he does is not about himself, but about the literature. As for reading on his own time, Velella enjoys the works of Longfellow (though it's "passé"), Stephen Crane, and Kate Chopin. Velella adds that if he were to spend the day with one author, it would be the under-appreciated Oliver Wendell Holmes. As the author of The Autocrat of the Breakfast-Table, Velella claims that Holmes seems "like a fun and entertaining fellow" to spend time with.
Poe is coming to Oakwood Cemetery in Troy on October 17 via Velella and his "Cemetery Tour." This is by no coincidence, but actually through Velella's research of a maligner of Poe by the name of Rufus Wilmot Griswold. This alleged Rensselaer student gone awry spent a lot of time in Troy before moving to New York City, Boston, and Philadelphia to become an influential editor and anthologist. Studies are still being conducted to determine the connection between Griswold and Poe, including a book written by Velella.
As a blogger, a scholar, a performer, and more, Velella mainly intends to bring the writers of yesterday to the readers of today and prove false the idea that classic literature is always intimidating or boring. Through his performances and museum work, he hopes to leave the viewers with the idea, "Hey, this author isn't too bad," and the incentive to read more. "That is probably the best compliment I can receive."
Come see Velella's performance at Oakwood Ceremony on October 17, and check out his literary blog at http://americanliteraryblog.blogspot.com/.