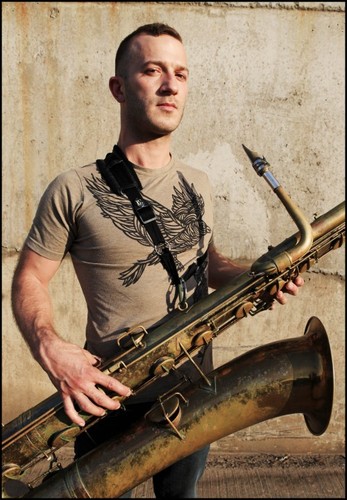 SAXOPHONIST COLIN STETSON POSES with his instrument. Stetson's performance was excellent.
Last Thursday, April 5, the Experimental Media and Performing Arts Center's Studio 2 hosted a series of three solo concerts by artists playing widely different instruments. Though I'm not much of a concert-goer myself, this performance intrigued me, piquing my interest enough for me to go see it. I definitely do not regret my decision.
First to take the stage was violinist Sarah Neufeld of Arcade Fire and Bell Orchestre. Her performance was, to say the least, inspiring. Many of her songs started off slow, but quickly built into complex melodies of three or more interweaving strands. As the beautiful music washed over me, I felt a desire to learn to play the violin myself—it's one of my favorite instruments to listen to. Neufeld also occasionally stomped her feet to add percussion to her pieces, which I felt was a nice touch. The music flowed very smoothly, eliciting mental images of rolling hills and other such terrain. In places she even made her violin sound like a flute!
Following Neufeld's performance came a 15-minute intermission, after which Tyshawn Sorey took the stage. The multitalented musician first played a piano piece, starting with simultaneous low and high notes held as long as possible, then a long pause, then repeating this process with the notes growing closer together. Sorey began interspersing seemingly random bursts of other notes in between the low/high blasts, both musical and jarring at the same time. Next, he moved to the center of the stage, where three cymbals stood. Using drumsticks and mallets, he played an interesting piece, scraping the drumsticks on the cymbals to produce odd screeching noises. This was his best piece, I felt, combining his avant-garde style with sounds that were still somewhat palatable to the ear. From the cymbals, Sorey moved on to an actual drum set, again playing it somewhat spastically, but with great skill. The best part about this piece was that he used several different objects as drumsticks, in addition to actual drumsticks. He used his hands, brushes, and even a water bottle at one point. The last part of this performance was also backed by what sounded like a recording of a German court case, which was disconcerting but added a strangely complementary element.
Another intermission separated Sorey's performance from the last of the night, a saxophone concert by Colin Stetson. Stetson's set was by far the best of the three. He had to have been using circular breathing, because he never paused during any of his songs, keeping the notes flowing fast from his instrument like bullets from a machine gun, as well as occasionally throwing in sounds like some wild animal, which were a great addition to the music. Where Neufeld's violin performance was inspiring, Stetson's saxophone skills were intimidating. He also switched between two saxophones periodically, using what looked like a regular-sized one and a giant one (not that I know anything about saxophones). Stetson also paused between some of his pieces, gasping for breath, to talk a little about them, which was cool.
I really enjoyed this concert. Each of the three musicians was excellent in their own style, and I would love to see any of them return to EMPAC. I highly recommend checking out their work if you get the chance; you won't regret it.