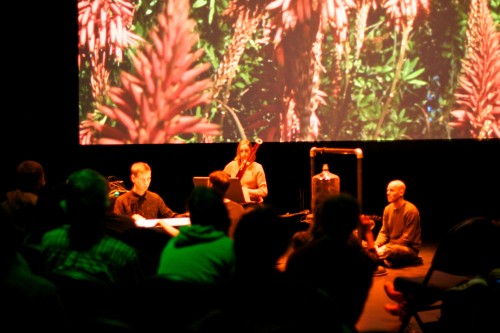 FROM LEFT TO RIGHT, LUKE FISCHBECK, DANA JESSEN, AND DAVID ARON PLAY in last Wednesday's performance. Fischbeck manipulates the strange sound board, while Jessen and Aron play their respective instruments.
Last Wednesday, the experimental Los Angeles music project Lucky Dragons came to EMPAC to put on a performance titled Actual Reality. Lucky Dragons is largely a collaboration between Sarah Rara and Luke Fischbeck, who are joined by various other artists for their shows. This performance included flutists Margaret Lancaster, Sato Moughalian, and Erin Lesser; bassoonist Dana Jessen; and percussionist David Aron. The project takes its name from a fishing vessel that was caught in the fallout from hydrogen bomb tests in the 1950s. They sounded really interesting, so I went to see them perform.
Unfortunately, I was a little disappointed; the music was very weird and a bit minimalist for my tastes. One aspect of the performance I enjoyed was that the flute players were situated behind the three main seating sections rather than in the middle of the room with the other performers. I also enjoyed one part where two of the group members sat at a small table and pushed around what looked like a tray or board of some kind on top of it. This caused sounds of varying degrees of tone, pitch, and volume to emanate over the flute-and-bassoon backdrop, and expanding and contracting bars of light appeared on the ceiling to match the board's movements. I thought that part was really neat.
The rest of the performance, however, not so much. Though the percussionist's array of things to percuss upon was very cool-looking, I could barely make out the sounds he was making. As a big fan of more traditional drums, this saddened me. I was fairly bored by the end of the show; even the changing visuals on the screen behind the musicians ceased being interesting after a while, as they changed too slowly. The screen would show things like colored smoke rising past a brick wall, or a triangle being struck and then rotating in slow motion with echoing images of itself following the real instrument. Interesting, but not after an hour of staring at them.
While many other people enjoy Lucky Dragons' shows—they have, in fact, performed in several locations around Europe and the United States—I felt that last Wednesday's performance was lacking. It had great promise and certainly looked quite different from more mainstream music, but it failed to deliver on the potential that attracted me to the show in the first place. Perhaps I just didn't appreciate the performance. However, it's nothing I would listen to on CD, or without visuals and a live performance to at least mostly keep me entertained.