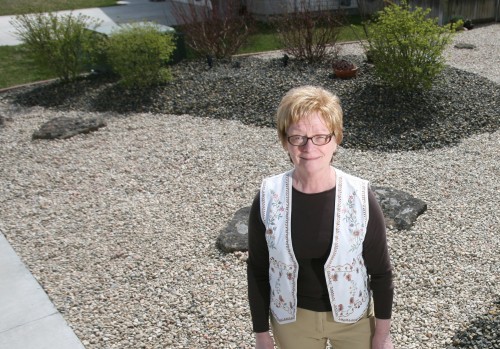 A WOMAN SHOWS OFF her xeriscape garden front lawn, which contains fauna local to the area.
As Rensselaer moves further into the 21st century, we must not forget about the connections that technology has with the environment around us. Even if we do not want to submit our lives entirely to having a more sustainable world, there are still many things that can be done to move in this direction.
The "American Dream" that was once established in the colonial era has transformed itself into the suburbia that is evident everywhere today. The feeling of property ownership, especially having a grass yard, arose in the 1950s and is now established today. But, there are some sustainable issues with grass in your backyard.
For one, the most common type of grass growing in the area is a non-native plant to Rensselaer County and almost all of New York state. It also requires quite a lot of water to sustain itself, but luckily rain falls relatively frequently. The other problem is maintaining the aesthetic look of an open field of space, which we assume to be uniform with no weeds. However, this rarely becomes difficult because we use many chemicals to kill weeds and keep all the grass growing healthy.
The alternative to a grass yard is to maintain a garden, but in most situations homeowners do not have enough time to consistently take care of it. The other option is a xeriscape garden. Xeriscape literally translates into "dry landscaping," and it is principally that. In xeriscape gardens, local plants are used to replicate the surrounding ecosystems. Local plants are already acquainted to the amount of precipitation that falls as well as with the general environment. Thus, this practice saves not only on water, but also on many of the chemicals needed to sustain a yard full of grass.
Xeriscape gardens tend to use empty dry space with sparse plantings of local plants. Many people believe that they would not have such a beautiful mix of colors if they only grew local plants. Surprisingly, the local ecology is very diverse, ranging from fruit-bearing shrubs to ground cover and moss.
Even though it may seem that efforts towards sustainability are occurring without everyone's help, there are still major reforms to be done. These changes cannot be made unless everyone takes part.