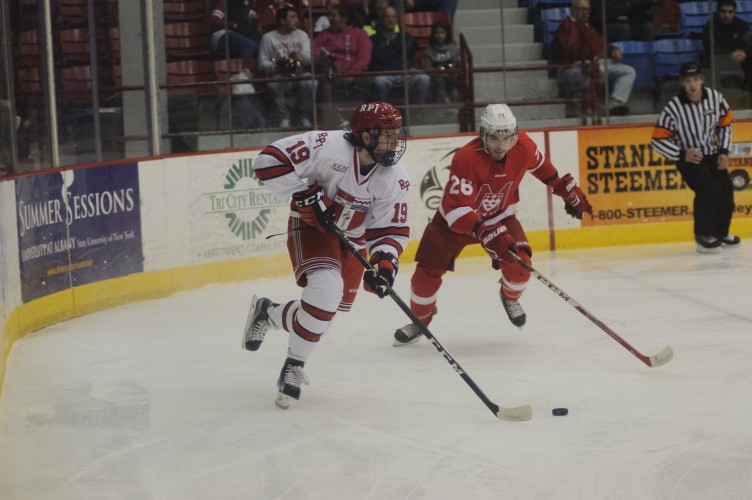 JUNIOR DEFENSEMEN MIKE PRAPAVESSIS EVADES the reach of McGill University's Samuel Hodhod on October 2.(file photo)
The Engineers traveled west over the weekend to face off against the University of North Dakota in their third weekend of play. The puck dropped at 7:05 pm at UND on Saturday evening. Tyson Jost won the first faceoff against the Engineers' sophomore Evan Tironese. Following were the first two shots of the game, one blocked by junior defenseman Mike Prapavessis and the other a save by freshman goalie Chase Perry. Despite the immediate offensive push by UND, Tironese, assisted by senior forward Riley Bourbonnais and junior forward Lou Nanne, scored the first goal of the game four minutes in for RPI.
The remainder of the first period was not bright for the Engineers, only having attempted a total of five shots on net to North Dakota's 13, resulting in a tied game going into the second. The Engineers played a solid defense on their three penalty kills in the first period, but were not able to capitalize on their two chances at power plays.
After a little more than five minutes into the second period, UND's Tyson Jost scored the third goal of the game followed by another UND goal a minute later. Tensions were rising half way through the period and three penalties were called within five minutes of play. Senior forward Jake Wood managed to pull back the lead to one goal by scoring his first goal of the season with three minutes left in the period assisted by freshman defenseman Will Reilly. The period ended with a score of 3-2, UND still in the lead, but on their heels from the recent push from the Engineers.
The Engineers had to kill penalties from the end of the second period almost straight through into four minutes of the third. Although they successfully killed every single penalty of the game, the Engineers gave up two unanswered goals in the third, resulting in a 5–2 loss.
Faceoffs and shots on net were both issues for the Engineers in this game, only having one third the total shots of UND by the end of the third. The Engineers did match UND in penalties and no short-handed goals were scored of let up for the entire game.
The Engineers have had a rough start to the season, but there is a lot of fresh talent on the team being developed. Rensselaer's freshman goalie had a better save percentage than UND's junior. Reilly, another freshman, had a critical assist during the game.
RPI is at home for Family Weekend, playing Niagara University and Rochester Institute of Technology, followed by two games against Union over the Halloween weekend. This is an exciting line up; hopefully, with the support of the Rensselaer student body, the Engineers can kick this losing streak and bring their all.