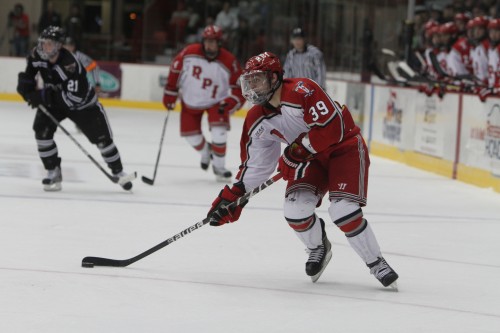 FRESHMAN RYAN HAGGERTY LOOKS for an opening in the net for the perfect shot in RPI's two-game series against Minnesota State University at Mankato two weeks ago. The Engineers hit the road to take on the University of Norte Dame Fighting Irish on Friday.
A trip to Big Rapids, Mich., didn't end as planned for the formerly nationally ranked men's hockey team. After falling on the weekend to now No. 14 Ferris State University by a combined score of 6-0, the Engineers are now 1-3-0 on the year, while the Bulldogs vaulted to a perfect 4-0-0.
Following nearly two scoreless period of play, junior Bulldog Travis Ouellete collected the eventual game-winner at 18:53 of the second stanza. Ouelette's goal, his first of two on the night, was assisted by junior Eric Alexander and senior Chad Billins.
It didn't take long for Ouelette to get his second of the night, this one coming at 1:15 of the third period while on the power play. Billins earned his second assist of the day on the play, with freshman TJ Schlueter getting the second helper.
Ferris State quickly made it a 3-0 match with junior Kyle Bonis' fourth goal of the season. With help from seniors Jordie Johnston and Brett Wysopal, Bonis' tally came at 5:45. The Bulldogs weren't quite done yet, as Bonis collected his second goal of the game, and fifth in three games late in the period. After Rensselaer pulled junior goaltender Bryce Merriam in favor of the extra skater, Bonis buried the puck into the empty net to seal the game for the Bulldogs.
Merriam finished with 26 saves in the loss, including 14 in the third period alone, while Ferris State senior Taylor Nelson posted 17 stops.
The next night proved to play out just as poorly for the Engineers, who couldn't seem to solve the Bulldogs' defense. Just 55 seconds following puck drop Ferris State notched the eventual game-winner with an unassisted tally from freshman Nate Milam. Both teams had numerous opportunities throughout the remainder of the match, but with eight seconds left in regulation sophomore Garrett Thompson added an empty net goal to ensure the victory for Ferris State.
In net once again for Rensselaer, Merriam posted 28 saves including five in the first period, 12 in the second, and 11 in the third frame. At the other end of the rink freshman CJ Motte stopped all 26 shots faced, including 13 in the third period.
The Engineers hit the ice again this weekend for a single-game match against No. 6 University of Notre Dame. Game time is set for 7:35 pm on Friday in South Bend, Ind., in the first contest to be played in the Fighting Irish's new arena.