Opinion
Taylor Swift is a vibe for every occasion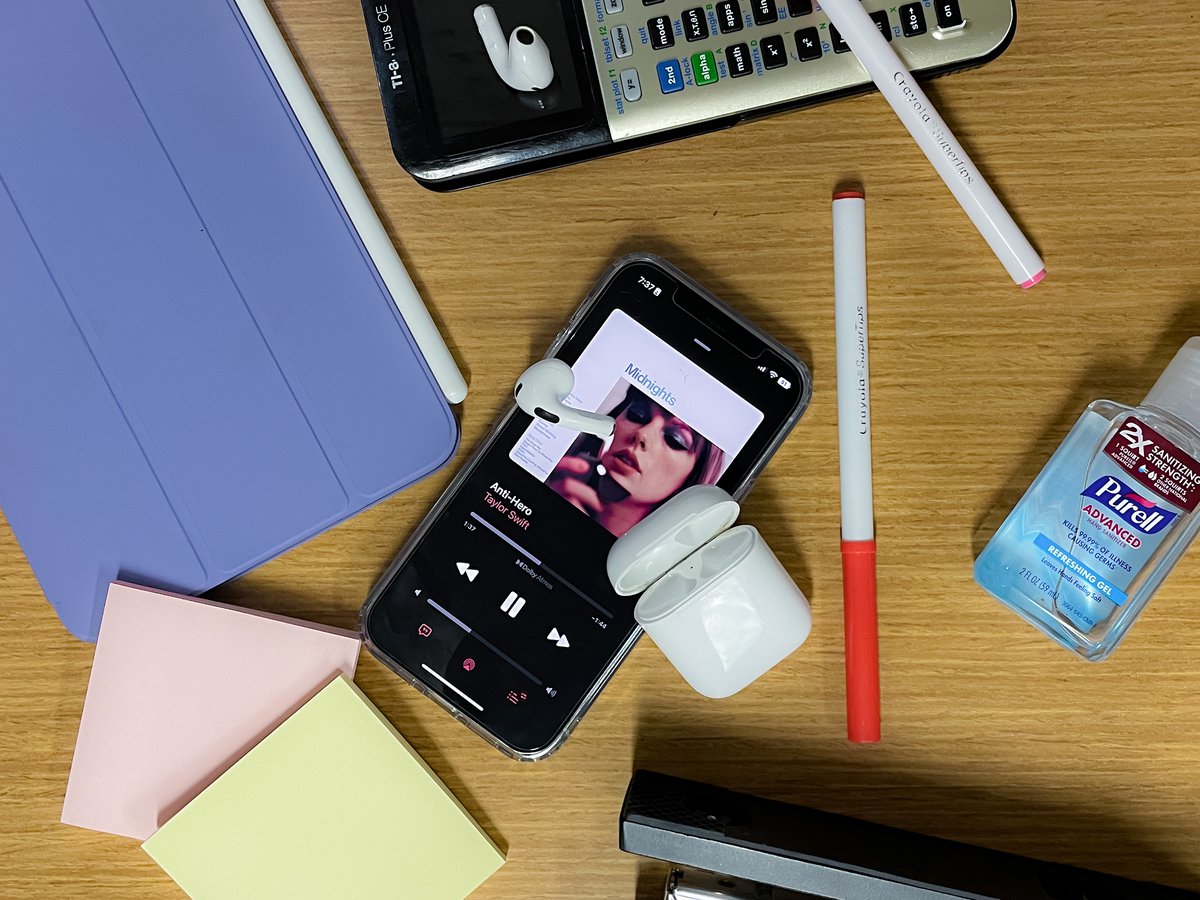 Taylor Swift has such a broad discography that there is a song for any mood or situation. In honor of the release of Midnights, Swift's tenth studio album that made her the first artist to take over the top ten slots of the Billboard Hot 100, we want to showcase Swift's incredible songwriting. Below are our song selections across her entire discography, showing a broad range of themes and emotions.
An extra boost of serotonin:
When you need some extra happiness, listen to the following tracks, all with strong beats and powerful openers.
"...Ready for It?", reputation—With a perfect and intense opening instrumental, this song is perfect if you need a quick boost of confidence.
"Don't Blame Me", reputation—This track has powerful lyrics and background vocals that deliver a chilling high-note finale.
"Welcome To New York", 1989—A very upbeat and happy take on the promise of New York, "Welcome to New York" feels light, bouncy, and easy to dance or sing along to.
"Look What You Made Me Do", reputation—reputation's 6th track gives a rising from the ashes vibe, perfect for rebuilding and facing a shattered situation.
Strutting across campus:
All with powerful instrumentals and consistent beats, these songs are perfect when walking quickly in a city or across a campus. They have catchy tunes and strong lyrics, making them empowering selections as you walk to a boring class or stroll to Panera.
"Bejeweled", Midnights— This sparkling addition to Midnights has catchy points and easy to dance to segments that you can strut to.
"Style", 1989—Popular when it came out, this song has a great chorus that everyone recognizes.
"I Wish You Would", 1989—This is a very bouncy and happy song.
"I Knew You Were Trouble (Taylor's Version)", Red (Taylor's Version)—Also very popular, this track has a solid beat and is a fun take on the relatable and annoying topic of toxic relationships.
Dance parties:
Whether out at a club or in your bedroom, Swift can be played for late-night dance parties. From four different albums, these songs are some of the most energetic selections among their counterparts, good for singing and dancing.
"Gorgeous", reputation—There are fun keyboard and instrumental sections that are perfect to dance to.
"London Boy", Lover—This song is very fun to sing along to, specifically because of how Swift alters the tones in her voice emphasizing the beats of the song.
"Shake It Off", 1989—This very popular and heartening jam has strong vocals and a fun rap-like section that many fans adore.
"Karma", Midnights—The concept of "what comes around goes around" is explored in an empowering and fun way.
Running on the treadmill:
Exercise music is a great way to motivate and vent out your emotions. The strong pop songs below are steady, upbeat, and perfect for channeling angry or anxious emotions into your workout regimen.
"Only the Young" (featured in Miss Americana)—Swift's single about political empowerment of the youth is a perfect vessel to channel your anger while exercising.
"This Is Why We Can't Have Nice Things", reputation—Swift manages to perfectly mix an upbeat and fun accompaniment with cheeky and angry undertones. It's perfect to vent out your emotions.
"The Man", Lover—Swift's dive into sexism and double standards is perfect for when you're feeling the weight of society.
"Dancing with Our Hands Tied", reputation—About a relationship restricted by the outside world, this song is extremely upbeat and has an amazing bridge section.
The sudden urge to cause drama:
Unfortunately, many of us occasionally find ourselves wanting to lash out or cause drama over a terrible relationship or an anger-inducing situation. Instead, try listening to these songs, all showing a darker and meaner side of Swift.
"Vigilante Shit", Midnights—This is about murder.
"no body, no crime (feat. HAIM)", evermore—This is also about murder.
"Better than Revenge", Speak Now—This song is about pure and justified anger.
"I Bet You Think About Me (feat. Chris Stapleton) (Taylor's Version) (From The Vault)", Red (Taylor's Version)—Swift looks back on a relationship but addresses it from a place of empowerment and self-accomplishment from leaving a toxic relationship. Watch the music video.
"Should've Said No", Taylor Swift—Swift sings about anger and regret about giving time to someone not worth her time.
Apple cider and fall vibes:
Over the years, Swift has written a mix of happy and sad chill songs perfect for relaxing while the leaves fall.
"cardigan", folklore—The song has a relaxing pace with piano and strings and reflects on the lingering feelings of young love.
"It's Nice To Have A Friend", Lover—Lover's penultimate song is very happy and relaxing, focusing on two friends who marry each other.
"Sweet Nothing", Midnights— "Sweet Nothing" is a relaxing song about your significant other expecting nothing more than to be in your presence.
"Cornelia Street", Lover—She reflects on genuine love and imagines a sad life without it.
Late-night driving:
Across her discography, Swift has written many beautiful songs with fun beats and strong vocals, perfect for late-night drives on back roads with the windows down.
"Come Back…Be Here (Taylor's Version)", Red (Taylor's Version)—This song is perfect for when you're reflecting on an ex.
"Midnight Rain", Midnights—A nuanced song with strategically warped vocals, this song is fun to sing along to and analyze.
"The Way I Loved You (Taylor's Version)", Fearless (Taylor's Version)—The instrumental intro and bridge section are incredible.
"This Love (Taylor's Version)", 1989— This slow, introspective track is perfect for a leisurely drive while you reflect on life or relationships.
When you accepted that your exam is going to be rough:
As students, we often have times at school when we are stressed, sad, or overwhelmed. These times are hard, and some people like to listen to sad music when they are deep in emotions.
"this is me trying", folklore—Swift covers mental illness and the feeling that continuing life is trying enough sometimes.
"Nothing New (feat. Phoebe Bridgers) (Taylor's Version) (From The Vault)", Red (Taylor's Version)—Swift explains issues of growth and the feeling that she is not a pure and young woman anymore. In her documentary Miss Americana, Swift explains that female artists have a harder time keeping their status as they grow older, remarking that "we live in this society where women in entertainment are discarded in an elephant graveyard by the time they're 35."
"The Archer", Lover—About anxiety, this song focuses on mental illness and issues many people face.
"epiphany", folklore—In a very calming but sad way, Swift sings about chaos and hope for a good world while honoring her grandfather's story in WW2.
Insecurities:
As Swift sang in "Anti-Hero", "It's me, hi, I'm the problem it's me". All of us have insecurities and times when we feel self-conscious. Opening up more in later albums, Swift explains her own mental issues, highlighting her struggles with an eating disorder and depression.
"Anti-Hero", Midnights—Perfectly illustrated in the quote above, sometimes we want to root for the underdog, or the person against the hero.
"mirrorball", folklore—This song is about Swift's feeling of being watched but not appreciated.
"Clean", 1989—Common fears and problems in the song include drowning and addiction.
When the simping gets too dangerous:
Swift started her career focusing on relationships, specifically in her second and third albums, Fearless and Red. Over the years, her music evolved to cover numerous topics, including friendship, self-worth, and societal issues. However, Swift still wonderfully sings ballads about her own relationship issues.
"Love Story (Taylor's Version)", Fearless (Taylor's Version)—Swift explores a cute story about teenage romance.
"You Belong With Me (Taylor's Version)", Fearless (Taylor's Version)—Jealousy and teenage romance are a perfect combination.
"You're On Your Own, Kid", Midnights—This is about recognizing that having a significant other won't save you, but that's okay and you will make it.
Crying in the fetal position on your bed:
Particularly in her 2020 album Folklore, Swift examines heartache coming from societal issues and self-insecurities. The following songs are what we note as some of her saddest, most heartbreaking songs.
"champagne problems", evermore— Make sure you have tissues for this heart-wrenchingly sad song about love and loss.
"my tears ricochet", folklore—Speculated to be about Swift and the lost music that now doesn't belong to her, Swift expresses her frustration.
"New Year's Day", reputation—Swift reflects on good and bad memories, hoping that her current love will continue in the future.
"Soon You'll Get Better (feat. The Chicks)", Lover—Swift recounts her feelings about living with her mother's cancer.
Screaming, crying, and throwing up:
As the hardcore swifties know, "All Too Well (10 Minute Version) (Taylor's Version) (From The Vault)" is her best song that deserves its own section. Theorized to reflect on her relationship with Jake Gyllenhall, it is absolutely heartbreaking and intense. Swift tends to make her track five songs on each album the more vulnerable and emotional songs, which Red's "All Too Well" takes the crown. After nine years, Swift released the rerecord of Red, including the ten minute version of her emotional and intense track five. We recommend the short film titled All Too Well: The Short Film starring Sadie Sink and Dylan O'Brien, who masterfully show the multi-dimensional characters in a relationship with many ups and downs.
"All Too Well (10 Minute Version) (Taylor's Version) (From The Vault)", Red (Taylor's Version)