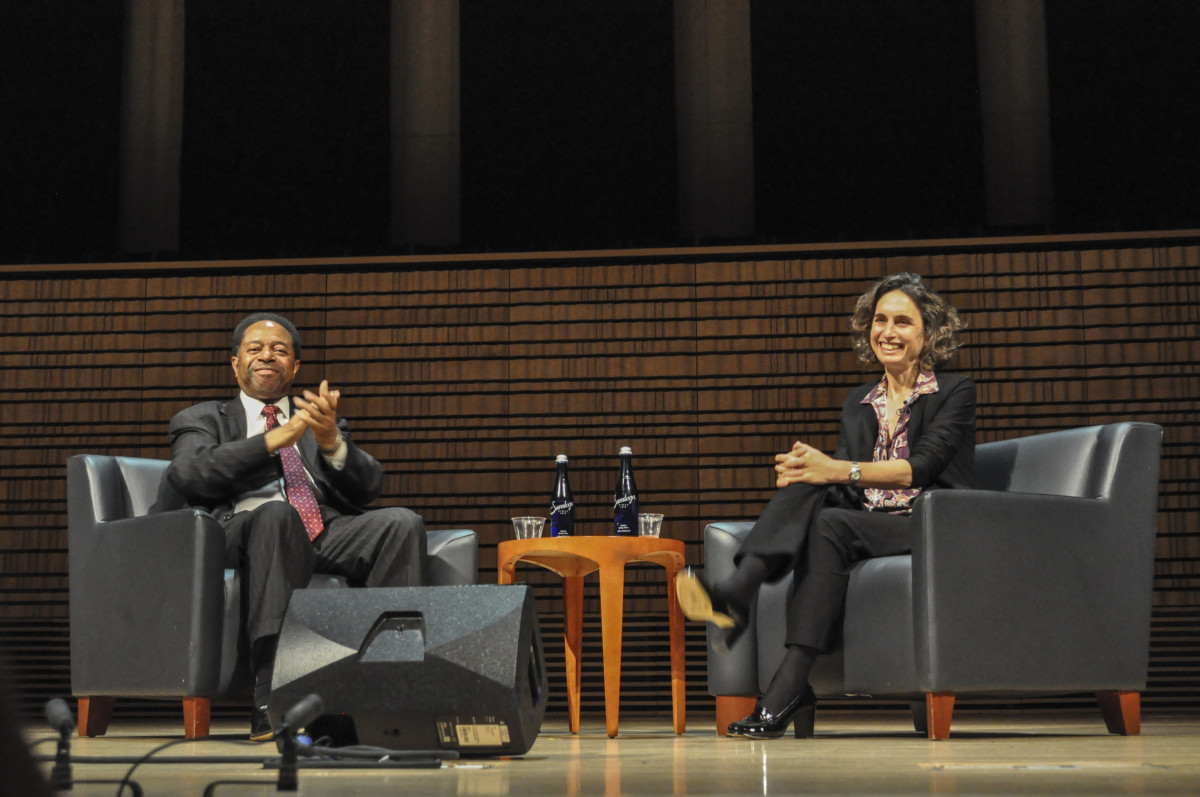 STUDENTS APPLAUD Elizabeth Kolbert after an informative Q&A. session.
One of the most pressing challenges that faces our global community is the self-imposed destruction of our planet's ecosystem, according to Elizabeth Kolbert, a journalist and the author of the world-renowned book The Sixth Extinction: An Unnatural History. In the main theater of the Experimental Media and Performing Arts Center on Thursday, November 2, Kolbert made an effort to challenge the Rensselaer student body with this issue.
Kolbert utilizes her background as an environmentalist and journalist to investigate the mass extinction caused by modern globalization. In The Sixth Extinction, she portrays examples of both exotic and familiar ecosystems in an effort to show that global human proliferation and modernization has caused countless species to suffer or become entirely extinct. Kolbert hypothesizes that modern society has created "The New Pangea," and that increasingly interconnected global trade, the ease with which people and goods cross borders, invasive species, and worsening environmental conditions have devastated global ecosystems.
Kolbert responded to a few questions posed by Interim Vice President for Student Life LeNorman Strong, and ended by answering student's questions in an open session. She explained that her inspiration for writing The Sixth Extinction was rooted in a belief that it was her duty to cover this preeminent story from her position as a journalist. A lot of the questions during the talk revolved around two prominent themes: the effects that humans have already caused, and what could be done to repair the damage.
When posed with the question of what a planet without humans would look like, the suggested differences were profound. These ranged from the extinction of the mastodons and large amount of fauna and flora, to the acidification and increased temperature of the oceans resulting in coral reefs around the globe being bleached of their exquisite colors. She mentioned the drastic decrease in bee populations, and the catastrophic effects that could arise from their total extinction. Kolbert emphasized that these ecosystems might have passed the point of being salvageable.
After these stories of permanent environmental damage, students seemed curious about what, if anything, could be done. Questions were largely delineated into two categories: the efficacy of social initiatives, and hopes for engineering or science to address the issue.
Kolbert made it very clear that she was concerned with the current American administration's stance on environmental issues; from the decision to leave the Paris climate accord, the repeal of the Clean Power Plan, and the opening of public parks and the Arctic for oil drilling, she is not hopeful for meaningful action in the right direction.
When asked whether humans could possibly engineer their way out of the issue, Kolbert was once again pessimistic; she elaborated on how, while it certainly wouldn't be impossible, it would be arrogant to think that we could simply invent something that would solve this highly complex and interconnected issue. The prospect of making tailor-made changes to species' genetic composition was discussed as a possible solution to the issue of decreasing diversity in global animal populations, but Kolbert warned that these technologies must be used with massive caution; they could unintentionally make the situation worse.
Kolbert stated that an issue of this magnitude would, more than anything, require a concerted social change of massive proportions. In her opinion, the most important thing scientists can do to contribute to this social change is to explain its importance to the average person, and the extent to which their lives will be altered if action isn't taken.