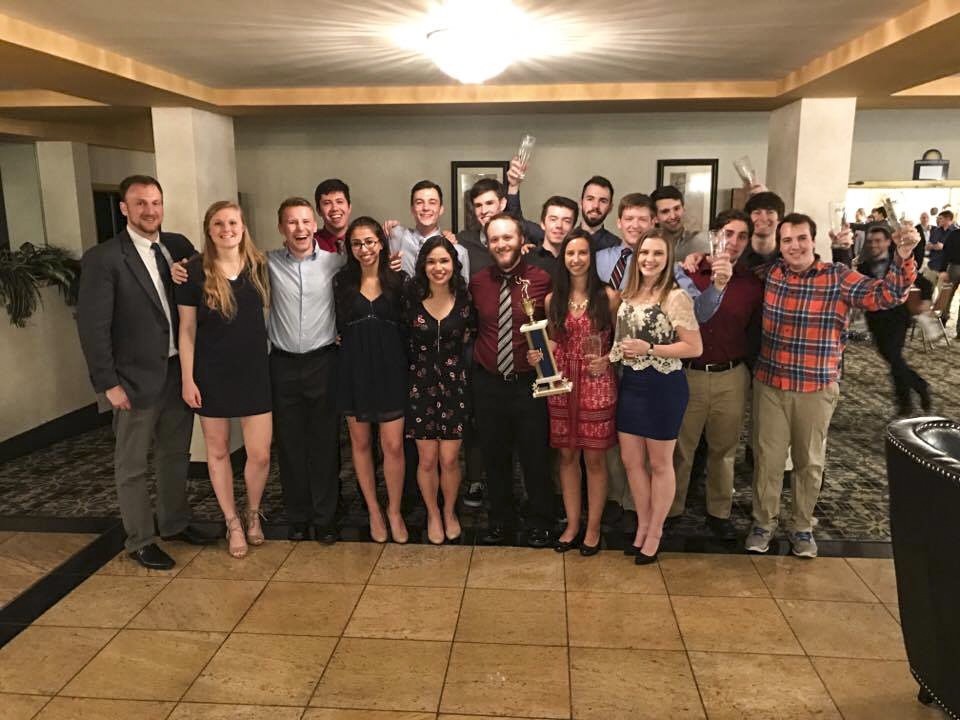 MEMBERS OF THE RAQUETBALL TEAM POSE for a photo at the Eastern Collegiate Raquetball Conference Regionals.
The weekend of February 24–25, the RPI Racquetball Team traveled to Warren, New Jersey for the 2017 Eastern Collegiate Racquetball Conference Regionals Championship. This marked the last racquetball tournament before Nationals.
During the tournament, the 2016–2017 regular season standings were announced; the RPI Racquetball women's team placed second, the men's team placed fifth, and the team overall placed fourth. Coincidentally, the teams ranked the same during the tournament for the regular season standings.
The fourth place overall finish was not a concern for sophomore team president Alex Stevens, who noted that "our whole team was very well balanced, with each player winning at least one match at regionals. It is amazing to see our entire team eager to go out and compete at such a high level."
For events meet three and four at the tournament, both men's and women's teams posted the highest overall team totals since the 2008–2009 season; the team has not only improved over the last 10 years, but altogether over the season.
Coach Kevin Mitchell recalls, "when I joined the team as a student, it was only five players. It was always a struggle to compete as a small team from a smaller school in the ECRC. Now, with a team of 16 competing last weekend, we are able to challenge Pennsylvania State University, University of Connecticut, and Rutgers for the Regionals Championship."
"Nationals this year will be bittersweet. It will be the last time these seniors get to compete for RPI in a tournament together," said Coach Michael "Special K" Kowalczyk, an alumnus who wishes to take the great level of improvement to next season.
The team will be traveling at the end of March to Fountain Valley, CA to compete in the 2017 USA Racquetball Intercollegiate National Championships and looks forward to defending their Overall Team Division II Championship.