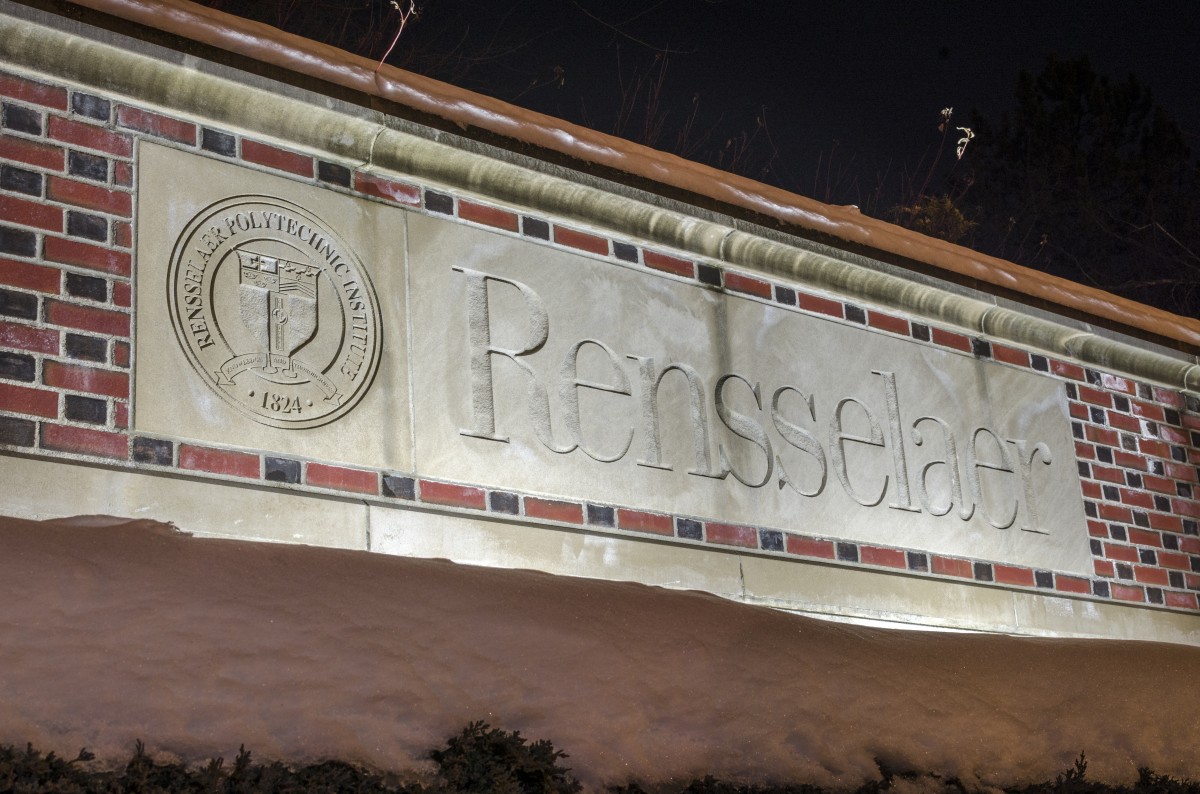 SNOWY AND SLICK CONDITIONS SUNDAY EVENING RESULTED in cancellation of morning classes which was reversed Monday morning.
On Sunday, February 12, as heavy snow fell across most of the Northeast, notifications in the form of email, robocall, and text message went out to the Rensselaer community instating the Liberal Leave policy, allowing all non-essential staff members an additional two hours to arrive at work to account for conditions on the following Monday.
Later that evening, a second email was sent to the Rensselaer community, stating that both the Troy and Hartford campuses would be open for business. Toward the end, the email stated that 8 am and 10 am classes would be canceled for the Troy campus, and later classes would remain on schedule.
This has been typical operating procedure for Rensselaer in regards to snow days. On February 9, Rensselaer first instated Liberal Leave, then, as conditions remained hazardous, they canceled morning classes, and subsequently the entire day's operations when it became clear that both the local roads and campus were still covered in snow.
Just before 7 am on Monday, February 13, email, robocall, and text message notifications went out to the Rensselaer community stating Liberal Leave would be in effect and classes would be proceeding as normal.
This announcement sparked confusion and anger among the student body. Many students, assuming that they had the morning off, made plans around the canceled classes. Instead, as Ranger Beguelin '18 put it, "I was woken up by frantic phone calls from my classmates… our 10 am exam had been reinstated sometime in the early morning."
At 10 am on Monday, another email went out to the Rensselaer community explaining the situation. The email stated that, "In cases of emergency and inclement weather, Rensselaer Polytechnic Institute uses multiple communications methods to reach the entire Rensselaer community as quickly as possible under changing circumstances. During this inclement weather event, one communication did include an error, and we apologize for any confusion this may have created."
Part of this frustration culmninated in a petition that appeared on the RPI Petitions website. Formal Snow Day Policy reached the required 250 signatures in just a few short hours after posting, thanks to mass sharing on social media. The purpose of the petition was simple: "Once classes are cancelled, do not un-cancel them." As of Tuesday, February 14, Formal Snow Day Policy has more signatures than Preserve the Student Union, the petition that sparked the Spring Town Meeting protests surrounding the proposed hiring of an executive director of student activities.
In an interview with Vice President for Administration Claude Rounds, The Poly gained insight to how decisions regarding inclement weather are made. Rounds said that they were worried about the snow continuing through the night, and were planning to wait until 5 am to make a decision.
When making a decision about inclement weather, sources such as the National Weather Service, the Weather Channel, and AccuWeather are used to gauge the situation as it unfolds.
Rounds explained that he speaks with the Department of Public Safety regarding the conditions on campus and in its immediate proximity for safety. Environmental & Site Services is consulted about the snow removal process, which is their jurisdiction. Parking and Transportation is contacted to determine shuttle practicality and the status of campus parking lots.
Rounds also said that the academic schedule is taken into consideration. A day like Monday, which he called an "academically heavy day," is a factor considered.
During the call, Rounds maintained the position that there was "no decision to cancel," and that it "would not be appropriate to allow the mistake." He also said that the provost has asked the faculty to work with students who have missed important parts of class, and that students can go to the provost for assistance if needed.
In response to Formal Snow Day Policy, the Student Senate convened at their regular meeting time on Monday night to discuss the petition. The Senate's discussion of Formal Snow Day Policy can be found at https://poly.rpi.edu/s/oydpg, and the full text of the Senate's motion can be found at https://poly.rpi.edu/s/4azj9. Notably, the motion advocates for timely class cancellations, a policy against inclement weather decision reversal within 24 hours, intentional or not, and urges professors to show leniency to students who missed classes on Monday.