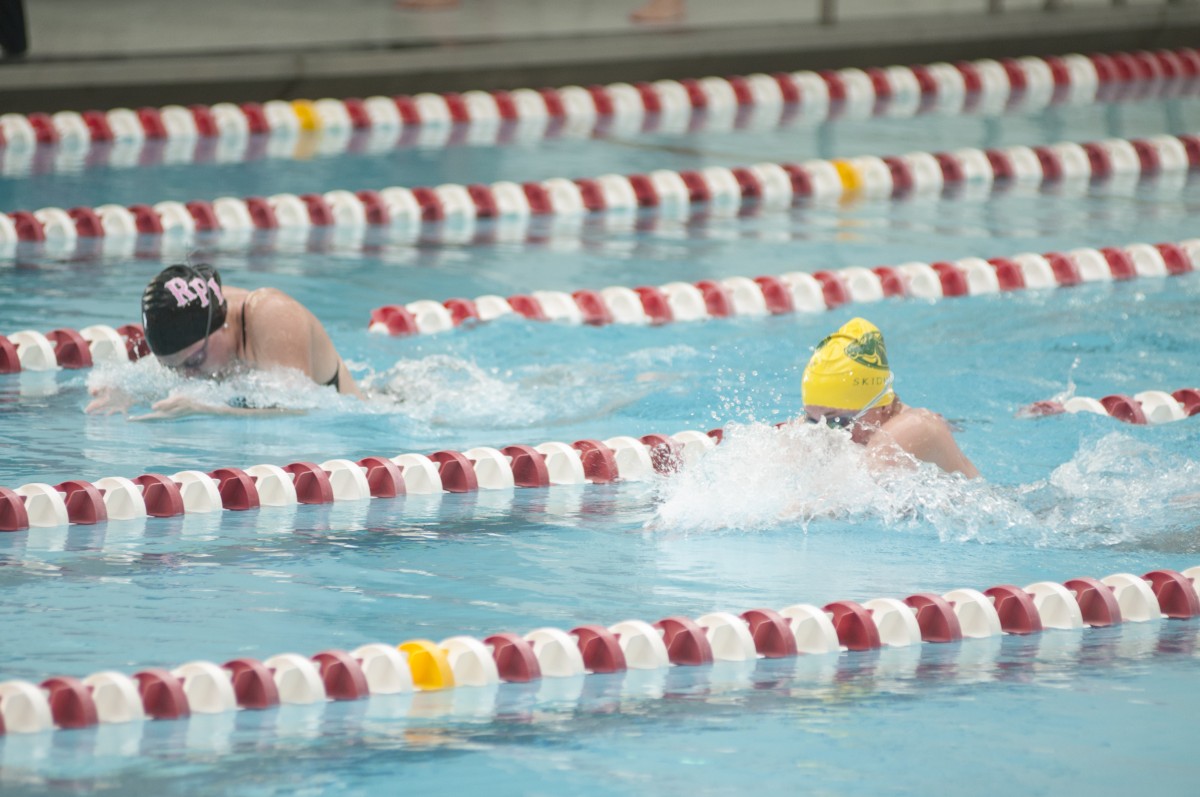 RENSSELAER AND SKIDMORE TEAM MEMBERS RACE down the lanes using butterfly stroke, as the crowd in the stands cheer the teams on.
This past weekend, the men's and women's swimming and diving teams took on the Skidmore Thoroughbreds in the Robison Pool. The Engineers defeated the Thoroughbreds 166-97 and 164-97 for the men's and women's teams, respectively.
The first event was the 200 Medley Relay, which both the men's and women's teams won. Throughout the meet, the Engineers were incredibly successful, winning all but three events, including the men's 100 Yard Backstroke and the men's and women's 200 Yard Freestyle Relays.
Events passed quickly, but the crowd grew as the meet went on. The crowd gained energy for both the men's and women's 500 Yard Freestyle events and the 200 Yard Freestyle Relay.
Some swimmers achieved multiple first place finishes in various different events. In freestyle, freshman Joseph Conway won the 500, junior Danielle Suave secured the 500, and junior Shanny Lin conquered the 1000. In backstroke, senior Richard Dong and junior Michaela Yamashita swept the 50. Dong also conquered the 100 Breaststroke and 200 Medley Relay alongside Conway and sophomores Charly Blazy and Alexander Sullivan. Sullivan also took first in the 50 Yard Butterfly and sophomore Amanda Wang slammed the 100 Yard Butterfly. Sophomore Noah Pan won the 200 Individual Medley, finishing 12 seconds before the runner-up.
In men's diving, highlights come from sophomore Alex Chused scoring 279.85 from 3-meters and sophomore Jesse Rotering with 232.60 points from the 1-meter diving board. Freshman Jessica Kugelman dominated in women's diving with 229.15 points from 1-meter and 245.45 points from 3-meters.
Next Saturday at 2 pm, the Engineers will be back at the Robison Pool to take on Hamilton College.