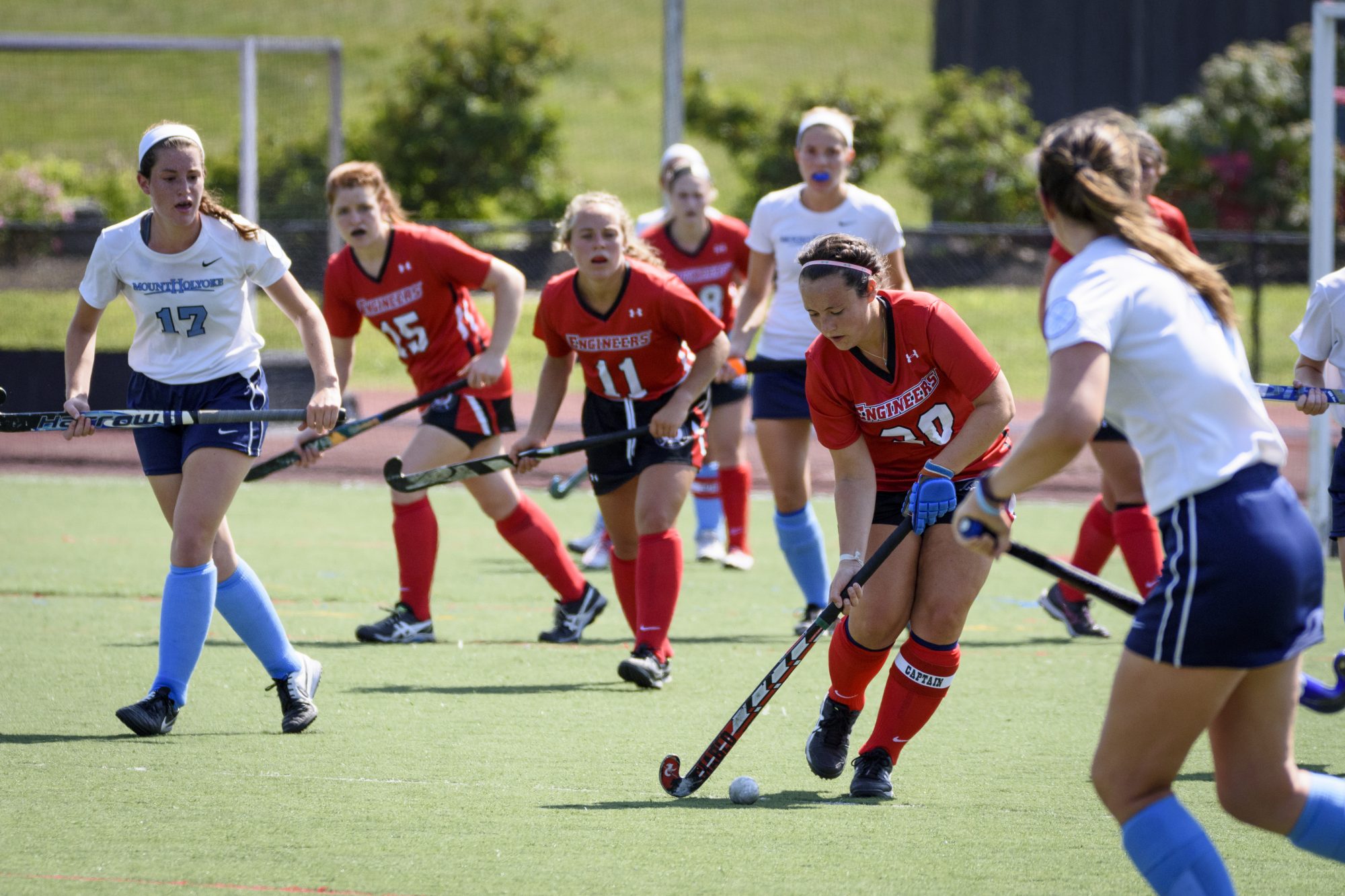 THE WOMEN'S FIELD HOCKEY TEAM MANAGED to come out ahead in their game against the Mount Holyoke College Lions last Saturday.
After a close loss to the Hawks of Hartwick College in their season opener away on Thursday, the Engineers rebounded to conquer the Mount Holyoke College Lions 3-2 in their follow-up game on Saturday, September 3. RPI now stands at 1-1 for the season, while the Hawks jumped to 1-0, and the Lions fell to 0-1.
Sophomore Taylor Clink scored the first and only time for the Engineers at 22:39 into play, eight minutes after Hawks captain Maxine Dunn earned the first goal of the game. Clink's successful shot on goal came straight off of junior attacker Megan Jones' penalty corner award.
After halftime, the Engineers flooded the offensive zone in search of a tiebreaker, only to have their efforts repeatedly severed by the Hawks defense. Taking advantage of the situation, the Hawks penetrated through Rensselaer's attackers and sent the ball straight down the middle into the goal. Hartwick forward Sarah Ryan charged ahead, passing to forward Allyson Quirk, who slammed the ball past sophomore goalie Kayla Bell. Unable to recapture a tie in the remaining 30 minutes, the score froze at 2-1.
On Saturday, RPI challenged Mount Holyoke in a home game, which ended in their favor. In their first victory of the 2016 season, the Engineers exited the first half behind 0-1, tied the game five minutes into the second, trailed again with 26 minutes left, then attained victory with two goals made within 1:18 of each other seven minutes before the close of play.
Midfielder Colby Newsham scored the only goal of the first half for the Lions. Following the break, Rensselaer sophomore attacker Mikaela DiBello carried the ball down the right side, passing to Jones, who sent it through the empty net. A goal from Kristina Ramsden returned the advantage to the Hawks, but the Engineers fought to be the team to ultimately soar.
Junior attacker Jane Edgington made the first shot to tie the game 2-2. Just one minute later, DiBello repeated her maneuver down the right side, sending the ball to freshman attacker Nessa Costa to earn her first collegiate goal, sealing the win.
Hamilton College is next in line to face the Engineers on Wednesday, September 7 at 7 pm at Harkness Field. Coming up on Saturday, September 10, RPI will travel to Kean University in Union, NJ, for their second away game of the season.