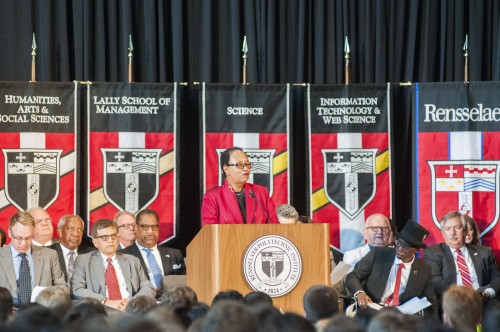 PRESIDENT JACKSON SPEAKS to the Class of 2020 about this year's theme of unity from diversity.
The Class of 2020 made its way to the East Campus Athletic Village Gymnasium for Convocation on Sunday, August 29.
As is tradition, bagpipes preceded the entrance of the national flags of the countries represented in the Class of 2020. Some 200 incoming freshmen from 19 countries call a nation other than the United States home.
After introducing the vice presidents and deans that joined her on stage, President Shirley Ann Jackson began with a presentation of this year's theme: unity from diversity.
In her May 2015 Colloquy speech, Jackson announced an initiative to "select a theme for the entire Rensselaer community to consider together" each year, beginning with the 2015-2016 academic year.
Unity from diversity stems from themes discussed by the 2016 Commencement speakers during the Class of 2016 graduation ceremony. Despite the difference in their work, Jackson said in her Colloquy that they have each worked on "empowering humanity by increasing our understanding of the universe, of our roots and commonality, and by increasing our compassion."
Jackson encouraged the freshman class to "develop empathy for people you live and work with, and those on a global scale who may be affected by your work."
The President spoke about the opportunities created through Summer Arch, which will be in an optional pilot available for students in each of Rensselaer's schools for the Class of 2020. She stressed that Summer Arch would be a time for students to explore and to take hold of opportunities outside the classroom. Research, co-ops, inventing, service, travel, and launching a business were all suggestions in her speech.
Her final remark was open invitation to the freshman, saying "don't be afraid to call me—I will try to meet with you."
Associate Professor Eric. H. Ledet was the guest speaker for the evening. His speech was both humorous and helpful for the Class of 2020 in their first few weeks. One such piece of advice he offered was how to spell Rensselaer. "It's easy to remember if you spell it this way: R… PI," he said.
He then encouraged students to show up to class even if it's in pajamas with a cup of coffee. He also emboldened them to experience the non-classroom side of Rensselaer. "And finding all the Pokémon doesn't count."
RPI has opportunities for all interests—from service and outreach, to travel, to the Rensselaer Union's many clubs. Ledet closed with a statement that resonated with many in the room: "There is a lot to learn and a lot you can do. Four years might seem very quick."
Grand Marshal Paul Ilori '17 and President of the Union Chip Kirchner '17 presented the Class of 2020 banner. In his comments to the freshmen, Ilori gave advice from his own personal experience as a freshman. To the nervous and intimidated he said, "you belong here as much as anyone else has since 1825," and that Rensselaer would become another home to them.
A video compilation of events that occurred during Navigating Rensselaer & Beyond was shown at the front of the room, after which Rensselaer's a cappella group, The Rusty Pipes, sang RPI's alma mater.
To conclude the ceremony, the Reverend Edward S. Kacerguis of the Chapel and Cultural Center read the benediction, officially welcoming the Class of 2020.