The Poly's live coverage of the Grand Marshal Week 2016 GM/PU Debate has concluded. An archive is available within.
Fewer than 20 minutes to the start!
About to start!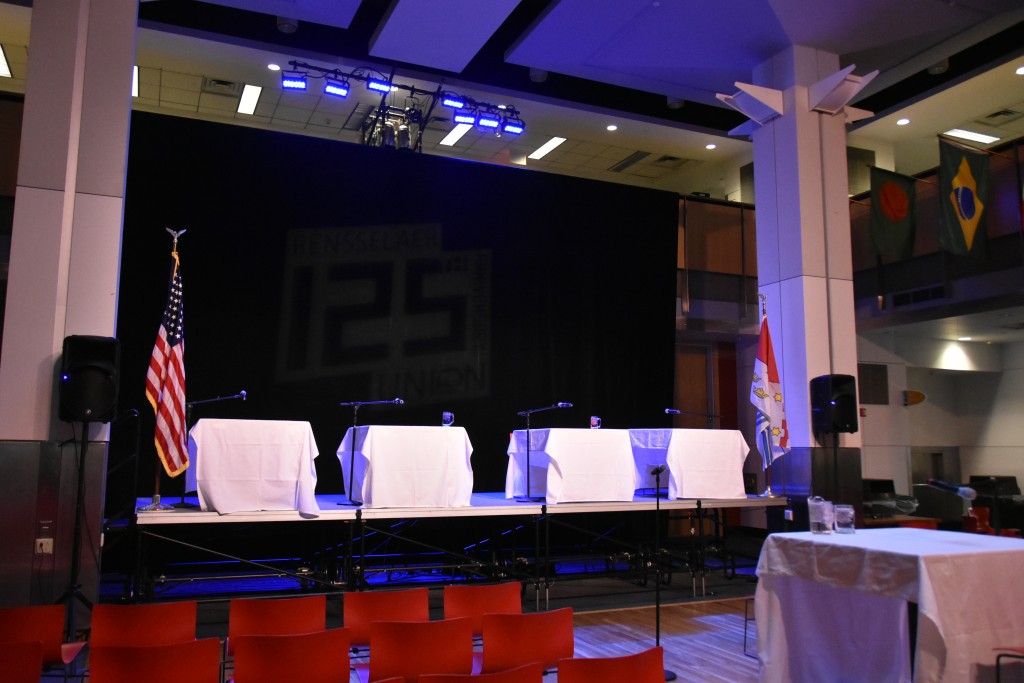 1.) What does being GM mean to you?
Paul: Leadership, dedication, and creating a example for students to follow, represents students ideas to tangible results
Dan: Leadership and liaison, represent student body instead of just each Student Senate member.
Follow-up questions to introductions…
Dan: develop relationship, "zero way road" currently, reinstating "Pizza with the President" idea
Paul: accomplishing goals on time important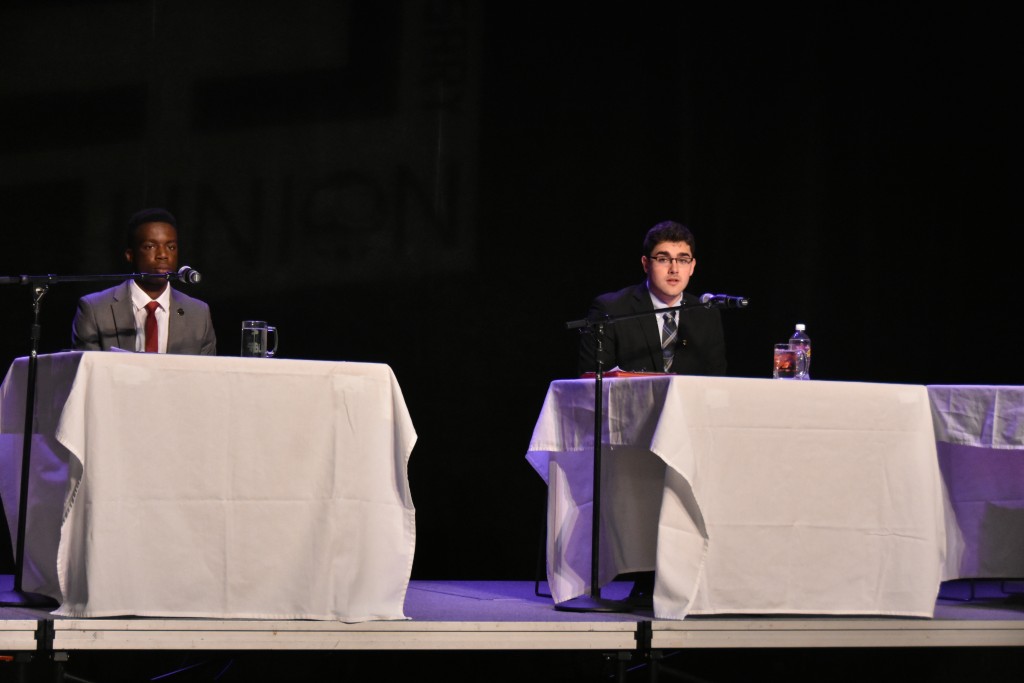 Goals?
Paul: Student Union future critical, work with Marcus and Nick for complete understanding
Dan: unfilled positions harming students, expose academic tutors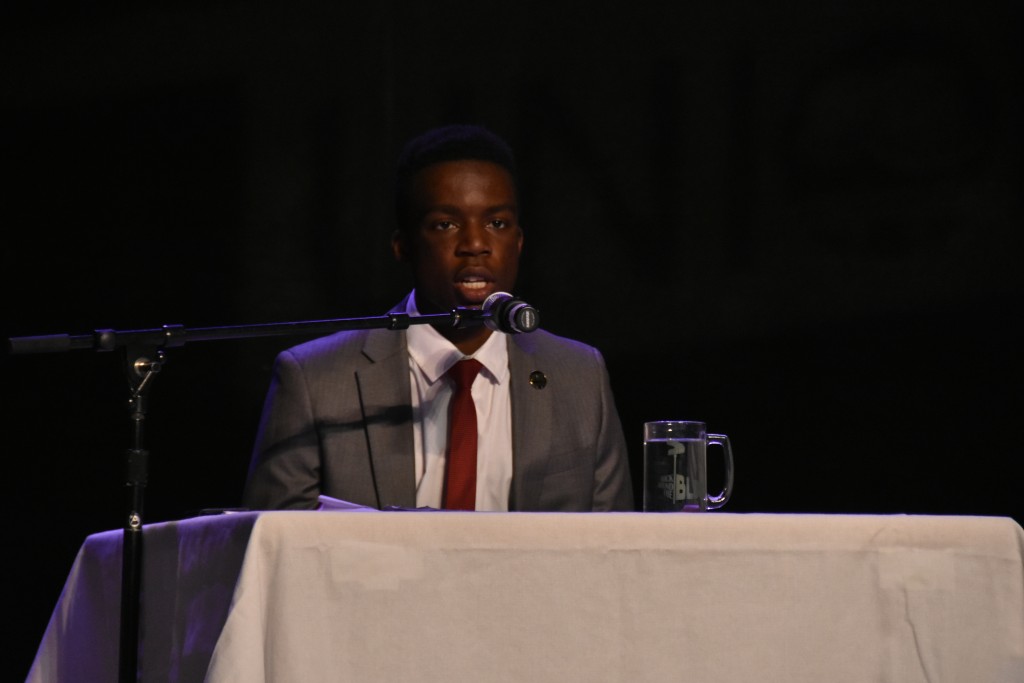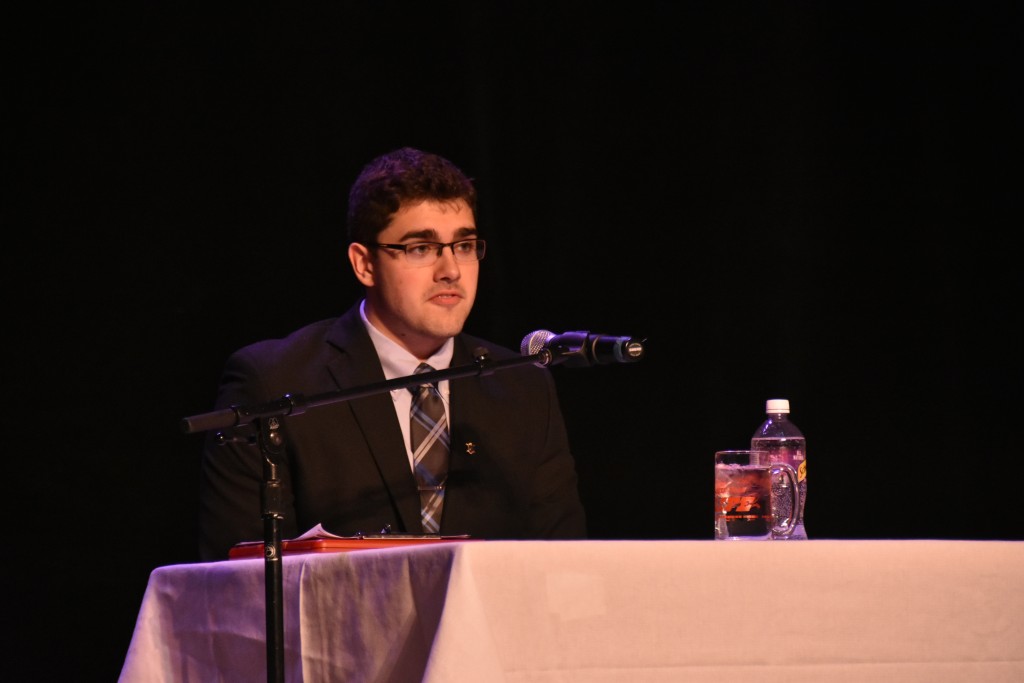 Q: What do you feel you will have to improve on if elected GM?
Dan: more informed liaison between Student Government and the Student Body, table once a week to inform students to lead to more involvement with committees
Paul: rebuttal to Dan's tabling idea–simply not plausible, aiming to improve on professionalism
Opinion on what's going on recently with Executive Director position?
Paul: addressed problem well, student voice
Dan: StuGov effective, lacking reactiveness though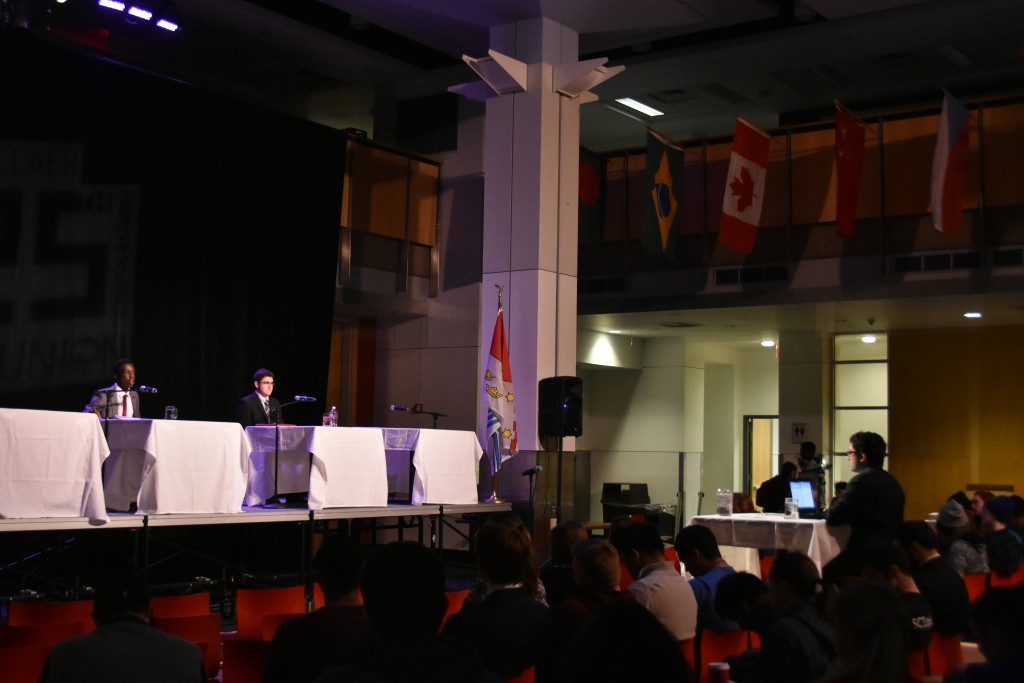 Transparency? Necessary, yes or no?
Dan: felt cheated when asked to leave Senate meeting due to it becoming a closed meeting, meeting dates not updated on website
Paul: release documents Senate is working on including drafts on Reddit to gain feedback and suggestions, use Senate page on website more
Candidate specific questions…
Professionalism for Paul: maintain actions better through reflection before any outbursts, will work to cut down outbursts while holding himself to higher standards
Never served as Senate but as a Class Representative, how will you work with Senate Dan: has sat in on many meetings, wanted to join Senate but Vice President of fraternity at time, running because not on Senate and has a different perspective that he will provide
What would you like to see?
Dan: solid platform of Constitution and communication between administration and GM
Paul: Constitution review vote to eliminate vagueness
Thoughts on current GM?
Paul: Marcus nicely organized committee's projects
Dan: continuing active roles within committee's, increase intercollegiate involvement
Questions from audience…
For Dan–worries with working with Senate if never have worked with them? Will solidify a unified dynamic when the Senate is established for next year
For both–handle communication?
Paul: build off current progress by reacting to situation well
Dan: genuine person and has much experience with talking with many people
Question for both: explain past experience with dealing with administration.
Dan: Class Treasurer experience
Paul: meetings with VP Claude Rounds to work on implementing new projects
Question for both: as a GM, how do you feel of current Union scenario?
Paul: work with committees to finalize letter to administration
Dan: time efficiency lacking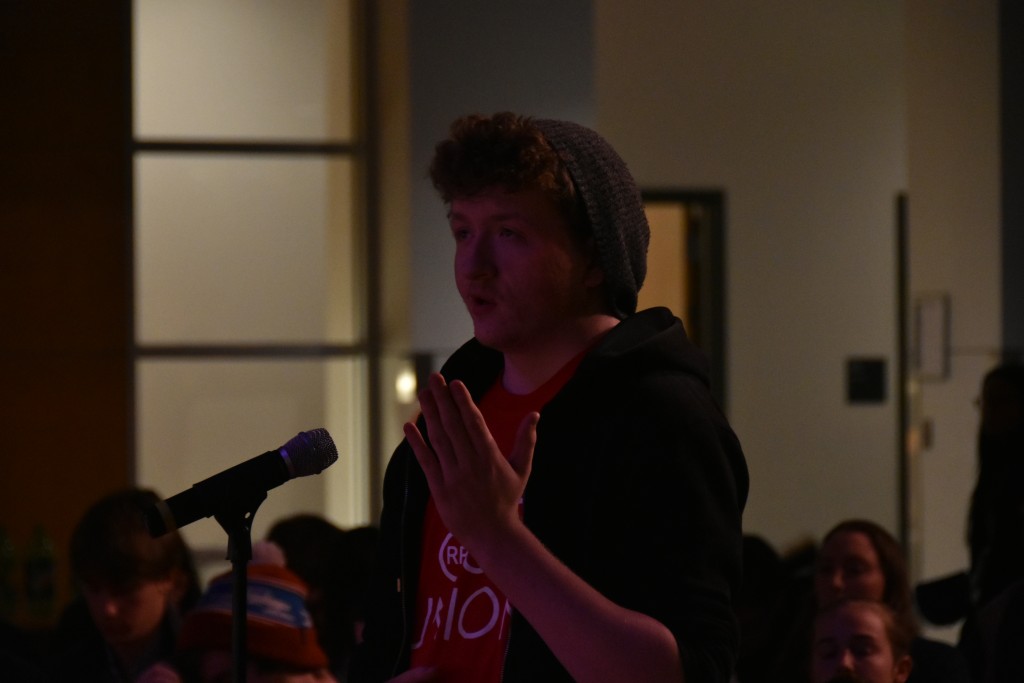 Question for both: stance on Save the Union movement?
Dan: more activity between students and Senate
Paul: will work further to appropriate people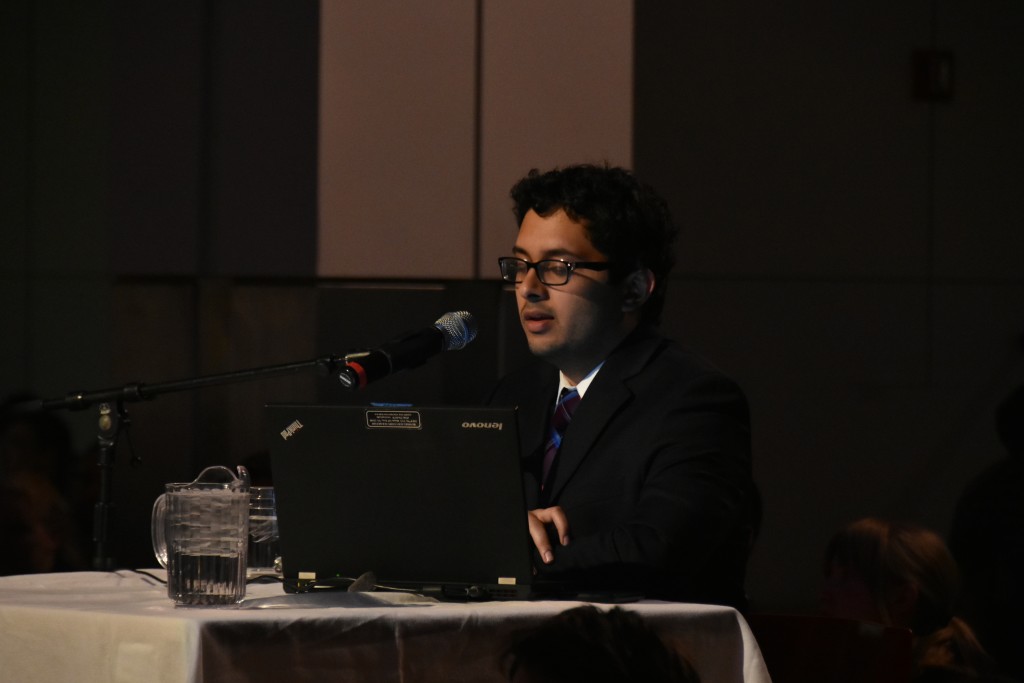 Closing statements of GM candidates, time for PU Debate.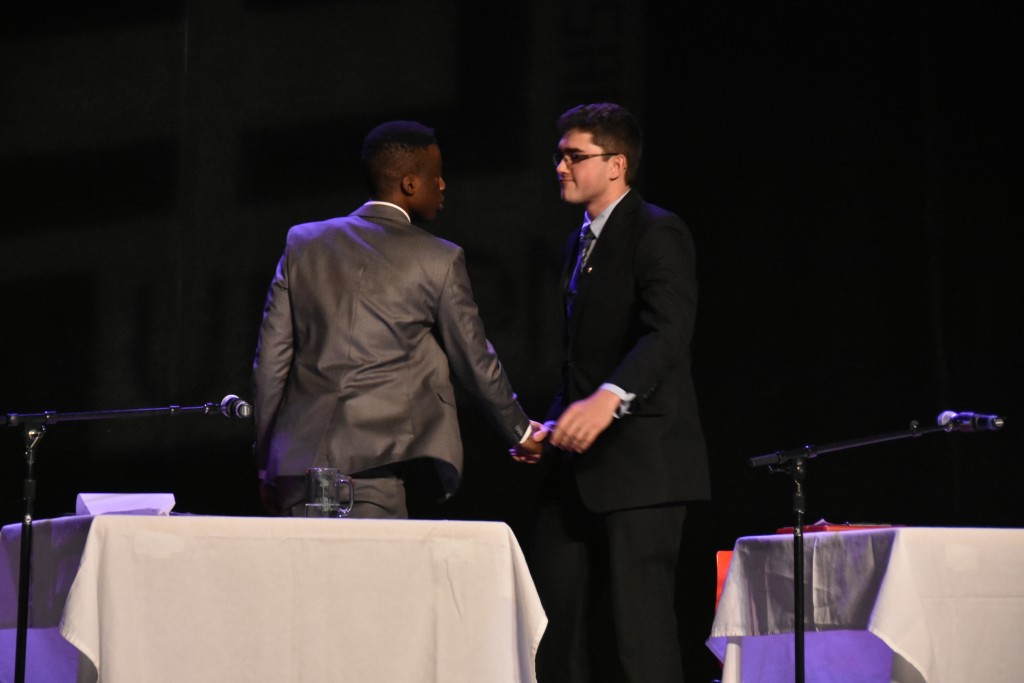 Introductions of President of the Union candidates…
Liam: expand new clubs, increase graduate and undergraduate programming, improve administration-student communication
Shannon: experience with E-Boards since age 13, promote understanding of where our Activity Fee is going
Chip: restructure budgeting, prepare for summer programming
Keegan: maintain Union autonomy, make it clearer for students of how to start a new club
What does the Rensselaer Union mean to you?
Keegan: stands for students and its services
Chip: bringing students together on campus
Shannon: represents students
Liam: represents non-academic side of students to build leadership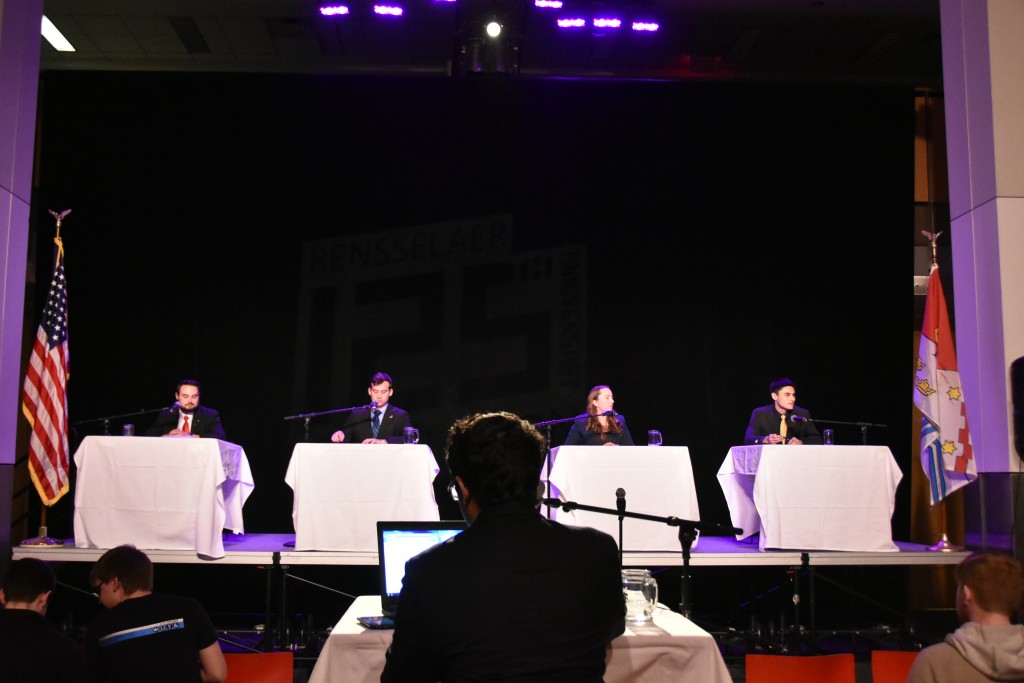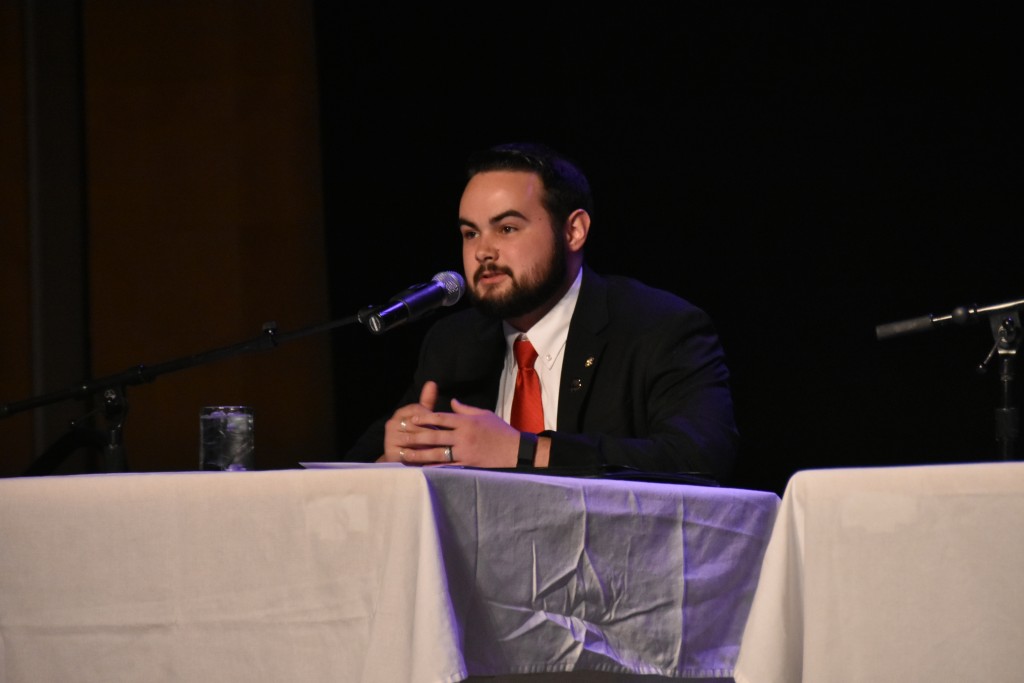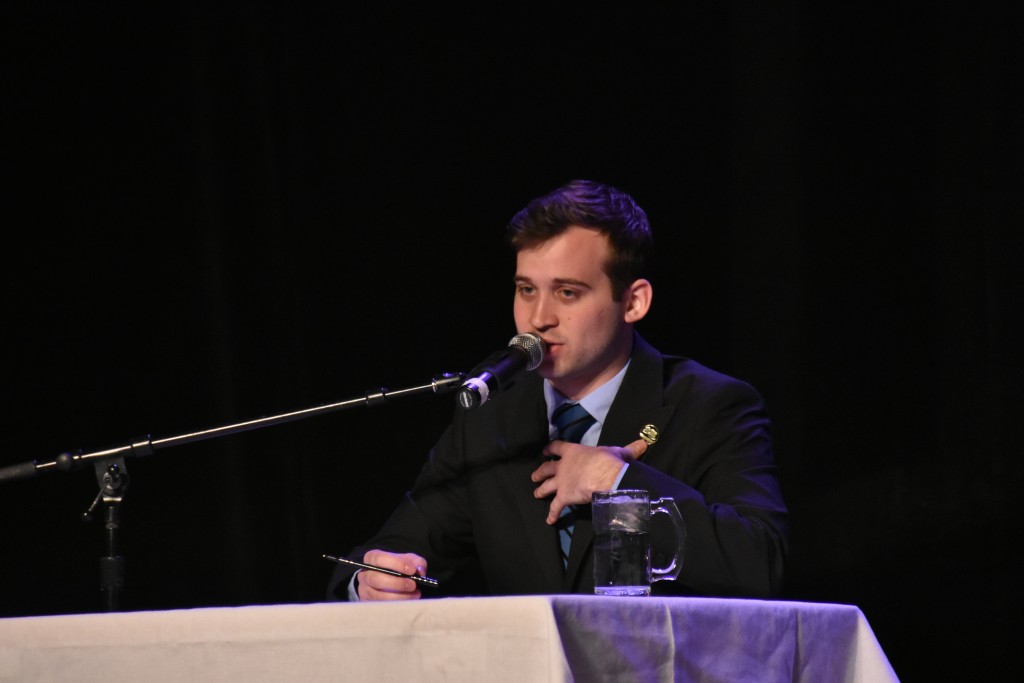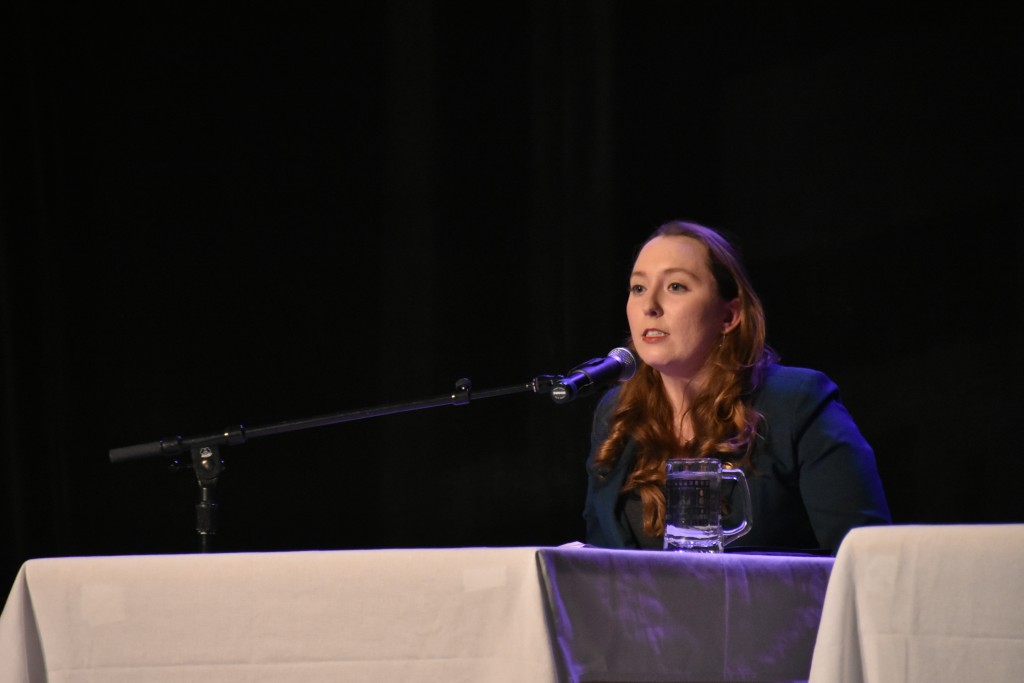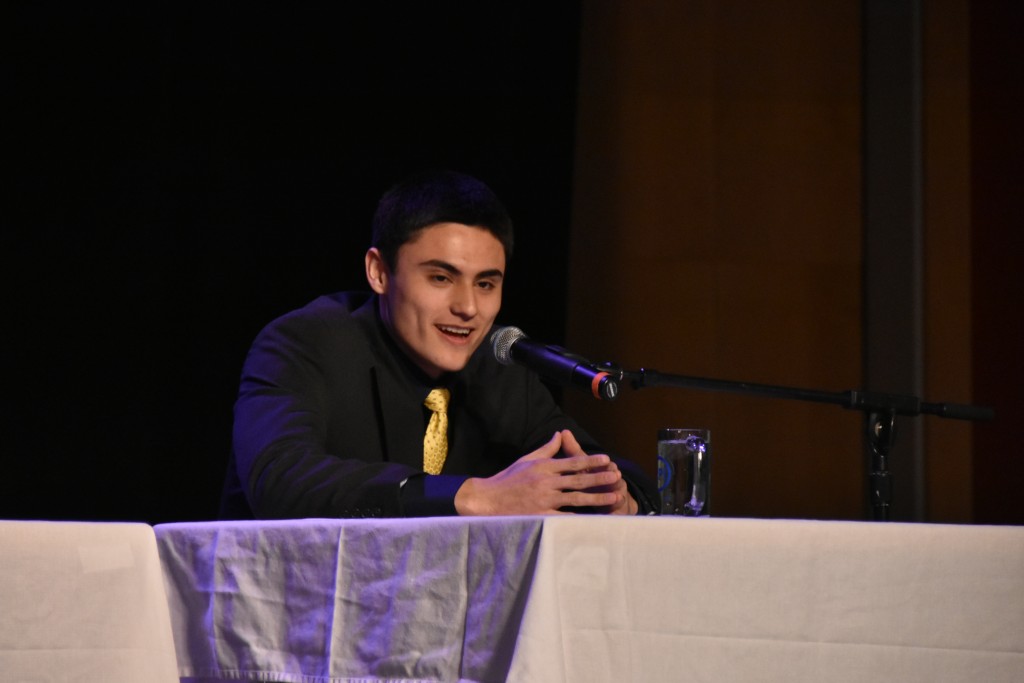 Various questions on PU platforms, below are brief comments from candidates.
Keegan: make it clear of process available for club to become Union funded
Chip: change attitude of administration because meetings not most effective as of right now
Shannon: call emergency meetings if E-Board not performing well
Liam: casual, fun events with graduates and undergraduates to seek out others with same interests
Explain relationship you would like to have with Administration and Dr. Jackson.
Liam: "talk to the right people at the right time" in a professional manner
Shannon: working and open relationship to speak of concerns professional and have administration seek their concerns with students
Chip: have more senior members advocate for E-Board, develop relationships with not only senior members
Keegan: will figure out which mode of communication is the best with administration–email, meeting in person, etc.
Thoughts of new Executive Director position?
Keegan: Director of the Union should be plenty for administrative linkage
Chip: E-Board should take a harder stance on position
Shannon: position not necessary and will not help two-way communication
Liam: need to discern all information first
What do you think you will need to improve on the most to fulfill PU abilities?
Liam: more research of E-Board doings
Shannon: finding the right balance between being professional and personable
Chip: develop better working relationships with students, knowledge limited only to Rensselaer Union, need to expand horizons
Keegan: make sure everything in the E-Board stays moving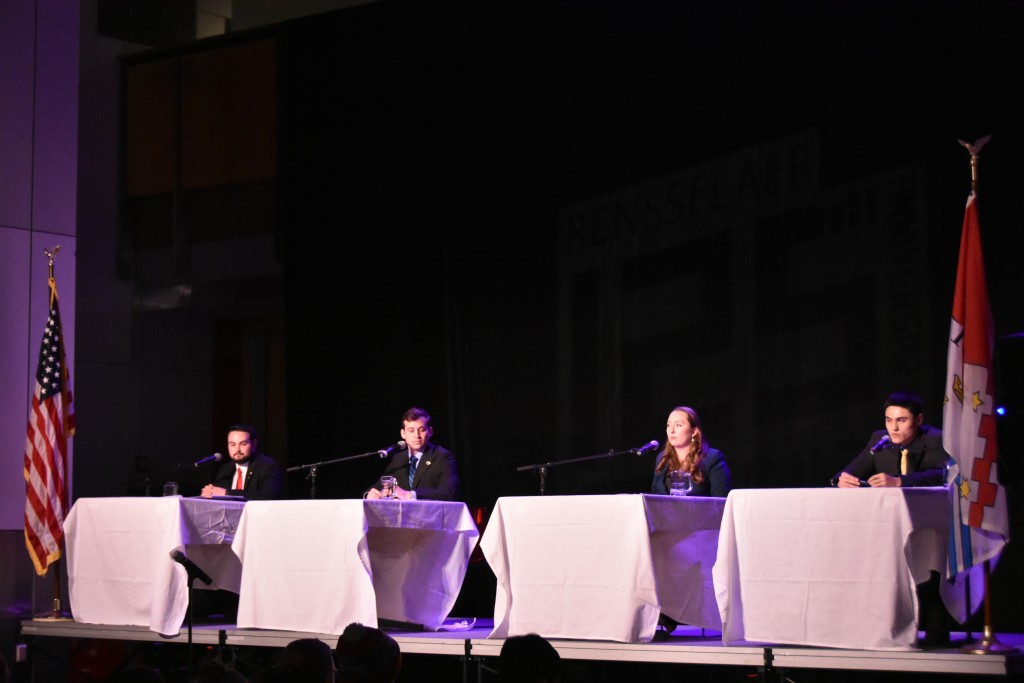 Handling of the Athletics?
Keegan: more research of what's occurring
Chip: look for right solutions to send to administration
Shannon: we did the best we could with what we had
Liam: no warning was not right, can speak of how to improve at moment
Should the votes of the E-Board be made public?
Liam: "Yes"
Shannon: not all votes should be public, trust officials when voting, some closed votes are needed sometimes
Chip: "Votes are already public"
Keegan: like to know more of what issue this question is targeting, perhaps with the example of the bookstore
How do you take criticism? How are you going to earn respect?
Keegan: has served on Senate and experienced both prongs on the question
Chip: loves feedback, be knowledgeable in what you're doing
Shannon: learned how to decipher between the good and the bad, "point of life is to grow," be the best by leading by example
Liam: as part of ROTC and being constantly evaluated has led him to handle criticism and earn respect
Other activities?
Liam: NROTC, started boxing club and willing to hand over leadership position to someone else
Shannon: sorority, environmental national club and its monthly meetings, will make time
Chip: club officer, E-Board and sat on three committees, does not see himself with problems with time management
Keegan: attended E-Board and Senate meetings, foresees no issues with time and being PU
Questions for Liam and Keegan?
Liam–why jump right to PU without E-Board experience?
Answer: started new boxing club, talking to people is fun
Keegan–part of Senate, why going to PU and not GM?
Answer: new outlook to E-Board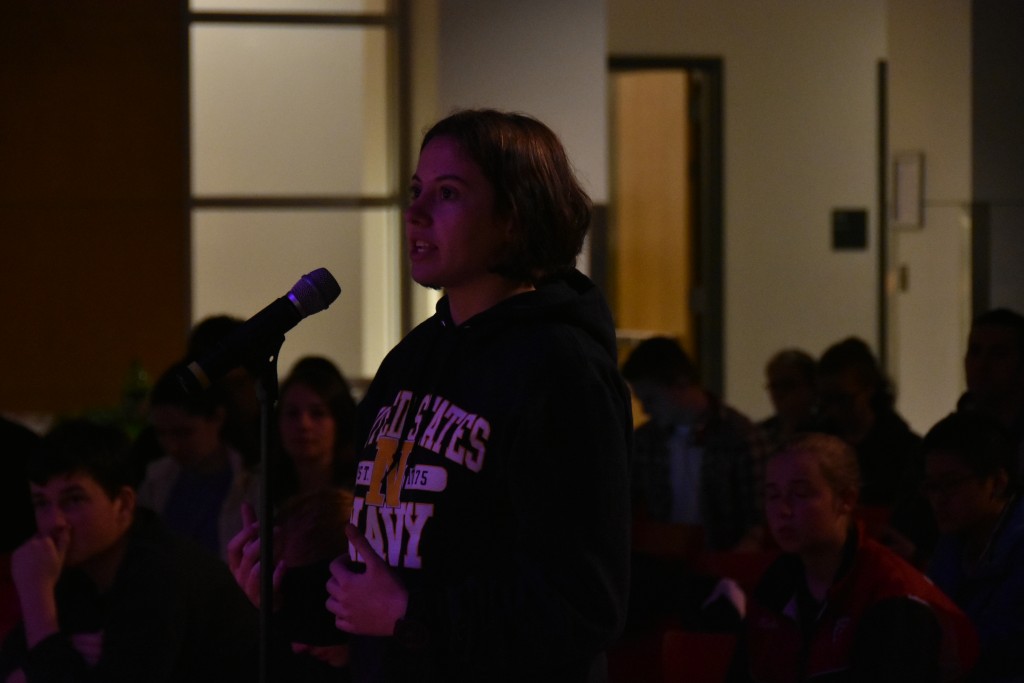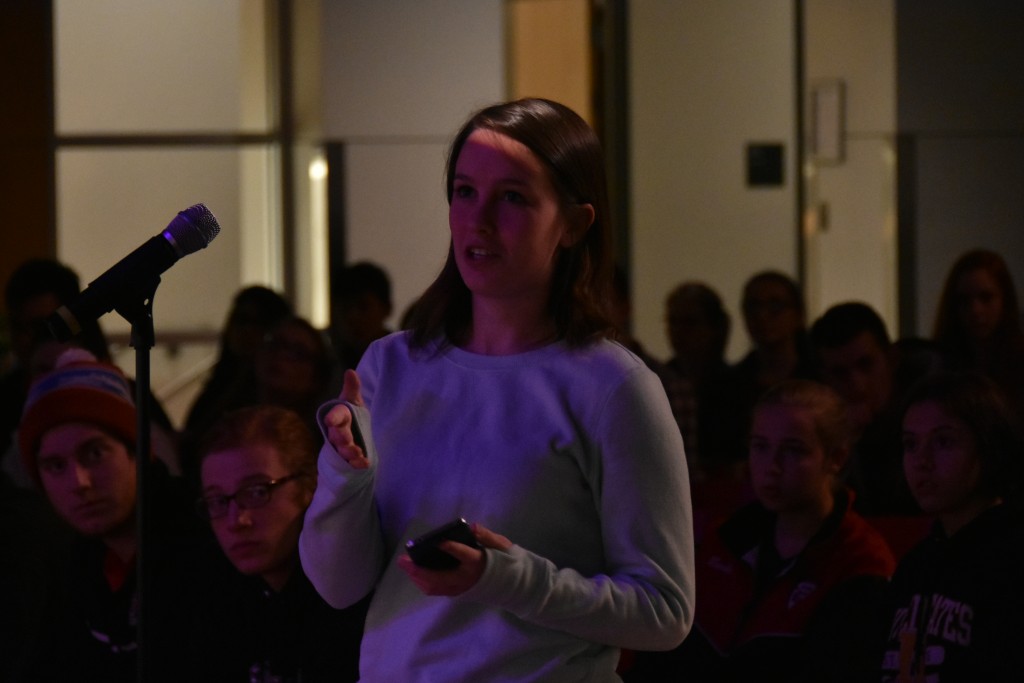 Below: President of the Union Nick Dvorak '16 asking the four PU candidates how they handle criticism and going about to earn respect.

Closing statements made; thank you to all those that came out to the CDTA GM/PU Debates!