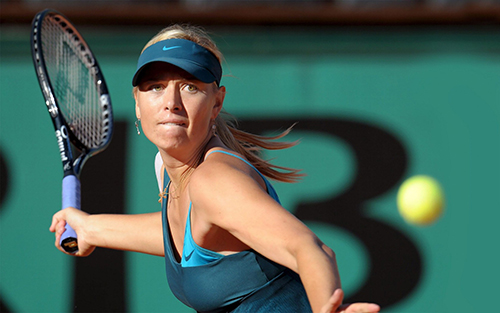 2004 WIMBLEDON CHAMPION MARIA SHARAPOVA HAS BEEN CRITICIZED for testing positive on a drug test for meldonium.
On March 7, 2016, five-time Grand Slam winner Maria Sharapova released a report in which she stated that she tested positive for meldonium, a performance enhancing drug, following her participation at the Australian Open in mid-January. Currently ranked number 7 by the Women's Tennis Association, Sharapova's release caused a stir in the tennis community as people brought into question her 35 single titles; at this point, the International Tennis Federation has placed a provisional ban on Sharapova's participation in further tournaments, pending investigation. In reference to several other recent high-profile doping cases, it will likely be several months before the ITF will be able to come to a verdict. As it stands, Sharapova could face a ban of anywhere from two to four years if she is found to have been using the drug for the purpose of increasing her performance in competition.
Meldonium has traditionally been a drug used to treat patients who suffer from angina, but recently has come to be abused by athletes who claim that the drug is beneficial for endurance and recovery from extensive exercise. The World Anti-Doping Agency is in charge of compiling a list of substances that are ultimately banned from worldwide competition, and currently they divide their list into two-classes of drugs: non-specified drugs, which are considered to have no health purposes aside from increasing performance, and specified drugs, which run the potential of having a sentence reduced under certain circumstances. Meldonium is currently listed by the WADA as a non-specified drug, and it is for this reason that Sharapova's sentence runs the potential of a four-year ban. Until the start of 2016, meldonium had not been listed under WADA protocol. However, at the start of the calendar year, meldonium was added to the category of drugs known as "metabolic modulators" for its ability to increase the amount of oxygen flowing to the muscles during exercise.
In light of the charges, Sharapova has issued a statement in which she has stated that she was taking meldonium purely for health reasons, as she was prescribed the drug in 2006 from a doctor in response to issues with her health. Sharapova continued to state that the drug was prescribed in response to several electrocardiogram irregularities and a magnesium deficiency. Furthermore, the athlete explained that she had been taking the drug under a different name, mildronate, and it was largely for this reason that she and her team failed to notice that it had been added to the list of banned substances as per WADA. No one working with Sharapova claims to have looked over the list of drugs that had been banned in 2016, but there could be a possibility that the drug was overlooked due to the difference in prescribed names. The athlete stated that "a few days ago, after I received a letter from the ITF, I found out it also has another name of meldonium, which I did not know."
For the athlete, the repercussions have been swift and notable; within a day, Sharapova has lost sponsorships with Nike and Tag Heuer, and has lost her place as a spokeswoman for Porsche. In a release, Nike has stated that "[they] have decided to suspend their relationship with [Sharapova] while the investigation continues," and that "[they] will continue to monitor the situation." In late 2010, Sharapova had signed a $70 million contract with the sportswear company, which also gave her a share of the proceeds earned from the sales of her own line of clothes. Sharapova has stood as the world's highest paid female athelete, with an estimated net worth of $195 million, and took home nearly $30 million last year alone.
The recent charges against Sharapova have come at a time when the tennis player had just begun to train for the upcoming 2016 Summer Olympics. While the charges of the ITF are still under investigation, Shamil Tarpischev has already stated that he fully plans to allow Sharapova to participate on the Russian Olympic team. When asked for comment, Tarpishcev responded that "athletes take what their physiotherapists advise them. I believe that Sharapova will still have a chance to play at the Olympics, though we will see how things are going to develop."