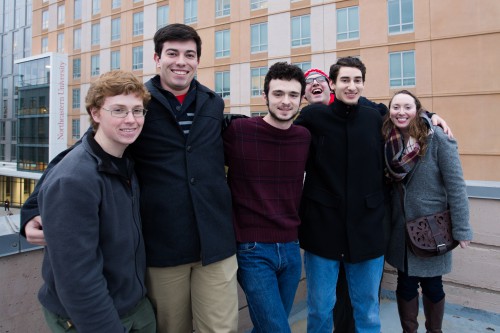 RPI STUDENT REPRESENTATIVES TRAVELED to Northeastern University in order to learn about Northeastern's unique co-op program, which is similar to Summer Arch.
Seven Northeastern University students and six administrators welcomed student and faculty representatives from Rensselaer to their campus in Boston, Mass. on December 8. The purpose of the visit was to inform RPI's community about Northeastern's co-op program, which has been compared to RPI's new Summer Arch program, and how it impacts the 80 percent of students who choose to participate in it.
Experiential learning has been a defining component of the student experience at Northeastern for over a century; most students fulfill the requirement by integrating two to four co-ops into a personal five-year plan, which they map out early on with the help of one of Northeastern's 80 co-op advisors. Students spoke highly of their co-op advisors, who form close relationships with students by providing moral support and wisdom often gained from previous industry experience. Most engineering students plan three co-ops with the help of the School of Engineering's 20 co-op advisors
Beginning with the second semester of their sophomore year, students may enter the co-op program. If they choose to do so, they alternate between an academic term and a co-op term. Spring and fall terms are six months long, from January to June and July to December respectively. When the traditional spring term ends, the Summer 1 term from May to June begins for students to either start or finish courses they are taking, depending on whether or not they are in the co-op program. Following the conclusion of Summer 1, Summer 2 runs similarly from July to August.
Co-op preparatory classes are offered to teach how to be confident and skillful in the workplace. From there, students enter the interview process by competing against their peers for co-ops and internships with over 3000 companies Northeastern partners with. Students can graduate in four years, but most graduate in five in order to take advantage of the co-op program without risking an overload.
Flexibility characterizes every student's plan. Students must incorporate experiential learning into their plan of action, but are not required to take part in a co-op. The requirement can also be satisfied by studying abroad, solving real world problems outside of class, doing research, or doing service-learning. Many students would rather take a term off, which could include spending with family, and they receive no penalty for doing so.
The concerns addressed were similar to those expressed by Dartmouth, which also operates on a year-round schedule. Administration concerns included maintaining buildings and finding instructors for the summer. The stress of living independently was the top concern among the students, since this meant being away from friends for months at a time, cooking and cleaning for themselves, and essentially, just being in the working world. Off-campus housing was also discussed. Students spoke of landlords near Northeastern who are aware of the co-op rotation and therefore permit their tenants to sublet when they are away on co-op.
Athletics and Greek life were of lesser concern because they have adapted to the cycle of students leaving for six months at a time. Club and Greek executives planning to leave for co-ops train their replacements in advance of their departure and sometimes elect co-presidents. During the summer months, since clubs and Greeks remain active, they often choose to elect underclassmen to positions of authority which helps prepare them greater responsibilities later on.
The NUterm is another optional program offered by Northeastern, which allows freshmen to take eight credits during the Summer 1 term, then spend the remainder of the summer on vacation.