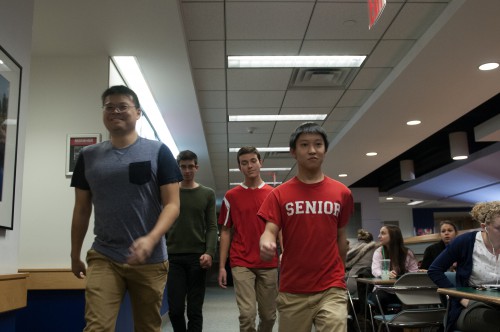 SPEEDWALKING TAKES practice to the second floor of the Union due to the freezing temperatures outside.
There have been reports filed to the Department of Public Safety of large crowds of people heard excessively yelling outside the Troy Building and adjacent buildings. It turns out the Rensselaer Club Speedwalking team has been practicing from sunrise to sunset. The team consists of 7,029 members: students, both graduates and undergraduates, including the president of Rensselaer Polytechnic Institute.
The club was founded in 1824 by first president of RPI Samuel Blatchford as an organizaiton exclusive only to presidents of RPI. Maria Bobenia Slobia decided to approach current President Shirley Ann Jackson one morning after noticing her sweating while sitting on a bench trying to catch her breath. When asked what she was doing outside the Troy Building, Jackson responded, "Come join me!" Thus, RPI's first Division I speedwalking team was born. Over the next three days, all students of RPI began training for professional speedwalking competitions.
A typical practice lasts thirty minutes without breaks. Once a trainer's practice time is up, a friend of theirs, also a teammate, must be ready to carry on the continuous practice. If there is no other teammate ready to walk into action, they need to stay until a teammate arrives, and will receive an automatic Dean's excuse to miss class.
Usually for one given half hour of practice, twenty students are present, however all 7,029 members have been there at once. Professors have reported to class deans that no students have been attending classes these last few days.
Avid team member Lizzie Paul '19, who typically spends 10 straight hours at practice, notes, "the sport is great. I have been able to enjoy the outdoors more, while still being considered a full-time student. No other school I applied to offered this!" Sid leKid '19 has shared his thoughts on his remarkable time since joining the team last Thursday, "My speedwalking skills have 'Shirley' [sic] improved, and I have had the chance to meet all my peers, yes all of them! I am glad I chose RPI, and I look forward to meeting all the freshmen next year through this exhilarating experience!" Dr. Moo '19 joined the team on Friday and mentioned, "No need to go the gym anymore, the workout I get while at speedwalking practice is phenomenal. 10 out of 10, would do again."
The RPI Speedwalkers will be visiting to Union College for their first competition this Saturday. The meet begins at 6:30 am at Frank Bailey Field, Schenectady, NY, with the presidents of both rival schools competing first. The only event is the 2000m speedwalk dash, consisting of 120 heats, and is scheduled to end at 4:30 pm. There will be 60 competitors per school going at once. Good luck, RPI Speedwalkers!
Disclaimer: All articles and content published on December 9, 2015 are works of fiction. Any resemblance to actual persons, organizations, locations, or incidents is purely coincidental.